Do you know what Search.mygamesxp.com is?
Browser hijackers make illegal changes to your browser settings, so, if you see Search.mygamesxp.com as your home page or new tab page, chances are you have become a victim of such a malware infection. This hijacker may silently enter your Windows operating system and change your browser settings without your knowledge, and that is a clear breach of your privacy. If you keep this hijacker on-board, every time you open your browsers or a new tab page, this search engine will come up. You should not trust this browser hijacker because it may expose you to unreliable third-party content. According to our researchers, you had better delete Search.mygamesxp.com from your PC immediately if you do not want to risk the exposure to potential online scams.
What do you think the chances are to find the "official" website for this useless application at mygamesxp.com? We believe that only a few unsuspecting users would end up on this site and most probably not via a reliable search engine. If you take a minute to check on mygamesxp in Google, for example, you will see that the whole first results page is about how and why you need to remove Search.mygamesxp.com. That should be a big red flag for you that you should not hesitate to get rid of it. It is always advisable to search the web about the application you are about to download and install. That is the first line of defense that can protect you from unnecessary malware attacks.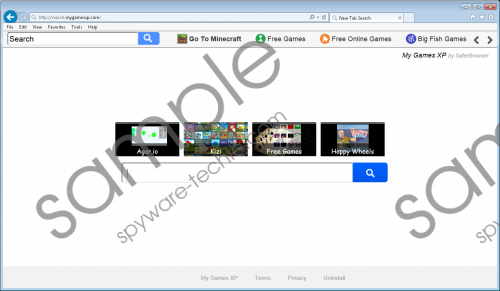 Search.mygamesxp.com screenshot
Scroll down for full removal instructions
Since not too many users would find this website, this hijacker is more likely to spread in free software bundles alongside other malware infections. Such infectious bundles you may find on suspicious shareware and torrent websites. Even if you are careless enough to download a software package filled with malware, you can still save the day if you are careful at the installation stage. Usually you have an opportunity to deselect the additional tools and applications so that they will not be installed. That is a significant step that most users overlook and end up with a bunch of infections on their computers. Deleting Search.mygamesxp.com will not restore your system security in that case. It will be important for you to scan your system for other infections, too.
Our researchers have discovered that this browser hijacker is actually the same as Search.MyTelevisionXp.com and Search.mymapsxp.com. Search.mygamesxp.com provides you with a toolbar-looking bar at the top of the page which contains several quick links to third-party online gaming websites. Its search tool is actually a redirection to a Yahoo! search results page which might also be modified by this hijacker to include third-party ads or sponsored links. This hijacker may also collect information about you, including your search queries, and might use this to target you with ads and links through the third-party services it provides for you. There is, of course, one solution that can help you with all this exposure to unsafe content and potentially cyber criminals: You should remove Search.MyTelevisionXp.com right now.
Finally, we have arrived at the stage where you can actually step up against this intrusive malware infection. In order to make Search.MyTelevisionXp.com disappear you need to uninstall the application and then, delete the browser extensions. You can use our instructions below that describe every step you need to make to accomplish all that. Please remember that you can actually stop most malware infections from entering your computer if you carefully select the websites you visit and the advertisements you click on.
Search.mygamesxp.com Removal from Windows
Windows XP
Click Start and open Control Panel.
Select Add or Remove Programs.
Click on the application and click Remove.
Windows Vista & Windows 7
Press the Windows button on the Taskbar and access Control Panel.
Select Uninstall a program.
Click on the application and click Uninstall.
Windows 8 & Windows 8.1
Tap Win+W and type in Control Panel. Press Enter.
Select Uninstall a program.
Click on the application and click Uninstall.
Windows 10
Tap Win+X and access Programs and Features.
Click on the application and click Uninstall.
Search.mygamesxp.com Removal from Browsers
Mozilla Firefox
Press Alt+T and go to Add-ons.
Select Extensions and choose the extension. Press Remove.
Google Chrome
Press Alt+F and choose More Tools.
Select Extensions.
Choose the extension and click on the recycle bin icon.
Click Remove.
In non-techie terms:
Search.mygamesxp.com is a browser hijacker that arbitrarily alters your browser settings. Its presence on your computer is a bad sign because it may have infiltrated your operating system silently along with other malware applications. In that case, you may be facing multiple system security issues. If you do not want to be presented with potentially dangerous web content or even worse, you need to remove Search.mygamesxp.com as soon as possible. Since that may not sort out all your security problems, we suggest that you use a reliable antimalware application that will automatically handle them for you and protect your system from further attacks.