Do you know what search.mycouponsxp.com is?
Many Chrome, IE, and Firefox users believe that search.mycouponsxp.com is a very beneficial search tool. Even more users believe that this is a dangerous browser hijacker that requires immediate removal. So, what is the truth? We do not delete search.mycouponsxp.com as a browser hijacker, but we certainly do not identify it as a trustworthy search tool either. The installation of this search provider is very questionable, and it appears that it can present the modified Yahoo Search results. Due to these issues, this suspicious search tool had caught our attention. Find out what we have discovered about this search tool by reading this report.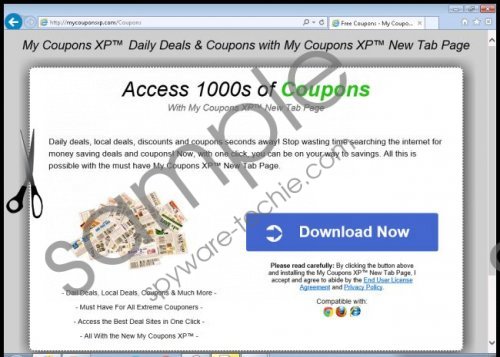 search.mycouponsxp.com screenshot
Scroll down for full removal instructions
It is very important to discuss the distribution of search.mycouponsxp.com and why some users remove it as a browser hijacker. The official page representing this search provider is mycouponsxp.com/Coupons. The strange thing is that this page advertises a New Tab extension. This page does not mention anything about the home page or search provider modifications, and so it is not surprising that computer users think they need to delete search.mycouponsxp.com as a hijacker. At first sight, search.mycouponsxp.com fits the description of a browser hijacker, but this is not the case. If you took your time to research software and read through EULA and Privacy Policy documents – which are linked right below the Download button on the official page – you would know about the changes. If you are still convinced that your need to remove search.mycouponsxp.com as a hijacker, here is an excerpt from the EULA.
My Coupons XP is a free desktop application that saves your preferred home page and default search settings so that they can't be changed by software you download from the Internet. My Coupons XP may alert you if a third party attempts to change your Browser's home page or default search settings.
You would find the same statement in the EULA found at myinterestsxp.com/Interests. If you click the Download link on this page, the home page will be switched to search.myinterestsxp.com. It is very likely that this search engine was developed by the same people who stand behind search.mycouponsxp.com. Both of these search tools present modified Yahoo search results, and extsearch.maxwebsearch.com is the server that is employed for redirecting. Unfortunately, many users believe that Yahoo can be trusted, and they do not realize that the sponsored links are injected by the suspicious search tool itself. Obviously, we do not recommend clicking on random links, as this could lead to other infections. If they enter your PC, you will have to delete them, and removing search.myinterestsxp.com is already challenging enough.
This manual removal guide was created to help delete undesirable programs and change the undesirable search settings. In some cases, it is enough to remove unwanted apps to delete search.myinterestsxp.com from your browsers. In other cases, you might have to replace this search tool manually. In either case, we have got you covered.
Remove undesirable software
Remove from Windows XP:
Open the Start menu and select Control Panel.
Double-click Add or Remove Programs.
In the menu on the left click Change or Remove Programs.
Remove the undesirable software.
Remove from Windows Vista/Windows 7:
Click the Windows icon on the left of the Taskbar.
Open Control Panel and click Uninstall a program.
Right-click the application you wish to delete from your PC.
Select Uninstall.
Remove from Windows 8/Windows 8.1:
Simultaneously tap Win+R on your keyboard to launch RUN.
Enter Control Panel to open a menu representing other utilities.
Select Uninstall a program and find the undesirable app.
Right-click the program you have chosen to delete and select Uninstall.
Delete search.myinterestsxp.com
Delete from Mozilla Firefox:
Open the browser, simultaneously tap Alt+T, and click Options.
Find the Home page box (in General menu) and overwrite/remove the URL.
Move to the Search menu and choose a new default search provider.
Select the undesirable search provider and click Remove.
Delete from Google Chrome:
Open the browser, simultaneously tap Alt+T, and click Settings.
Under On Startup choose Open a specific page or set of pages and click Set pages.
Overwrite/remove the URL representing search.mycouponsxp.com and click OK.
Under Appearance mark Show Home button and click Change.
Overwrite/remove the URL representing search.mycouponsxp.com and click OK.
Under Search click Manage search engines and choose a new default search provider.
Click X on the URL of the search provider you wish to remove and click Done.
Delete from Internet Explorer:
Open the browser, simultaneously tap Alt+T, and select Internet Options.
Click the General tab, overwrite/remove the Home Page URL, and click OK.
Simultaneously tap Alt+T again, select Manage Add-ons, and go to Search Providers.
Choose a new and Remove the undesirable search provider. Click Close.
In non-techie terms:
The suspicious search.mycouponsxp.com can redirect you to third-party pages with the modified search results, which is very suspicious. Even though, contrary to the common belief, search.myinterestsxp.com is not a browser hijacker, it is a good idea to remove it from your browsers. Of course, it might be more important to delete other infections that this search tool might come bundled with, but you should not postpone the removal of the search tool either. Are you having trouble? Maybe this is because malware is taking over your PC? If so, check out the instructions below; they might help.