Do you know what Search.moviegoat.com is?
Has your homepage been replaced with Search.moviegoat.com? If that happened without your notice or permission, you must already understand that this search tool is not trustworthy. If you have accepted the changes yourself, you might still believe it to be reliable and beneficial. According to our research team, it is also possible that the hijacker was imposed on you. It appears that this infection might be offered along with an extension called "Movie Goat." Have you downloaded it? Were you forced to change your browser's settings as well? In any case, you should delete Search.moviegoat.com from your web browsers immediately because it is not safe to keep it installed for another moment. If you want to learn more about this suspicious threat, please keep reading the report.
Our research team reviewed Feed.sonic-search.com and Mountainbrowse.com almost a year ago, but these hijackers are the closest in their functionality to Search.moviegoat.com. It is unknown if these threats were created by the same company, but that could be the case. One thing is for sure: The new hijacker has been created to attract users. Even if it has corrupted your browser completely illegally, you might find it interesting because of the links it promotes. Unsurprisingly, Search.moviegoat.com promotes links to movie-related websites, such as variety.com, traileraddict.com, and cinemablend.com. Additionally, you are presented with links routing to the most popular sites, such as facebook.com, amazon.com, twitter.com, or instagram.com. Is it safe for you to interact with these links? Although you will be routed to authentic websites, it is recommended that you remove the hijacker instead of interacting with it.
Every interaction, every move you make can be recorded by Search.moviegoat.com tracking cookies. They can also record personally-identifiable information, which could be used to learn more about you and to introduce you to more attractive content. How does that work? The hijacker is likely to present you with third-party content, advertisements, and promotional offers via the search tool that it displays. Notably, you are redirected to search.yahoo.com (Yahoo Search) first. Since this search provider is very popular, you are likely to trust the results shown via it. Unfortunately, these results might include the third-party content promoted by the hijacker, which means that the search service is not exactly reliable. Needless to say, it is risky to use Search.moviegoat.com as a regular search provider, and that is not recommended. Overall, the risks that this hijacker can impose are not worth the services it provides, and so the best thing you can do is delete this infection from your browsers.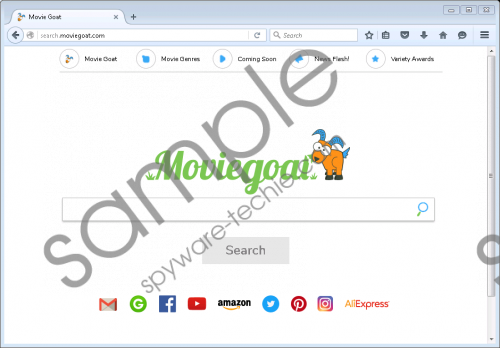 Search.moviegoat.com screenshot
Scroll down for full removal instructions
Can you list all infections active on your operating system? If the hijacker was introduced to you via a malicious installer, malware could be active without your notice at all. Therefore, the first step you need to take is to scan your PC. If a malicious extension is detected, delete it, and, quite possibly, the hijacker will be gone as well. If an extension does not exist, you can remove Search.moviegoat.com using the instructions below. Of course, manual removal is not the best option if dangerous threats are detected, in which case, it is best to use automated malware removal software. Taking care of threats that are active on your PC right now is very important, but you should also be cautious about the future. If you do not employ trusted security software, malicious threats could slither in and terrorize you again.
Delete Search.moviegoat.com from browsers
Mozilla Firefox:
Launch the browser and tap keys Alt+T for the Tools menu.
Select Options and then navigate to the General menu.
Overwrite the URL under Home Page.
Google Chrome:
Launch the browser and tap keys Alt+F for the Chrome menu.
Select Settings and then navigate to the On Startup menu.
Check Open a specific page or set of pages and click Set pages.
Overwrite the URL representing the hijacker and then click OK.
Internet Explorer:
Launch the browser and tap keys Alt+T for the Tools menu.
Select Internet options and then click the General tab.
Overwrite the URL under Home Page and then click OK.
In non-techie terms:
Search.moviegoat.com is a browser hijacker that should be deleted from your operating system. Although it does not look like a serious threat, considering that it promotes links to popular websites, it can record personal information, and it can introduce you to ads via the search results. It can even redirect to Yahoo Search and modify the results without your notice, which is a red flag as well. If the hijacker comes packaged with the Movie Goat add-on, delete it first. If the hijacker stays put, use the instructions above to change homepage settings. If you cannot remove Search.moviegoat.com or the threats that might be present on your operating system along with it, utilize an anti-malware tool that can automatically erase all infections, as well as keep them away in the future.