Do you know what Search Manager is?
Search Manager seems to be a popular, yet quite redundant Google Chrome extension that enables you to use different popular search engines, including Google, Yahoo, and Bing, on separate tabs. Unfortunately, this application uses aggressive marketing to sneak onto computers; therefore, our researchers have categorized it as a potentially unwanted program (PUP). We cannot claim that the browser extension itself is a great danger to your computer because it actually does what it promises. Of course, you can simply use your browser's new tabs to load any preferred search providers and you can switch between them as you wish. You do not need a questionable extension for this. Although you can officially download this application, it is more likely that it shows up on your computer through unreliable channels. This means that its presence may be a sign of malware infections on your system. Since this is a totally useless application, we believe that you should not keep it on board. We suggest that you remove Search Manager from your browser and all related infections as well. This is what we advise you to do if you want to keep your PC protected.
You can find the promotional page of this tool at searchmgr.com. This is a rather simple page to be frank. You can install this extension by clicking on the "Add & Start Download" button. If you are not rushing you can see in a pop-up window what kinds of rights you are giving to this application. Most users usually click on the "Add extension" button right away and miss this part. This is how they overlook that this PUP will be able to read and change all their data on all the websites they visit and so on. Considering that this is a completely unnecessary application, it will be given too much authority to make changes in your browser.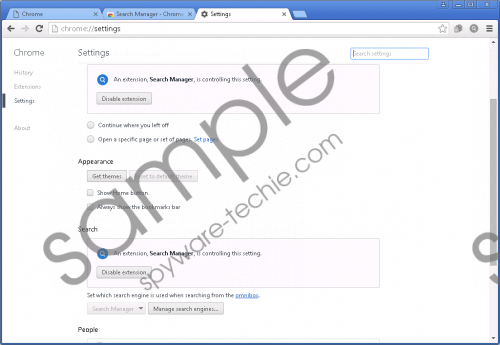 Search Manager screenshot
Scroll down for full removal instructions
You can also install this PUP through another official source, the Chrome web store (chrome.google.com/webstore/detail/search-manager/bahkljhhdeciiaodlkppoonappfnheoi). The numbers here show over 400 thousand installs, which means that this extension is actually quite popular among computer users. However, if you care to double-check what you are about to install by running a web search first, you may find out that this is a potentially unwanted program you should remove and not install. To check on this extension, you can use its unique Chrome ID (bahkljhhdeciiaodlkppoonappfnheoi) or you can also try its name; although with such a general name there may be no relevant hits at all.
The problem emerges with the fact that this PUP may also be distributed through suspicious channels, including fake advertisements and freeware bundles. These unreliable advertisements can be displayed by questionable file-sharing websites, such as filewin.com and malavida.es. Clicking on such ads, either pop-up or banner, can trigger the drop of this PUP onto your system. As for the bundles, you need to know that these software packages may contain several infections. Most commonly adware applications, browser hijackers, and PUPs are packed together to infect unsuspecting users in one go. You can download such malicious bundles when you land on questionable torrent and shareware sites and you click on unsafe content, such as disguised third-party ads. Therefore, it is very important for your own safety that you do not visit such sites and do not click on advertising. You should know that you cannot even trust otherwise reputable websites and their ads when your computer is infected with adware. The presence of all these PUPs and malware infections may introduce you to potentially harmful third-party web content. Therefore, we advise you to remove Search Manager and identify all other possibly harmful applications. Leaving these on board would be a big mistake.
This Google Chrome extension enables you to "manage your search providers in one place." In other words, it gives you an opportunity to "design your search experience by choosing your preferred engine, background image and color." This may sound interesting to some inexperienced computer users, but we must remind you that this is really nothing you could not actually do simply by changing some settings yourself. That is why we think that this application is useless. Of course, we cannot say that it does not function properly, because you can actually choose one of the three most popular search engines for separate new tabs and you can easily switch between them. Apart from changing your new tab settings, this PUP also modifies your default search engine to srch.bar. The decision is in your hands really, i.e., the fate of this tool.
If you consider its distribution method shady enough and the potential risks serious enough, you may want to delete Search Manager from your browser. This is really not that complicated. All you need to do is remove the extension through the browser settings. If you have never done this before, please use our instructions below. If you want to see clearly with regard to the malware situation on your computer, we suggest that you use a reputable anti-malware application.
Remove Search Manager from browser
Google Chrome
Press Alt+F and go to More Tools.
Select Extensions.
Select the undesirable extension and click on the trash can icon.
Press Remove.
In non-techie terms:
Search Manager is a questionable Google Chrome browser extension that may be spread by aggressive and suspicious channels, such as unsafe advertisements and freeware bundles containing malicious software installers. Because of this, our researchers have labeled this tool as a potentially unwanted program. Although this extension may function just fine, we have found that it actually does nothing useful, i.e., nothing you could not do yourself by setting a few parameters in your browser. Therefore, we recommend that you remove Search Manager and, more importantly, eliminate all other possible threat sources if you want to make your computer secure again.