Do you know what Search.internetspeedpilot.com is?
Our research team says that this program is a browser hijacker. A browser hijacker is a type of computer security threat that modifies your browser settings without your permission. Search.internetspeedpilot.com does exactly that. It is very likely that this program entered your computer uninvited, or you installed it on your browser accidentally. Whichever it might have been, your job right now is to remove Search.internetspeedpilot.com from your system at once. At the same time, you need to ensure that your system is protected from similar intruders, so do not hesitate to invest in a licensed antispyware tool if you have to.
Unlike most of the browser hijackers, this program has an official website, and you can add the domain to your browser from the official site. The homepage is located at internetspeedpilot.com, and once you open it, you are greeted with a line that says "FREE INTERNET SPEED TEST." Basically, this webpage promotes and application that should help you test "your internet speed in just a few clicks." The application is supposedly free, but we can see now it comes with additional features, and Search.internetspeedpilot.com is one of them.
Of course, the official website is not the only distribution source. If that was the case, there would not be so many complaints about this application. After all, if you do not want a program, you do not install it. But if the program comes seemingly "out of nowhere," then it is a problem. This browser hijacker may enter your computer via annoying pop-up ads that are displayed by yet another unwanted application that had been installed on your PC before. That is why it is very important that you check the source of all the software you are willing to set up on your system.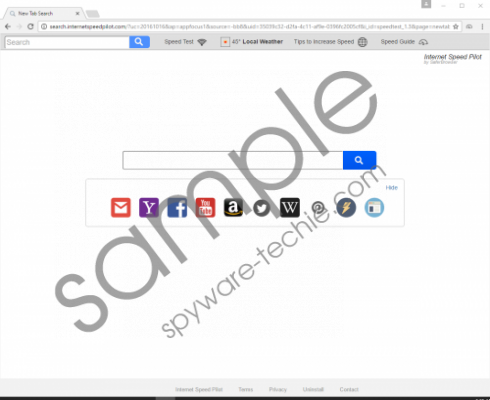 Search.internetspeedpilot.com screenshot
Scroll down for full removal instructions
If you indulge in downloading freeware from unfamiliar websites, there is a good chance that you will soon get infected with malware. Freeware apps that are hosted on file-sharing sites often bundled additional software in their installers. Consequently, if you go through the installation process without checking all the steps in the installation wizard, the chances are you end up installing the likes of Search.internetspeedpilot.com on your PC without even realizing it. Luckily, browser hijackers, adware, and other similar applications are not immediate security threats, so you should have no problem as you try to remove them from your system.
Search.internetspeedpilot.com is very similar to Search.searchlttrn.com, Search.yourpackagesnow.com, Search.yourmapscenter.com, and a number of other browser hijackers that come from the same family of threats. Upon the installation, the program will change your default engine, homepage, and the new tab settings. What's more, it will also add a toolbar that will display the local weather and a few other icons, leading to search.internetspeedpilot.com/Widgets/SpeedTest?, broadbandchoices.co.uk/guides/speed/boost-your-internet-speed, and fcc.gov/research-reports/guides/household-broadband-guide. From these links, one might get an impression that the program is a reliable tool, designed to provide you with the best service out there.
However, our main security concern with browser hijackers is that they could be easily exploited by cyber criminals. It is not just the search service that Search.internetspeedpilot.com should provide you with. The hijacker will also track your online activity by using tracking cookies to monitor your web browsing habits. Supposedly, all the data collected should be used to improve and customize the service itself, but there is no guarantee that malevolent third parties would not use it for their own purposes.
After all, browser hijacker can be easily exploited by hackers for malware distribution. Before that happens, you need to remove Search.internetspeedpilot.com from your computer, at the same time terminating all the other unwanted applications. We are sure that you have at least several unwanted programs running on your PC. To determine which apps need to be deleted right away, scan your PC with the SpyHunter free scanner. You will get a list of all the potential threats, and you will be able to remove them automatically.
Once your computer is clean and safe again, you should consider all the other options that would allow you to safeguard your system against similar intruders in the future. The most efficient way to protect your PC from harm would be acquiring a legitimate antispyware tool.
How to Remove Search.internetspeedpilot.com
Firefox
Open your browser and press Alt+T.
Click Add-ons and open the Extensions tab.
Delete Speedtest extension and close your browser.
Press Win+R and type %AppData% into the Open box.
Click OK and go to Mozilla\Firefox\Profiles\Extensions.
Delete the @Speedtest.xpi file.
Go back to Profiles and open your Unique user ID folder.
Locate and open the prefs.js file.
Delete the following string: "user_pref("browser.startup.homepage", http://search.internetspeedpilot.com
Save changes and exit the file.
Chrome
Open your browser and press Alt+F.
Click More tools and go to Extensions.
Remove Speedtest from the list of extensions.
Close your browser and press Win+R.
Type %LOCALAPPDATA% into the Open box and click OK.
Go to Google\Chrome\User Data\Default\Extensions.
Delete the fblfhomljfllgdkhpbfbjegghfheaobm folder.
In non-techie terms:
Search.internetspeedpilot.com may look like a reliable search provider, but this search engine is actually a browser hijacker. This program can cause severe damage to your system, and you could experience sensitive data loss. Of course, the browser hijacker does not do that itself, but the program could be easily misused by malevolent third parties. Thus, do yourself a favor and remove the program immediately.