Do you know what Search.inkeepr.com is?
Search.inkeepr.com is not your average search engine. It is a browser hijacker set to modify your browser's settings for the purpose of generating advertising revenue for its owners. Thus, we recommend that you remove it because its ads are annoying and intrusive. However, we want to point out that this browser hijacker is unique as it was created for Mac OS. That means that this browser hijacker has no effect on Windows-based web browsers which is very good indeed. A browser hijacker for Apple computers does not come often, so we are eager to share with you as much information as possible. So if you are an Apple computer user, you might want to read this description.
Our security analysts have determined that you can only get Search.inkeepr.com by downloading and installing it from its dedicated distribution website at Inkeepr.com. This website states that you will get the most recent headlines of your favorite websites, and notifications of news updates as soon as they are released. Furthermore, they claim that you can manage and filter news by category and access customized news feeds. So this hijacker has been tailored for web surfers who always want to get the latest news and information. This is all well and good, but they do mention all of the advertisements you will have to deal with. Fortunately, this hijacker contains some information about its developers, so we want to get this information out there you all of you to read. This browser hijacker is the brainchild of a company called Genieo Innovation Ltd. based in Tel Aviv, Israel. Nothing is known about this company which is very suspicious.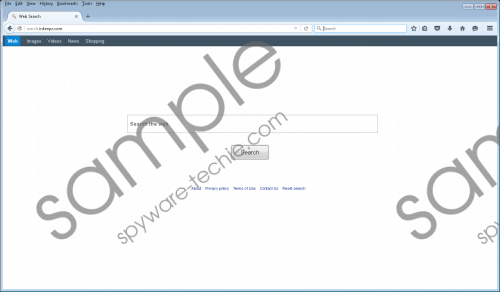 Search.inkeepr.com screenshot
Scroll down for full removal instructions
Once you download and install Search.inkeepr.com's accompanying program onto your computer, it will proceed to modify your browser's settings. Note that this application will work only on Apple Safari. Modifying the browser settings includes changing the homepage and new tab and new window settings without your consent. Luckily, Search.inkeepr.com does not prevent you from deleting it if you feel like it, but we will come to this later. However, we argue for getting rid of it, because its advertisements are intrusive and may be misleading. Even though Macs do not get infected with malware like Windows computers do, you can get redirected to a fictitious online shopping website that might try to scam you and get your banking credentials to steal all of your money.
We also want to mention that Search.inkeepr.com will try to keep tabs on you and collect as much information as the law allows them to. As indicated in this hijacker's EULA, "You acknowledge that InKeeper and its third party suppliers collect certain non-personal information with respect to the users of the Software, you hereby consent to Inkeeper's and it party suppliers' collection and use of such information." So you have to be aware that this hijacker will keep tabs on you. However, additional information to be found in its privacy policy is currently unavailable, so we do not know what specific information it might obtain. However, from our experience, we can say that it will most definitely collect such as your approximate geographical location, IP addresses, browser type, system information, and browsing and search history. Now, browsing and search history and geographical location are crucial to customize the ads so keep this in mind.
As you can see, not even Macs are safe from malicious content. Search.inkeepr.com is considered as malware since it can subject you to questionable content and websites that might try to scam you. It is true, however, that you will not get your PC infected with malware, so you are relatively safe. Nevertheless, you should not take any chances and remove this infection as soon as possible.
How to get rid of this browser hijacker
Go to Preferences and select General.
Type a new URL in the Homepage address bar.
Click New windows open with menu and select the Homepage.
Then, click New tabs open with menu and select the Homepage.
Go to Disk Utilities and open Activity Monitor.
Locate Inkeepr in the queue and click Quit.
Then, open Applications Finder and choose Move to trash.
Empty the trash.
In non-techie terms:
Search.inkeepr.com is a recently discovered browser hijacker for Mac. It is set to modify your browser's settings and force you to use its search engine that contains a lot of commercial advertisements that may annoy you. Nevertheless, it can get worse because it may promote scam websites. So be sure to remove this infection using our manual removal guide.