Do you know what Search.iminent.com is?
Search.iminent.com is a web domain used by Iminent browser extension. It appears on your browser, when you install any Iminent browser extension on your computer. Other users may know this potentially unwanted application as WebBooster, Start.iminent.com or Iminent Search. The bottom line is that all of these applications come from the same source, and there is no need to panic if your browser settings suddenly get modified. You simply need to remove Search.iminent.com from your computer to avoid any further threats. For manual removal, please refer to the instructions below this description.
It is easy to download and install Search.iminent.com onto your PC from imminent.com/download. However, the guys from our lab team are sure that users seldom download and install such programs directly. It is a lot of more often that, Iminent and similar applications get around bundled with other freeware apps.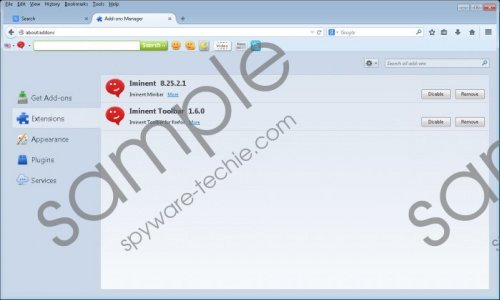 Search.iminent.com screenshot
Scroll down for full removal instructions
It is important to point out that Iminent application does not enter your computer silently. It means that you can choose whether you want Search.iminent.com installed or not. The default option DOES NOT change your default search engine to Iminent search. However, it may happen that Search.iminent.com gets set as your default search engine especially if you download an application from a third-party website.
On the other hand, browser settings modifications are not the main problem related to Search.iminent.com. Iminent browser extension is mostly known for its adware properties. Each time you make use of Search.iminent.com, you will see a lot of commercial advertisements that will not allow you to browse the Internet properly.
Needless to say, that you cannot click the commercial ads delivered via Search.iminent.com because it is not safe. Like most of the ad-supported browser extensions, Iminent relies on third-party advertising networks to generate ad content. It shows that Search.iminent.com does not try to infect you with malware, but at the same time it does not review the third-party content, so if you click any ad, you click it on your own risk.
To put it simply, if you want to avoid potential computer security risks, you need to make sure that you delete Search.iminent.com and other related applications from your system. For starters, you can uninstall Iminent via Control Panel. Then you need to remove all the unnecessary extensions from your browser and restore your default search engine to default. Finally, scan your computer with a reliable antimalware scanner that will indicate any dangerous files remaining.
When you are done with Search.iminent.com removal, acquire a legitimate malware detection and removal tool. It will help you to ensure that your system is protected 24/7.
How to remove Iminent from PC
Windows 8
Drag mouse cursor to the bottom right of your screen.
When Charm bar appears click Settings and go to Control Panel.
Select Uninstall a program and remove Iminent.
Windows Vista & Windows 7
Open Start menu and select Control Panel.
Go to Uninstall a program and remove Iminent.
Windows XP
Click Start menu button and go to Control Panel.
Select Add or remove programs and uninstall Iminent.
Remove Search.iminent.com from browser
Internet Explorer
Press Alt+T and click Manage add-ons.
Remove Iminent from Toolbars and Extensions.
Click Search providers on the left.
Set a new default search engine and remove Iminent Search.
Mozilla Firefox
Click the search engine icon on the left of search box.
Select Manage search engines on drop-down menu.
Remove Iminent search from the list and click OK.
Press Alt+T and go to Add-ons.
Disable and remove Iminent from Extensions. Restart browser.
Google Chrome
Press Alt+F and click Tools. Go to Extensions.
Remove Iminent from the list and click Settings on the left.
Scroll down to Search and click Manage search engines.
Set a new default search engine and delete Iminent Search. Click Done.
If you prefer a more thorough removal, you can check out the instructions below this article. Please do not hesitate to leave a comment if you have any further questions.
In non-techie terms:
Search.iminent.com is a search engine that is part of Iminent extension setup. Iminent is a potentially unwanted application that could be related to potential computer security threats, so you have to remove everything related to it from your PC as soon as possible.