Do you what Search.htrackmyflight.co is?
Search.htrackmyflight.co is an identical twin of Search.trackmyflight.co, another browser hijacker from the Polarity family that has only an "h" less in its URL as a difference. Our researchers say that this hijacker can introduce you to third-party ads and links that may not be trustworthy enough for you to click on. This means that by clicking on the wrong content, you may infect your computer with other malware infections or get taken to malicious websites on new tabs or in new windows where you could be scammed. All in all, it is not safe for you to keep this browser hijacker in your browsers. When you notice this infection in your browsers, it is also quite likely that you will find other malware threats as well as potentially unwanted programs on board. Since these can make your PC quite vulnerable by exposing you to potentially harmful third-party web content, we advise you to act now and remove Search.htrackmyflight.co from your computer.
It is quite easy to infect your computer with such a browser hijacker because all you need to do is click on the wrong content on the wrong page. No wonder why you should avoid suspicious online gaming, betting, dating, and file-sharing pages. These are the most likely ones to promote questionable and downright malicious third-party contents (banner and pop-up ads, fake buttons, and scripts). However, when you previously let malware threats on board, such as adware programs and browser hijackers, these infections can easily generate ads that may drop bundles of malware infections or open new tabs with malicious content. You always need to be alert when surfing the web because it is easy to end up on a suspicious site offering you a pop-up to download a certain tool to view content or to protect your system. Hopefully, you see now how one click can result in a number of malware infections and potentially unwanted programs on your computer. This is why we suggest that after you delete Search.htrackmyflight.co from your browsers, you run a full-system malware scan using a reliable online tool to identify all other threats on your PC.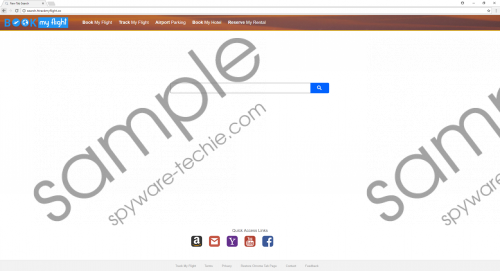 Search.htrackmyflight.co screenshot
Scroll down for full removal instructions
Our researchers tested this browser hijacker in our internal lab and found that this new search page is actually a bit different from most of its predecessors in the Polarity family. This family is notorious for its characteristic fake toolbar with the usual search tool, News and Local Weather links, which are all missing this time and even the toolbar looks different. This time, you find flight-related links to third-party pages where you can book and track your flight, book a hotel, and rent a car, but these pages are very general ones that you could find or bookmark anyway if you travel a lot.
The problem is that this malware infection can promote potentially unreliable affiliates via advertising and sponsored links on modified search results pages. This browser hijacker can alter the original Yahoo results and present to you a page that may contain all kinds of ads and questionable links. If you click on these, there is a chance that you open new tabs and windows with malicious content like fake webshops, which can scam you and you may share even your banking details with cyber criminals. But you can also easily drop infections behind your back and make your PC even more vulnerable than it may be right now. We do not advise you to use this search page at all. If you need flight-related sites at an easy reach, we suggest that you bookmark those pages. But for now, we recommend that you remove Search.htrackmyflight.co from your PC ASAP.
This family is known to hijack your homepages in your main browsers. Therefore, it could be eliminated if you simply restored these settings. Please follow our instructions below if you do not know how to do this. But remember that removing Search.htrackmyflight.co may not make your system all clean since there could be other threats as well. If you would like to make your PC secure again and keep it that way, too, we suggest that you install a reliable anti-malware program like SpyHunter as soon as possible.
Remove Search.htrackmyflight.co from your browsers
Google Chrome
Tap Alt+F and go to Settings.
Select Manage on startup pages under On Startup.
Mark Open a specific page or set of pages.
Click on the menu icon next to the unwanted homepage address.
Choose Edit and replace the homepage address.
Press Save.
Internet Explorer
Tap Alt+T and open Internet options.
Choose the General tab and click Use default.
Press OK.
Mozilla Firefox
Tap Alt+T and pick Options.
Select General in the left panel.
Press Restore to Default.
In non-techie terms:
Search.htrackmyflight.co was created by Polarity Technologies Ltd. as a new attempt to make some easy money by promoting questionable affiliates. This browser hijacker is very similar to all other threats in this family although this one has actually a bit different toolbar at the top offering travel-related easy access to third-party websites. You can also search the web but you will end up on a manipulated search results page that may display potentially unsafe ads and links. Clicking on these could end badly for you. Our researchers also say that this browser hijacker can enter your computer alongside other malware threats, which means multiple system security issues for you. This is why we suggest that you remove Search.htrackmyflight.co from your computer right now. What's more, you should install a proper anti-malware program to protect your PC as effectively as possible.