Do you know what Search.hthecalendar.co is?
Do not be surprised if you find Search.hthecalendar.co set on your browsers after you install the browser extension named The Calendar because this piece of software promotes this page. It should be set on your Mozilla Firefox and Internet Explorer only, but you might find your Google Chrome settings altered too because the version for Chrome should be released soon as well. Search.hthecalendar.co is not a reliable search provider even though it looks like one. In fact, specialists say that it would be best to remove it and set another more reliable search provider in its place because it might bring problems. Its biggest drawback is that it might show modified search results that might, theoretically, redirect to untrustworthy websites. Believe us; there are better search tools that do not return suspicious search results, so you should exchange Search.hthecalendar.co for a more reliable search engine. As mentioned at the beginning, this search tool has appeared on your browsers because you have installed the extension named The Calendar. To get rid of the page set, you need to remove the browser add-on completely.
Search.hthecalendar.co has been developed by Polarity Technologies Ltd., so it is not surprising at all that it does not differ much from other search tools developed by this company – they are all created on the same template. We have to admit that Search.hthecalendar.co looks quite trustworthy. It can be used both to perform web searches and access third-party websites quicker since it contains the so-called quick-access buttons opening local weather forecast, online calendar, and other third-party websites. Of course, it does not mean that you could not do this without it. Even though Search.hthecalendar.co does look completely reliable at first glance, it is far from being perfect. Research conducted by our team of experienced specialists has shown that Search.hthecalendar.co might present users with the modified search results, which is a huge drawback. It is basically impossible to distinguish them from ordinary search results, but you will immediately realize that you have clicked on the modified search result when you find yourself on a website that does not contain anything you are looking for.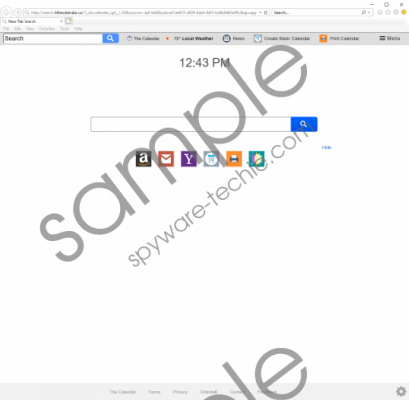 Search.hthecalendar.co screenshot
Scroll down for full removal instructions
We do not recommend keeping Search.hthecalendar.co set and using it for searching the information on the web, but if you decide not to get rid of it, you should at least not enter any personal details in its search box because they will all be recorded. The search tool also automatically collects non-personally identifiable information, including visited websites, links opened, and some technical details about the user's computer. It is neither the first nor the last search provider that automatically gathers data.
Some users find Search.hthecalendar.co set as their new homepage and New Tab page after clicking the Download button on its official website http://thecalendar.co/, whereas others find their browsers' settings altered after installing a random application downloaded from the web. There is nothing surprising about this – bundling is a popular method used to distributed suspicious applications. You should be more careful to notice these additional offers and ditch them before it is too late. If you do not trust yourself very much, and do not think you could prevent untrustworthy software from entering your computer all alone, you should acquire an antimalware scanner to ensure your system's maximum protection. Make sure you do not install any shady tools on your computer!
There is a way to remove Search.hthecalendar.co from all affected browsers, so it does not mean that you have to keep it set. It will be gone immediately after you delete the extension The Calendar. Are you an Internet Explorer user? If so, you could delete it normally using Control Panel; however, if you use Mozilla Firefox or Google Chrome (Chrome settings were not altered at the time of analysis), you will need to open the add-ons manager to delete this extension.
Remove Search.hthecalendar.co
Internet Explorer
Windows XP
Access the Start menu and select Control Panel.
Click Add or Remove Programs.
Select the undesirable piece of software and click Remove.
Windows 7/Vista/8/8.1/10
Press Win+R on your keyboard.
Insert Control Panel and click OK.
Click Uninstall a program.
Select the piece of software you want gone and click Uninstall.
Mozilla Firefox
Open Mozilla Firefox.
Tap Ctrl+Shift+A.
Select the extension associated with Search.hthecalendar.co.
Click Remove.
In non-techie terms:
Not all applications that present themselves as beneficial software can be trusted, so do not install programs without inspecting them first. Additionally, you should always carefully install new applications you have downloaded from the web because they might come with additional offers. In other words, you might install several other applications alongside the one program you have downloaded willingly if you are not careful enough.