Do you know what Search.hr is?
Search.hr is an application that is advertised as a tool that should improve your overall online experience by helping you search the web in a much easier way. While it might be a tempting reason to install this piece of software, you should be aware that it will actually do the opposite of what it should. As it turns out this application is yet another devious search engine that can make undesirable changes to your web browser's default settings. In fact, such functionality will make surfing the web a much more annoying and frustrating experience. On top of that it could also prove to be quite dangerous because it might subject your operating system to questionable and even potentially malicious web content. To find out more about Search.hr and its devious functionally, make sure to read the rest of our report. Below we also provide a detailed removal guide that you must use to delete Search.hr once and for all.
As soon as Search.hr enters your operating system, it will install a questionable third-party extension without any notification or authorization. Once this is done, you will notice sudden changes within your default web browser. The main two alterations triggered by this suspicious plug-in are of your default homepage and new tab page. One of the most annoying things about all of this is the fact that you are not warned about any of the changes beforehand. At first sight it might not seem like a big deal; unfortunately, the reality is quite different. That is so because the modifications will have a large and mostly negative effect on the way you experience the web. Having this program fully active on your operating system means that you will no longer have access to your default homepage; instead, you will be presented with a suspicious third-party site every single time you will start an online session. Virtually the same thing will happen in regards to your new tab page because you will be presented with a questionable web page and not the blank page that you are used to. It goes without saying that such functionality of this devious search engine cannot be tolerated. If you are keen on regaining your browser's default functionality, be sure to use a detailed removal guide to delete Search.hr once and for all. Keep in mind that only a complete removal of this devious program will allow you to surf the web without any interruptions once again.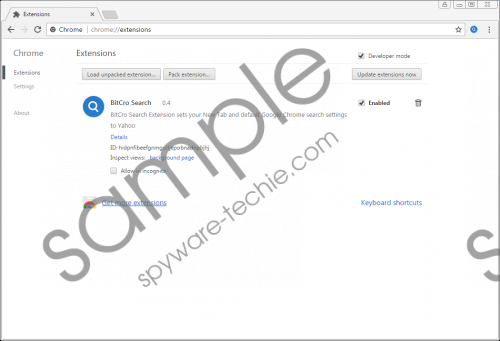 Search.hr screenshot
Scroll down for full removal instructions
While the annoying alterations are the most prominent feature of Search.hr, you should know that due to them your operating system could become subjected to suspicious online content. That could happen if you choose to use a suspicious search field on a newly set homepage. This is so because of the results provided by this search engine could lead you to devious third-party websites since they might be hosting redirect links within them. It goes without saying that this is a dangerous instance; if you happen to come across such a result, there is a chance that you could end up on websites crafted by malware developers. Unfortunately, in quite a few cases just entering such sites could be more than enough to infect your operating system with some unknown malware. In other situations, you might find yourself on a fake online shop. Is it quite obvious that such devious online stores are created by cyber crooks so they could steal your credit card data or other sensitive information. It goes without saying that a complete removal of Search.hr is critical and should not be delayed under any circumstances.
To delete Search.hr once and for all use the instructions that we present below. It is important not to skip or miss any steps of the removal guide as that could have undesirable outcomes. Due to incomplete removal unwanted and annoying changes to your web browser's settings could remain in place. In other situations, leftovers of Search.hr could be used to silently restore it. It is important to avoid this, and you can do that by simply analyzing your computer for potential traces associated with Search.hr. Make sure to conduct such analysis as soon as you are done with the instructions that we provide below.
How to remove Search.hr from your computer
Google Chrome
Start your web browser.
Click the Chrome Menu.
Select Settings and click Extensions.
Click the Recycle Bin icon next to the undesirable extension.
Select Remove to confirm your choice.
Mozilla Firefox
Open your web browser.
Click the Menu button.
Select Add-ons and click Extensions.
Click Remove.
Internet Explorer
Launch your web browser.
Click the Menu button.
Select Manage add-ons.
Click Toolbars and Extensions.
Select the unwanted extension and click Remove.
In non-techie terms:
We are well aware of the fact that some users might find manual removal a bit too complicated. If you are one of those users, do not worry. Below we provide an alternative removal guide. By using these instructions you will be able to delete Search.hr automatically.