Do you know what Search.hlocalweatherradar.co is?
Search.hlocalweatherradar.co is a malicious search engine because its creators have employed a deceptive distribution method that involves injecting it secretly while installing third-party software. Hence, you can get it on your PC accidentally. Either way, we do not recommend that you use it for searching the Internet. Hence, you ought to remove it to ensure your computer's security. As a browser hijacker, it is dedicated to making you use it for searching the web so that it could show you promotional links in its search results as well as collect information about you to customize them to generate more ad revenue. The fact of the matter is that this hijacker is dedicated to clandestinely promote certain content and make more for its creators.
Search.hlocalweatherradar.co is nearly identical to Search.searchlttrn.com, Search.yourpackagesnow.com, Search.yourinterestscenter.com, and many other similar hijackers as it comes from a Cyprus-based company called Polarity Technologies. This company acts as if hijacking your browser is fine which is objectively not the case. Our cyber security experts have concluded that this hijacker is distributed on questionable freeware hosting websites called Filewon.com, Filewin.com, Malavida.es, and Descargar.es. These software distributing sites bundle their featured software with the likes of Search.hlocalweatherradar.co to make more revenue because Polarity Technologies has to pay them for the help in distributing the hijackers. The bundled software installers inject this hijacker into your browser secretly. However, you may be able to uncheck its installation in the custom options menu.
If you don't uncheck or you were unable to uncheck the installation of this hijacker, then it will replace your web browser's homepage address to Search.hlocalweatherradar.co, provided that you use one of the three popular web browsers that include Mozilla Firefox, Google Chrome, and Microsoft Internet Explorer. If you use this hijacker for searching the web, then it will show you modified search results with promotional links that you may confuse with a search result and visit.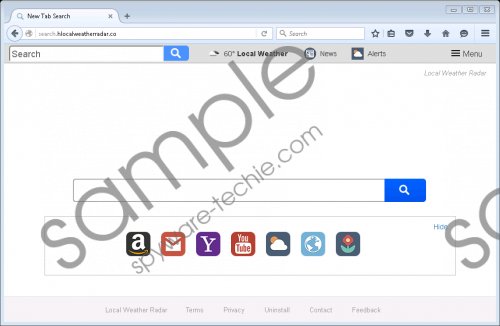 Search.hlocalweatherradar.co screenshot
Scroll down for full removal instructions
Another thing to note is that Search.hlocalweatherradar.co redirects all entered search queries to a modified Yahoo search engine that will provide you with the search results, but, still, the search results can include promoted links supplied by this hijacker that can come from unreliable advertisers that may engage in the promotion of malicious content.
Since online advertising the bread and butter of the people at Polarity Technologies, they have configured Search.hlocalweatherradar.co and the rest of their hijackers to collect non-personally identifiable information about you automatically for geotargeting purposes. Hence, with the help of the collected information, this and other hijackers in its family can show you region-specific ads that can coincide with your personal interests, to a degree. This new hijacker can collect anonymous information such as your IP address, Internet Service Provider domain name, browsing history, search queries, browser type, and so on. While collecting this information is not illegal, you may not want a shady company such as Polarity technologies keeping an eye on your online activity. Therefore, you should consider getting rid of this search engine.
Search.hlocalweatherradar.co is similar to the hundreds of other hijackers released by Polarity Technologies. This company has no shame in that its hijackers boldly replace the homepage addresses of browsers of unsuspecting users to show them ads them make them money. This is unacceptable behavior that you should not tolerate. Therefore, you ought to remove and replace this hijacker with a legitimate search engine.
How to change the homepage
Microsoft Internet Explorer
Launch the browser.
Press Alt+T and click Internet Options.
Erase http://search.hlocalweatherradar.co/
Enter a new URL.
Click OK.
Google Chrome
Launch the browser.
Press Alt+F keys.
Select Settings.
Click Set pages.
Erase http://search.hlocalweatherradar.co/
Enter a new URL
Click OK.
Mozilla Firefox
Launch the browser.
Press Alt+T.
Click Options and select General.
Erase Search.hlocalweatherradar.co and enter a new address.
In non-techie terms:
Search.hlocalweatherradar.co is a search engine that your malware analysts have classified as a browser hijacker because it has been configured to hijack your browser's homepage to show ads in the search results as well as collect information about you to customize the ad campaign. It is a good for nothing search engine with a malicious agenda and you should remove it from your browser.