Do you know what Search.heasysportsaccess.com is?
You need to be very careful about Search.heasysportsaccess.com. This browser hijacker can corrupt Internet Explorer and Mozilla Firefox browsers, but only if you let it. The suspicious threat should always come bundled with the Easy Sports Access extension, and, of course, both are created by the same company, Polarity Technologies Ltd. Have you heard this name before? Our research team certainly has because we have reviewed hundreds of hijackers that are linked to it, including Search.search4ppl.com, Search.searchjmt.com, or Search.hmyutilitybox.co. The extension is, needless to say, introduced in the most positive light, and so it is no wonder IE and Firefox users are installing it willingly. Truth be told, the add-on is not entirely useless, which is why some users have a hard time understanding why they should delete Search.heasysportsaccess.com. If you are not sure about this too, and you need more details regarding the removal process, keep reading.
Search.heasysportsaccess.com is not the first hijacker to employ Easy Sports Access extension to gain access to browsers. Search.easysportsaccess.com is the clone of the threat we are discussing today, and it used to be linked to the suspicious extension. How did you install it? Were you routed to the official download page, easysportsaccess.com/Sports?, via a misleading pop-up? Maybe you found this site on your own while researching different apps/add-ons. And maybe you acquired it as freeware along some other extension or application carried by a software bundle? If you have downloaded other pieces along with the suspicious Search.heasysportsaccess.com, it is crucial for you to install a trusted malware scanner. If you are informed about other threats active on your operating system, you have to make sure that you remove them as soon as possible. You might even have to put the PUP and the hijacker aside if something more serious is found.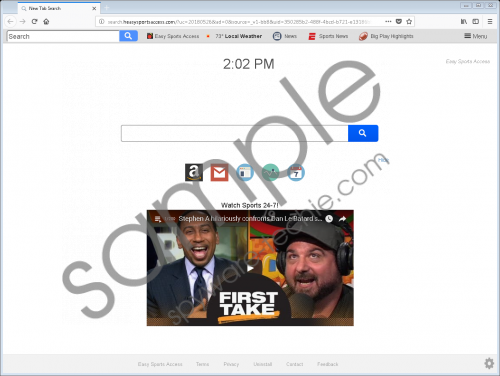 Search.heasysportsaccess.com screenshot
Scroll down for full removal instructions
Do you have espn.com and nfl.com sites bookmarked? If you do, you already have access to them from your browser, and Easy Sports Access loses its purpose. Once you install this extension, it takes over your browser using Search.heasysportsaccess.com to showcase easy-access links to these sites. Along with that, it also displays a weather forecast, and links to news.mynewswire.co (this link is shown by all Polarity Technologies Ltd. hijackers) and a few other sites. So, is the hijacker useful? You have to judge this for yourself, but our research team believes that Search.heasysportsaccess.com is useless. The thing is that this hijacker was created to collect user data – which is done using tracking cookies – and to introduce users to an unreliable search tool. It was found that all search keywords are taken through the extsearch.maxwebsearch.com server to Yahoo Search. Although you might trust this search engine, the results are modified by the hijacker to showcase potentially unreliable links. This is the main reason removal is recommended.
We are sure you can find a better tool to provide you with sports-related news. Although, at first, you might think that Easy Sports Access is beneficial, it is not that great, and it installs Search.heasysportsaccess.com, which is clearly very suspicious. If you are sure you want to delete this hijacker, you need to get rid of the extension first. On Internet Explorer, of course, it is an application that needs to be uninstalled. We explain the process in the manual removal instructions below. If you need to remove Search.heasysportsaccess.com as well as other threats, consider using an anti-malware program that would erase everything simultaneously.
Delete Search.heasysportsaccess.com
Mozilla Firefox
Open the browser and tap Ctrl+Shift+A.
In the Extensions menu Remove the add-on named Easy Sports Access.
Windows 10 (Internet Explorer)
Enter control panel into the search field on the Taskbar and open the utility.
Click Uninstall a program to access all uninstallers.
Select the app representing Easy Sports Access and click Uninstall.
Windows 8/Windows 7/Windows Vista/Windows XP (Internet Explorer)
Click the Windows/Start button on the left of the Taskbar to open a menu.
Select Control Panel and then move to Uninstall a program or Add or Remove Programs.
Select the app representing Easy Sports Access and click Uninstall/Remove.
In non-techie terms:
You need to be extremely cautious about the extensions and search tools you install because you might end up letting in potentially unwanted programs and hijackers. Our research team strongly recommends deleting Search.heasysportsaccess.com because it is not as useful and trustworthy as it might appear to be at first. This search tool is represented as part of the extension, and while it shows links to several legitimate sports news-related sites, in reality, it is primarily used to record data and introduce users to sponsored links. These are shown via Yahoo Search so that the user would trust the results blindly. Unfortunately, they can be adjusted and modified by the hijacker. It should not be difficult for anyone to remove Search.heasysportsaccess.com manually, but those with little-to-no experience can employ anti-malware software. In fact, we advise that everyone does this because anti-malware software is great at protecting the system against unwanted and unreliable programs besides being able to automatically delete those that already exist.