Do you know what Search.hdesignyoursite.co is?
If you open your Internet Explorer, Mozilla Firefox, or Google Chrome and immediately see Search.hdesignyoursite.co, it means that your browser has been hijacked by the nasty browser hijacker promoting Search.hdesignyoursite.co. This threat slithers onto computers illegally and then make modifications to display this page for users. Most probably, you are not happy about the changes applied without your knowledge. If so, delete Search.hdesignyoursite.co as soon as possible. You must get rid of it for security reasons too because it is not a legitimate search provider even though it looks like one. If you keep it, you might experience a bunch of security-related problems. We are sure you will remove Search.hdesignyoursite.co from Mozilla Firefox and Internet Explorer without problems since the browser hijacker creates an entry in Control Panel for Internet Explorer and a browser extension for Mozilla Firefox. As for Google Chrome, the Search.hdesignyoursite.co removal might be slightly more complicated because it is added to the list of Notifications. Of course, we will help you to remove it. Continue reading!
Some users decide to do nothing about the presence of Search.hdesignyoursite.co because it looks legitimate and they use it to perform web searches, but we recommend the opposite, i.e. deleting it right away because it is far from being a reliable search tool. As has been noticed by our experienced malware researchers, it redirects all users' searches to Yahoo!, which is a legitimate search provider; however, search results might be modified along the way, so users might be provided with third-party links opening websites that do not contain a single piece of information related to the entered search query. Theoretically, some of these websites might even promote untrustworthy applications or try to push users into providing personal details. Never enter personal information on random websites because they might be sold on the black market. The same goes for downloading software from dubious websites.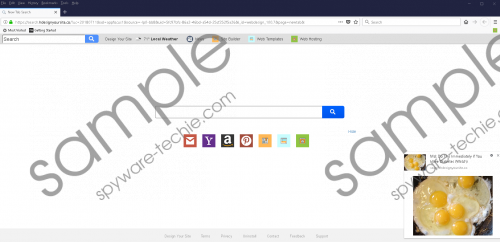 Search.hdesignyoursite.co screenshot
Scroll down for full removal instructions
Suspicious search providers promoted by browser hijackers usually collect tons of information about users, and there is a huge possibility that Search.hdesignyoursite.co is no exception. Luckily, untrustworthy search providers are not serious malware, so they cannot access sensitive information, but they can surely record various non-personal details like users' clicks, websites visited, search queries entered, and a number of more technical details, including IP address, the Windows OS version the computer runs on, the type of the web browser used, and much more. Remove Search.hdesignyoursite.co from your browsers today to put an end to the automatic collection of information.
Even though Search.hdesignyoursite.co is a brand new hijacker, we cannot say anything new about the methods used to distribute it. According to our research team, it is distributed bundled with other programs too, which explains why so many users have no idea why their browsers' settings have been altered. You could not protect your system against the browser hijacker this time, but we are sure no similar threats could enter your system if you keep security software installed on your computer and start installing programs more carefully. Users usually skip installation steps too quickly and thus agree with the installation of untrustworthy software.
Since Search.hdesignyoursite.co is far from being a reliable search provider, our piece of advice for you would be to erase it ASAP. You will find instructions that will help you to delete it from all three browsers (Internet Explorer, Mozilla Firefox, and Google Chrome) right below this article. Of course, you can erase it with an automated malware remover too, which, of course, would be an easier and quicker way to make the undesirable search tool gone. We leave the decision in your hands.
How to remove Search.hdesignyoursite.co
Internet Explorer
Windows XP
Click Start.
Select Control Panel.
Open Add or Remove Programs.
Select Design your site and click Remove.
Windows 7/Vista/8/8.1/10
Tap Win+R on your keyboard.
Type Control Panel and press Enter.
Click Uninstall a program.
Select Design your site.
Click the Uninstall button.
Mozilla Firefox
Tap Ctrl+Shift+A to open the add-ons manager.
Locate the Design your site add-on.
Select it.
Click Remove.
Google Chrome
Open Google Chrome.
Open the menu and click Settings.
Click Advanced.
Click Content settings under Privacy and Security.
Click Notifications.
Click the button with three vertical dots next to https://search.hdesignyoursite.co:443.
Select Remove.
In non-techie terms:
Search.hdesignyoursite.co is not a reliable search provider, so if you ever find out that it has hijacked your web browsers, you should get rid of it right away. If you use it, it will not only collect information about you, but you might also find some modified search results displayed for you on the search results page. In the worst-case scenario, they might redirect you to dubious websites. Generally speaking, there is nothing safe about searching the web with Search.hdesignyoursite.co.