Do you know what Search.hclassifiedseasy.com is?
Polarity Technologies Ltd. has released a new product recently. Search.hclassifiedseasy.com does not differ much from older products, e.g., Search.youremailnow.com and Search.yourclassifiedscenter.com. That is, it looks like an ordinary search tool with a bar containing quick-access buttons at the top. Some users find it quite useful because it returns search results when the search query is entered. Also, it makes it possible to access certain websites (e.g., craiglist.org) with the click of a button. We have to admit that it seems to be a legitimate search tool, but, unfortunately, we cannot confirm that it is one of the legitimate search providers because it has several drawbacks too. One of its biggest drawbacks is that it acts as a browser hijacker, but, as research has revealed, it is not the only one. Read all the following paragraphs to find more about Search.hclassifiedseasy.com. Then, delete it from your browsers immediately if you decide that an untrustworthy search tool should not stay set as your homepage.
There are three symptoms showing that Search.hclassifiedseasy.com is an untrustworthy search provider. First, it acts as a browser hijacker, i.e., it often changes browsers' settings (it works on Internet Explorer, Mozilla Firefox, and Google Chrome) without the users' knowledge. Specifically speaking, it sets itself as a new homepage. Second, research conducted by our specialists has clearly shown that it might show the modified search results to users. These are usually third-party links displayed to users seeking to drive traffic to certain pages. Theoretically, links leading to corrupted pages might be shown to you too, so you must be very cautious if you use Search.hclassifiedseasy.com as your default search provider. Some users believe that they can avoid those links, but it is not exactly true. Even experienced users find it hard to say which of the search results are modified, so we do not think that ordinary users could distinguish them from the rest of the search results either. In other words, they will click on them sooner or later no matter how careful they are. Finally, Search.hclassifiedseasy.com cannot be called a trustworthy search tool also because it records search queries containing personally-identifiable information. It is not dangerous until the collected information reaches third parties.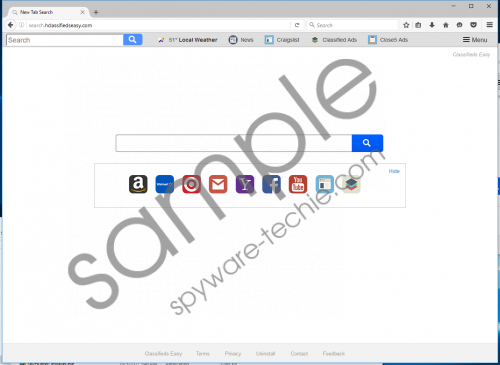 Search.hclassifiedseasy.com screenshot
Scroll down for full removal instructions
We do not think that you have set Search.hclassifiedseasy.com as your homepage willingly. It is more likely that it has been hijacked. Browser hijackers promoting search engines developed by Polarity Technologies Ltd. are usually spread in bundles with software from such file-sharing websites as filewin.com, malavida.es, descargar.es, and others. Other untrustworthy programs could have been installed next to the browser hijacker too, so it might not be enough to remove Search.hclassifiedseasy.com to clean the system. Because of this, we suggest that you scan your system with a diagnostic tool to find out about the presence of active untrustworthy software/malicious components. If the scanner finds bad software, delete it next to the Search.hclassifiedseasy.com browser hijacker.
If Search.hclassifiedseasy.com opens for you every time you open your browser, there is no doubt that its homepage has been altered. Luckily, you can restore the changes at any time. All you need to do is to reset your browsers to default settings. We cannot promise that you will find this procedure easy if you are going to do that for the first time, but we are sure you will successfully remove this page using our manual removal guide (see below this article). If this suspicious search tool stays where it is, you should perform a system scan with an automated malware remover. Most likely, your tool is outdated or untrustworthy if it has allowed the Search.hclassifiedseasy.com browser hijacker to show up on your system, or you do not even have such a tool installed on your computer, so, in any event, you must acquire a powerful scanner to erase the browser hijacker automatically.
How to delete Search.hclassifiedseasy.com
Internet Explorer
Open Internet Explorer.
Press Alt+T on your keyboard and then click Internet Options.
Click Advanced.
Click Reset.
Put a tick in the Delete personal settings box.
Click Reset.
Mozilla Firefox
Open Mozilla Firefox.
Press Alt+H and click Troubleshooting information.
At the top of the page, locate Refresh Firefox and click it.
Click Refresh Firefox in the confirmation box.
Google Chrome
Start Google Chrome and press Alt+F.
Click Settings.
Click Advanced.
Click Reset.
In non-techie terms:
Although the appearance of Search.hclassifiedseasy.com suggests differently, it is not a legitimate search provider, so you should definitely not use it as your default search tool. It not only acts as a browser hijacker, i.e., changes browsers' settings without permission, but it might also present users with untrustworthy search results. Finally, it has been revealed that it can record the so-called personally-identifiable information provided by the user.