Do you know what Search.gsearch.io is?
Search.gsearch.io is usually called a browser hijacker even though it looks like an ordinary search provider because it can change settings on all popular web browsers. If you use Internet Explorer, Google Chrome, or Mozilla Firefox and encounter this browser hijacker, it will surely not take long to notice the changes applied because a new website Search.gsearch.io will be set as your homepage in such a case, meaning that it will open every time you launch the web browser you use. Since the website set is not a search tool that can be trusted, we would erase it immediately if we were you. If you do nothing about its presence, you will not only see it open on your screen automatically, but you might also get soon exposed to potential threats on third-party pages you will be taken to against your will. A browser hijacker is not an ordinary undesirable program, so do not expect to remove Search.gsearch.io from your browsers using Control Panel either. We will not only tell you more about this untrustworthy search tool further in this article, but we will also explain to you in detail how to erase it.
What immediately shows that Search.gsearch.io is an untrustworthy search provider is that it changes users' browsers settings without permission. You should find this search tool set as your new homepage only, but do not be very surprised if you find it in the place of your default search provider as well because browser hijackers are capable of changing all major settings of those web browsers they find installed on the system without the user's knowledge. Yes, Search.gsearch.io will return to you search results, but, if you look at them closer, you will notice that the bigger part of the search results page is the modified search results. They will not take you to pages with the information you are looking for. It is more likely that they will take you against your will to corrupted websites containing malicious applications. You might even be taken to a page that will try to obtain personal details about you so that this data could later be sold expensively to anyone interested. This will, undoubtedly, bring you privacy-related problems. Because of this, we see the removal of this dubious search tool the only possible outcome here.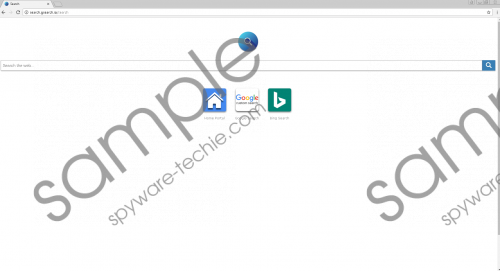 Search.gsearch.io screenshot
Scroll down for full removal instructions
We do not think that you have set Search.gsearch.io on your browsers willingly because our researchers have observed that people usually discover this search tool set on their browsers against their will. Speaking specifically, they find it there because they install a malicious software bundle. In most cases, they download these software bundles from file-sharing pages like filewin.com, malavida.es, or filewon.com. Of course, users do not know that they have downloaded a bundle malicious software is hiding in, so we are not surprised at all why so many users know nothing about the entrance of this browser hijacker until they notice the changes applied. You might infect your system with a similar threat again if you keep your computer unprotected and continue downloading applications from the web. We are sure you do not want to discover unauthorized changes applied to your browsers again, so we recommend that you install a program to ensure the system's maximum protection today. Keep in mind that not all tools claiming to be powerful security applications can protect your PC from malware, so do not install the first program you discover on the web.
If you are tired of seeing Search.gsearch.io when you launch your browser or simply do not want to experience security and privacy-related problems, you should go to remove this browser hijacker from your system today. It should be possible to make it gone by resetting those affected browsers to default settings; however, if you still see it there, scan your system with an automated malware remover. It will remove all the components of a browser hijacker in no time.
How to delete Search.gsearch.io
Internet Explorer
Open Internet Explorer and press Alt+T.
Click Internet Options.
Click Advanced.
Click Reset.
Mark Delete personal settings.
Click the Reset button.
Mozilla Firefox
Launch Mozilla Firefox and tap Alt+H.
Click Troubleshooting information.
Click the Refresh Firefox button at the top of your browser's window.
Click Refresh Firefox.
Google Chrome
Open Google Chrome.
Press Alt+F and open Settings.
Click Advanced to see the remaining menu.
Click the Reset button.
To confirm the reset, click Reset in the confirmation box.
In non-techie terms:
Search.gsearch.io is not a legitimate search provider, but it tries to convince users that it is one of them, so if you ever discover this URL set as your homepage, go to remove it without hesitation. Its major drawback is that it shows the modified search results to users, but, of course, it cannot be considered trustworthy also because it tends to appear on users' web browsers without their knowledge. Of course, you are not allowed to keep it even if you set it voluntarily on your browsers.