Do you know what Search.golliver.com is?
Many computer users mistake Search.golliver.com for a reliable search engine because it looks like one. This search engine provides easy access links to Gmail, Google Maps, Google News, and other Google-related services. In fact, if you enter keywords into the search box in the center of the page, you will be routed to google.com as well! Make no mistake; Search.golliver.com was not created by Google. This browser hijacker was created by Softmaking srl, and it mimics a well-known search provider only to trick computer users into trusting it. Of course, you would not need to remove Search.golliver.com from your browsers if this search engine was trustworthy. This report will help you with the removal of this threat.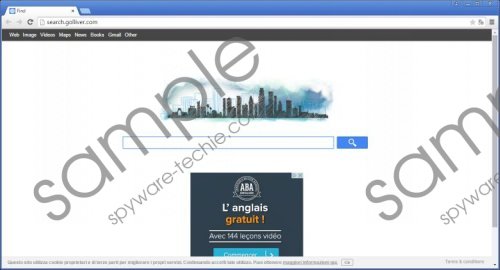 Search.golliver.com screenshot
Scroll down for full removal instructions
Search.golliver.com is targeted at computer users living in Italy, which is why the sponsored search results and banner advertisements associated with this hijacker will appear in Italian. You should not click on these ads, because they could be unreliable! The last thing you need is other infections corrupting your PC, and this is something that might happen if you interact with Search.golliver.com ads. If this happens, you will need to delete even more undesirable programs. This is very inconvenient considering that you might already need to remove a bunch of other infections, including Golliver, WinOff, and UltraZip. Golliver is a browser extension that comes bundled with Search.golliver.com, and you should remove it from your Mozilla Firefox and Google Chrome browsers without any delay.
Even though Search.golliver.com does not look like a serious threat, our malware research team suggests removing this search tool right away. You also need to ensure that all other threats installed with this browser hijacker are deleted as well. If you do not want to waste time removing Search.golliver.com and the associated malware, it is best to install a reliable automatic malware removal tool. Install this tool to delete the remaining threats and protect your PC right after you replace Search.golliver.com with the preferred search tools on your IE, Firefox, and Chrome browsers.
Remove Search.golliver.com
Remove from Internet Explorer:
Open Internet Explorer, simultaneously tap Alt+T, and click Manage Add-ons.
Select Search Providers and add/select the preferred search provider.
Remove the undesirable search provider and click Close.
Tap Alt+T (Tools menu) again and select Internet Options.
Click the General tab, find the Home Page, overwrite/delete the URL, and click OK.
Remove from Mozilla Firefox:
Open Firefox and navigate to the Firefox search box on the right of the page.
Click the Search icon and select Manage Search Engines…
Remove the undesirable search provider and click OK.
Simultaneously tap Alt+T to open the Tools menu and select Options.
Click the General tab, find the Home Page, overwrite/delete the URL, and click OK.
Simultaneously tap Ctrl+Shift+A to open the Add-ons Manager and click Extensions.
Remove the undesirable Firefox extension.
Remove from Google Chrome:
Open Chrome, simultaneously tap Alt+F, and select Settings.
Under On Startup select Open a specific page or set of pages and click Set pages.
Change/delete the URL of the undesirable search tool and click OK.
Navigate to Appearance, select Show Home button, and click Change.
Repeat step 3 to delete the undesirable search tool.
Navigate to Search, click Manage search engines, and select a new search provider.
Click X on the URL of the search provider you want to delete. Click Done.
Simultaneously tap Alt+F again, move to More tools, and click Extensions.
Find the undesirable extension, click the recycle bin icon, and choose Remove.
In non-techie terms:
Search.golliver.com is a search engine that installs tracking cookies, showcases suspicious banners ads, introduces sponsored search results, and redirects to third-party websites. This is not how a reliable search engine acts, which is why you should delete Search.golliver.com without further hesitation. Use the manual removal instructions above to remove Search.golliver.com from browsers, and then install an automatic malware remover to eliminate the remaining threats.