Do you know what Search.getgosoft.com is?
Search.getgosoft.com is a search engine promoted by getgosoft.com and GetGo Software products. You can access the website through getgosoft.com by clicking the Search button, or it can be set as your default search engine and home page by demo or free programs available on different websites. Search.getgosoft.com is not a dangerous search engine; however, it may generate some links that are presented as ads. Do not click on the advertisements in order to prevent computer infections and other adverse consequences. What is more, Search.getgosoft.com is powered by Ask search, which is well known to the majority of computer users.
As to advertisements of Search.getgosoft.com, some of them might have no connection to what you are interested in. If you are provided with advertisements and find that the text under the link is not related to what you are interested in, ignore those links. Usually, search engines attempt to protect computer users by filtering suspicious websites; however, not all of them have strict security policies. An unprotected computer can get infected at any time, which means that some computer infection may access the PC while using Search.getgosoft.com or any other search engine.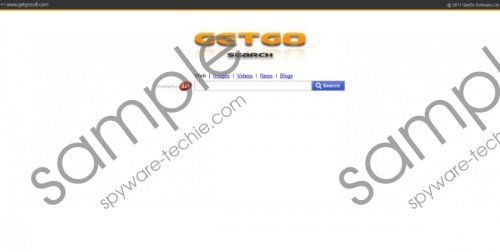 Search.getgosoft.com screenshot
Scroll down for full removal instructions
In order to restore your former browser settings, you should reset your browsers. If you do not know how to do it, use the following instructions. You should also scan the computer in order to ascertain whether the system is not afflicted by undesirable malware or spyware threats. Implement SpyHunter to be sure that you can safely use the computer and browse the Internet. If the system contains any threats, the anti-spyware software will immediately inform you about the infections so that you can take appropriate measures.
How to remove Search.getgosoft.com from the browsers
Internet Explorer
Press Alt+T and click Internet Options.
Open the Advanced tab.
Click Reset.
Check the box and click Reset.
Mozilla Firefox
Press Alt+H.
Click Troubleshooting Information.
Click the Reset Firefox button.
Again click Reset Firefox and then click Finish.
Google Chrome
Press Alt+F.
Point to Tools and click Extensions.
Remove unwanted browser extensions.
Click Settings on the left-side of the browser window.
Under On startup, select the last option and click Set pages.
Change the startup page.
Under Search, click Manage search engines and change the search provider.
In non-techie terms:
Search.getgosoft.com is a search engine which you may come across because of free programs. In case it has hijacked your browsers and you want to remove it, follow the foregoing instructions.
Aliases: getgosoft search.