Do you know what Search.getfitnow.co is?
Search.getfitnow.co is a search engine that usually affects the most popular browsers (Internet Explorer, Google Chrome, and Mozilla Firefox). It cannot be called a browser hijacker because users allow it to apply changes on their browsers by agreeing to install the extension Get Fit Now on their PCs. Of course, most probably, a number of people do not know that Search.getfitnow.co will be set as a homepage and a New Tab URL because users usually do not read software descriptions before installing new applications on their computers. Of course, people who get the browser extension from third-party websites or install it without even realizing that might not even have a chance to get acquainted with this information. No matter where Get Fit Now is downloaded from, users should go to remove this browser extension from their computers so that they would no longer see Search.getfitnow.co set on browsers. Some users find this search tool quite useful and decide to let it stay; however, security specialists do not recommend doing that because they have found several disturbing facts about this search engine.
The Get Fit Now extension just sets a new search tool Search.getfitnow.co on browsers even though it promises to give users "daily workout guides, calorie counters, fitness tips, and nutrition facts", as its description available on its official website getfitnow.co tells users. This website has several buttons leading to such popular websites as darebee.com and myfitnesspal.com, and users find this feature quite beneficial; however, this does not make the Get Fit Now browser extension a beneficial piece of software because these popular websites can be accessed with the click of a button without the help of this add-on too, for example, users can bookmark them and open in one click. Unfortunately, nothing very positive can be said about Search.getfitnow.co too. Yes, it provides Yahoo! search results and contains quick-access buttons which should help users to reach Facebook, Gmail, Yahoo!, YouTube, Google Maps, eBay, Turbot Tax, and HR Block websites, but this still do not make Search.getfitnow.co a reputable search engine. Its main drawback lies in the presence of advertisements on its search results page. Not all the search results are sponsored, but, according to specialists, users might really be provided with these modified search results one day if they use Search.getfitnow.co as a default search tool. It is hardly possible to recognize them, so, most likely, users will click on them without even realizing that these are links promoting third-party websites. It might be dangerous to click on every single advertisement shown because websites that are considered malicious might be opened too after clicking on any of these sponsored search results, meaning that it is possible to cause harm to the system by simply using a dubious search tool.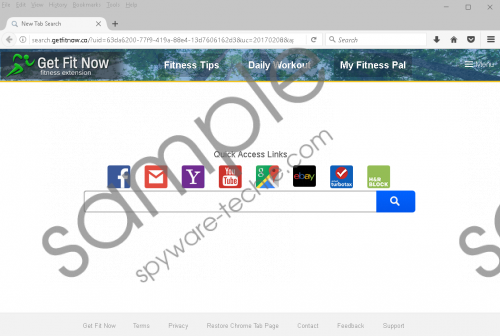 Search.getfitnow.co screenshot
Scroll down for full removal instructions
It seems that the Get Fit Now extension has only been developed to distribute Search.getfitnow.co, so there is no doubt that you could spot this extension in the list of add-ons if Search.getfitnow.co ever appears on browsers. This piece of software can be downloaded from https://chrome.google.com/webstore/detail/get-fit-now/jgblngkjeffdpdnfgenlfjnaakgahfoh?utm_source=chrome-app-launcher-info-dialog (the official Google Chrome web store), which shows that undesirable software can be downloaded from official app stores as well. On top of that, it is possible to get Get Fit Now from its official website as well. As for the unfair methods of distribution, it might be spread bundled with free software too. Such bundles are available on P2P and similar websites primarily, so fans of freeware encounter the untrustworthy software first. If you are not going to give up downloading applications from the web, at least, go to install security software for ensuring the maximum protection of the system.
Even though the browser extension promoting Search.getfitnow.co is not a harmful malicious application, it is still advisable to remove it because it might be a threat to your online security and privacy. Also, the new search tool, i.e. Search.getfitnow.co, set will only disappear after its removal. Follow the step-by-step instructions to erase it in a manual way, but keep in mind that it can be eliminated automatically as well. Just go to scan your PC with an automatic malware remover.
Delete Search.getfitnow.co manually
Internet Explorer
Windows XP
Click on the Start button and click Control Panel.
Select Add or Remove Programs.
Select the program you are going to delete and click Remove.
Windows 7/Vista
Click on the bottom-left corner button.
Select Control Panel from the menu.
Click Uninstall a program.
Select the program you wish to get rid of and click Uninstall.
Windows 8/8.1/10
Launch Run (press Win+R).
Enter Control Panel in the box and click OK.
Open Uninstall a program.
Right-click on GetFitNow and then select Uninstall.
Mozilla Firefox
Open the web browser.
Go to open the Tools menu (Alt+T).
Select Add-ons and click Extensions on the left.
Select the undesirable browser extension.
Click the Remove button located on the right side of the page.
Google Chrome
Open Google Chrome.
Press Alt+F to open the menu of the web browser and click More tools.
Select Extensions.
Locate the extension you need to erase and click the trash button next to it.
Click on the Remove button to make the extension gone.
In non-techie terms:
There is a bunch of other untrustworthy search tools out there spread by browser hijackers or untrustworthy browser extensions, e.g. search.yourmapscenter.com, search.youremailnow.com, and search.yourinterestscenter.com. Therefore, users surfing the web daily should not forget to install security software after the removal of Search.getfitnow.co. Being careful with new software, especially promoted on file-sharing and torrent pages, is also highly recommended.