Do you know what Search.funsocialtabsearch.com is?
When installing the FunSocialTab extension, you will be introduced to Search.funsocialtabsearch.com. This search provider cannot be rejected, and, if you proceed with the installation, it will modify new tab, search provider, and homepage settings, which is why we classify it as a browser hijacker. The extension itself does not offer any services, and our research team claims that its only purpose is to introduce users to the hijacker. Have you downloaded this extension from funsocialtab.com, which is its official page? If you have, you must think that it can provide you with easy access to social media sites, find friends, and enhance your search experience. This website is represented by Imali Media, and it is the creator of the extension and the suspicious hijacker. We have more information, and we can show you how to remove Search.funsocialtabsearch.com from your browsers. If you are interested, continue reading.
Search.funsocialtabsearch.com is not as unique as you might think. This browser hijacker is nearly identical to Search.socialnewpagessearch.com, Search.funtvtabplussearch.com, and other recently reported Imali Media hijackers. Although these search providers list different easy-access links, they are identical otherwise, and they can be removed using the same techniques. At the time of research, the suspicious Search.funsocialtabsearch.com was compatible only with Firefox and Chrome browsers, but we would not be surprised to learn that it could affect other browsers as well. Our initial research has also revealed that it is mostly spread in Spain (31.8%), Sri Lanka, and Sweden, which, as you can tell, is a very broad variety. Of course, this hijacker might enter your browsers anywhere you live, as long as you have a browser and speak English. Notably, the official page is not the only source of distribution. Chrome users will download this hijacker from the Chrome web store, and some might have to delete it after interacting with a misleading pop-up representing a software bundle.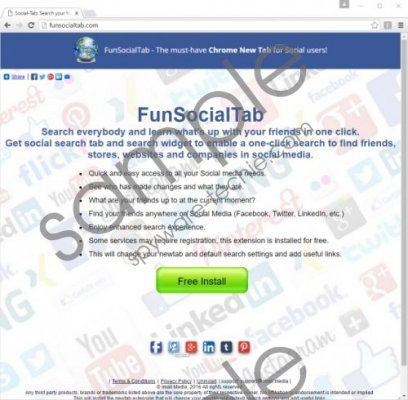 Search.funsocialtabsearch.com screenshot
Scroll down for full removal instructions
There are two things that need to be taken into mind when it comes to Search.funsocialtabsearch.com. First of all, this search tool uses tracking cookies to spy on you. They will record your interaction with the provided links, and it might track your web searches as well. Speaking of web searching, you cannot trust the hijacker to offer you beneficial services. For one, this hijacker redirects you to a different search engine, which means that it does not even work like a search tool; it just pretends to be one. The search engine you are redirected to is search.yahoo.com, which, of course, represents the popular and trusted Yahoo Search. Unfortunately, the search results might be tainted by the hijacker, as sponsored links are mixed in with regular links. Interacting with the links provided to you by the hijacker is risky and not recommended. In conclusion, Search.funsocialtabsearch.com does not offer any beneficial or trustworthy services, and you should delete it without further delay.
Is your operating system protected reliably? This is a question you need to answer before you start the elimination of unwanted software. If anti-malware software does not exist, it is high time you employ it before extremely dangerous threats attack. If you install this software, you will not need to worry about deleting Search.funsocialtabsearch.com either as this hijacker will be eliminated automatically. If you do not care about the security of your operating system, it is most likely that you will choose the manual removal option. This option is sufficient if all that you need to erase is the extension representing the hijacker, but if other threats are present, this option might be insufficient.
Remove Search.funsocialtabsearch.com
Mozilla Firefox
Launch Explorer tapping Win+E keys at the same time.
Enter %AppData%\Mozilla\Firefox\Profiles\ into the address bar.
Open the folder with the unique Firefox profile ID.
Open the extensions folder.
Delete the file named FunSocialTab-the-extension1@mozilla.com.xpi.
Google Chrome
Launch Explorer tapping Win+E keys at the same time.
Enter %LOCALAPPDATA%\Google\Chrome\User Data\ into the address bar (Windows XP users enter %UserProfile%\Local Settings\Application Data\Google\Chrome\User Data\).
Open the Default folder or the folder representing your Chrome Profile name.
Open the Local Storage folder.
Delete the chrome-extension_hpdmnciokaahecnppnildmedgccclkgi_0.localstorage-journal and chrome-extension_hpdmnciokaahecnppnildmedgccclkgi_0.localstorage files.
Go back to the Default/Profile folder and then open the Extensions folder.
Delete the folder named hpdmnciokaahecnppnildmedgccclkgi.
In non-techie terms:
The main reason why you should delete Search.funsocialtabsearch.com is that it is useless. Although the links this hijacker presents via its home page seem to be harmless, it is not beneficial in any other manner. If you think you will be able to browse the web using this tool, you are wrong. This threat will automatically redirect you to Yahoo Search, where the results will be modified and include sponsored links/advertisements. Obviously, we recommend removing this hijacker, and you can do that by eliminating the extension called "FunSocialTab." Use the guide above to erase this extension, or – especially if other threats are present – implement anti-malware software.