Do you know what Search.funcybertabsearch.com is?
Search.funcybertabsearch.com is a search provider you will acquire when downloading the FunCyberTab extension compatible with Google Chrome and Mozilla Firefox browsers. Whether you install it by accident or knowingly from its official download source, funcybertab.com, you might be surprised by the mandatory browser modifications. Because you are not given the option to decline the search tool when downloading the extension, it is sometimes identified as a browser hijacker. Whichever category you associate with this suspicious search provider, there are reasons why you should delete it without further delay. If you want to learn why you should remove Search.funcybertabsearch.com, please continue reading. If you have any questions after reading this report, start a discussion in the comments section below.
The suspicious FunCyberTab is very similar to Newtabtv, Videoplayertab, and many other extensions created by an Israel-based company, Imali N.I Media LTD. This company is also associated with such suspicious search providers as Search.funsecuritytabsearch.com, Search.mysafetabssearch.com, and many others. The fact that the same company has released hundreds of programs that are almost identical is worrisome because this suggests that quantity is more important than quality, and that, of course, cannot be beneficial for the user. Although FunCyberTab provides easy-access links to tools that supposedly can repair Windows errors, repair missing drives, test your Internet speed, and scan domains or files, it is not very beneficial. In fact, it seems that the main objective behind this extension is to introduce you to Search.funcybertabsearch.com. Although it looks like a regular search provider, we recommend deleting it for a reason.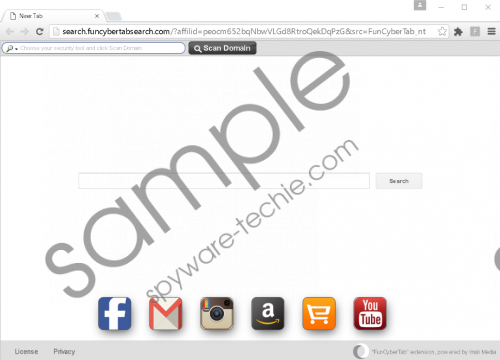 Search.funcybertabsearch.com screenshot
Scroll down for full removal instructions
If you have interacted with the suspicious Search.funcybertabsearch.com already, you know that it redirects all search queries to the Yahoo Search engine. According to our research, this search tool redirects your searches via search.safefinder.com, which is a search provider that is often associated with hijackers. Because your search queries will be processed via this search engine, you are likely to be exposed to modified search results. So, even though you will be routed to the familiar Yahoo engine, the links shown to you might be unpredictable. In the worst case scenario, you will be exposed to malicious links routing to dangerous sites, as well as misleading offers and installers. On top of that, all of your search requests and virtual activity will be recorded and possibly leaked to third parties. Your personal information might be safe, but do you want unfamiliar advertisers using your browsing activity to create more attractive offers? Sure, this might be beneficial, but if malicious parties get this information, they could use it to scam you.
If you have downloaded Search.funcybertabsearch.com via a software bundle, other threats might be active as well. In this case, we strongly recommend using automated malware detection and removal software. Of course, we do not want to discourage you from proceeding manually, but if you are dealing with dangerous infections or if you are inexperienced, it might be best to leave the removal of all threats in the "hands" of trusted software. If you discover that you only need to delete Search.funcybertabsearch.com, follow the guide below. The guide shows how to erase unwanted extensions from Chrome and Firefox to eliminate this search tool. If it is activated on Internet Explorer, you might have to uninstall an app via Control Panel, but our research team has not found the FunCyberTab extension to be compatible with IE at the moment.
Remove Search.funcybertabsearch.com from browsers
Google Chrome
Open the browser and tap keys Alt+F together.
Select More tools and then click Extensions.
Find the unwanted extension, click the recycle bin on its right, and choose Remove.
Mozilla Firefox
Open the browser and tap keys Alt+T together.
Select Add-ons and then move to the Extensions menu.
Find the unwanted extension and click the Remove button on its right.
In non-techie terms:
Although we do not identify Search.funcybertabsearch.com as a malicious browser hijacker, this search tool does not deserve your trust, and we advise that you remove it as soon as possible. Our recommendation is to use anti-malware software capable of eliminating malware automatically and keeping the PC protected against threats in the future, and, of course, this is the best option in case other threats are active as well. If you decide that you want to get rid of unwanted software manually, start with the removal guide above. Then, scan your PC to identify existing threats and research every one of them individually to learn how to eliminate them successfully. Finally, scan your PC one more time just to make sure that your system is clean.