Do you know what Search.fo-cmf.com is?
Search.fo-cmf.com is a website that seems to be a great search tool at first glance. Like other ordinary search tools, it contains the search box and returns search results. In addition, you will find buttons on its start page that should help to access popular websites, including Facebook, eBay, Pinterest, Twitter, and Amazon with the click of a mouse button. Finally, it shows the weather forecast at the top. Search.fo-cmf.com might really seem to be a good search engine; however, the truth is that it cannot be trusted at all because it is nothing more than a bad browser hijacker. It will not only change the settings of all your browsers the second it finds a way to your computer, but it is also known that it might cause harm to your computer if you use it as your default search engine on a daily basis. We will tell you more about this unreliable search engine in the article. If you decide to get rid of this browser hijacker and then start using another search engine instead after reading through this article, you are welcome to use our manual removal instructions which you can find below the article.
Search.fo-cmf.com will affect Internet Explorer, Google Chrome, and Mozilla Firefox browsers, so you will quickly find out that a browser hijacker has entered your computer. To be honest, this is not the only modification this browser hijacker will make to set itself on browsers. It has also been observed that it will modify the data of values Start Page, FaviconURL, FaviconURLFallback, TopResultURL, and URL in the system registry. Secondly, it will modify Preferences, Web Data, and Secure Preferences files by adding the http://search.fo-cmf.com line. Finally, it will change the data inside the prefs.js file to appear on Mozilla Firefox. This browser hijacker always makes these changes, so we can assure you that you will quickly understand that your PC is infected with malware if it really finds a way to your computer.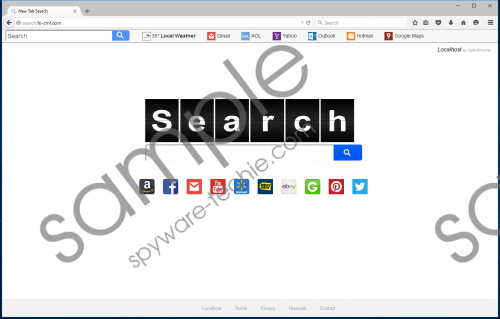 Search.fo-cmf.com screenshot
Scroll down for full removal instructions
If you do not do anything to get rid of Search.fo-cmf.com, you will have to use this questionable search engine every day. Believe us; it is dangerous to do that even though Search.fo-cmf.com is powered by Yahoo!, which is known to be a good search engine. Let us explain to you why it is so. According to our team of specialists, Search.fo-cmf.com is going to show all kinds of commercial advertisements and provide users with the sponsored links instead of showing reliable search results on the basis of the search query. These ads and sponsored links will take you to other websites. Unfortunately, nobody knows whether these websites will be good or bad, so we highly recommend ignoring them all completely. The fact that Search.fo-cmf.com is going to cause redirections to third-party websites does not mean that Yahoo! search engine, which it uses, is bad. Instead, it means that the developer of Search.fo-cmf.com has modified this legitimate search engine for its needs.
You need to remove Search.fo-cmf.com from browsers as soon as possible no matter how it has entered your computer; however, we still think that you should know how it is usually distributed in order to be able to prevent it from slithering onto the computer in the future. As our experience shows, browser hijackers are usually spread through bundled malicious installers; however, theoretically, they might find other ways to enter computers as well, for example, you might notice the changes applied to your browsers after you click on some kind of commercial advertisement. To be honest, it is not that easy to prevent malware from entering systems, so we suggest that you install security software and keep it there instead of trying to protect the PC yourself.
Even though Search.fo-cmf.com makes quite many changes, it is not extremely hard to erase it from the system. It should be enough to reset browsers. If you have never done that before, you might find it quite hard to do that, so we suggest using our manual removal instructions in such a case. Alternatively, you can scan your computer with an antimalware scanner like SpyHunter. We have to note that this removal method is quicker.
Remove Search.fo-cmf.com
Internet Explorer
Launch your browser.
Open the Tools menu.
Click Internet Options.
Click on the Advanced tab.
Click Reset.
Mark Delete personal settings.
Click Reset.
Mozilla Firefox
Open your browser.
Tap Alt+H and open Troubleshooting information.
Click Refresh Firefox.
Click on the Refresh Firefox button again.
Google Chrome
Open your browser and tap Alt+F.
Select Settings and scroll down.
Click Show advanced settings.
Click Reset settings and then click on the Reset button.
In non-techie terms:
Other threats might still be hiding on your computer if you have deleted Search.fo-cmf.com browser hijacker in a manual way. Therefore, it would be really smart to scan the system with an automatic scanner. Use a reliable tool for this matter only! If it detects any infections, make sure you eliminate them all as soon as possible because they might put your system in danger too and might even download other computer infections without your consent.