Do you know what Search.fcb-search.com is?
Search.fcb-search.com will replace your regular homepage, search engine, and New Tab page if you install an extension made specifically for FC Barcelona fans. If you enter the official website of this FC Barcelona new tab extension, you will notice immediately that it promises to enable you to customize the appearance of your browser, improve the web searching experience, and watch videos about the greatest moments of FC Barcelona. Even though the software seems to be quite reliable, it does not inform about the changes it is going to apply to Mozilla Firefox and Google Chrome browsers, so many users find the presence of Search.fcb-search.com really surprising. Luckily, it is possible to get rid of this search engine rather easily. All you need to do is to remove extensions of this search engine. Users who do not know anything about the removal of undesirable software should read this article from beginning to end.
We do not say that you cannot keep Search.fcb-search.com and use it; however, it would be better to get rid of it for one simple reason – this search engine might present you with sponsored search results if you use the search box in the top-right corner. In addition, nobody knows whether buttons at the upper part of this search engine will really take users to trustworthy web pages where they will be able to watch videos for free, buy accessories, and read news associated with FC Barcelona. In fact, this is the only reason why we do not recommend keeping Search.fcb-search.com. Another reason why we do not recommend doing that is the fact that this FC Barcelona extension (it is not an official application) might record information about users and their activities on the Internet. First of all, it is going to record the so-called anonymous information, e.g. IP address, browser and platform type, the date and time users visited different websites, search terms, links users tend to click on, and other non-personally identifiable details. Luckily, it is said that the collected information will not be shared with third parties; however, we still suggest that you remove Search.fcb-search.com if you do not want to reveal any information about yourself.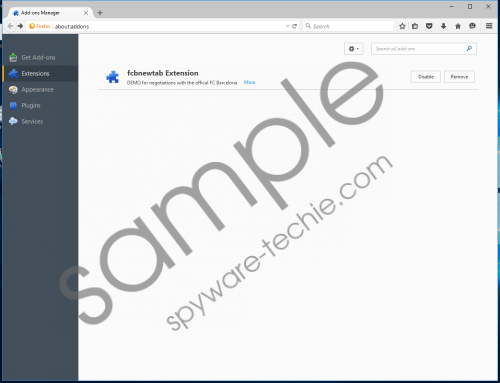 Search.fcb-search.com screenshot
Scroll down for full removal instructions
Search.fcb-search.com is very similar to Search.wondrousmoviessearch.com, Search.tvaddictsearch.com, and Search.realcoolmoviessearch.com, so we have spotted really quickly all the changes the extension promoting Search.fcb-search.com has made. First of all, it adds the extension whose ID is edejchafbkalllomnodnigdhdhkdlbih to the list of extensions, and it also creates several files (e.g. chrome-extension_edejchafbkalllomnodnigdhdhkdlbih_0.localstorage and http_search.fcb-search.com_0.localstorage). In case of the Mozilla Firefox extension, it will have a name fcbnewtab Extension, so we are sure that you will be able to find it too easily and then eliminate it.
Our specialists have tested the FC Barcelona extension and found that this extension is available for download on its official website; however, it seems that users usually get it from other websites, for example, it might be available on torrent and file-sharing websites and you might download it unknowingly together with some kind of another program. Specialists also say that this extension might have been installed on the system if a user clicked on some kind of pop-up advertisement too. To protect your system from future harm, install a security tool. You will simply have to keep it enabled in order to prevent undesirable software from entering the system.
We are sure that Search.fcb-search.com will disappear after you remove the FC Barcelona extensions from your browsers. If you have never erased an extension yourself, refer to our manual removal instructions which you can find placed below this article. Another thing that you can do in order to remove this questionable search engine and change your homepage and New Tab page is to scan your system with an automatic malware remover, such as SpyHunter. It will remove all the threats and files that belong to malicious software for you.
Remove Search.fcb-search.com
Mozilla Firefox
Open your browser and tap Ctrl+Shift+A.
Click Extensions and find an untrustworthy extension on the list.
Select it and remove it.
Google Chrome
Open your browser.
Tap Alt+F.
Select More Tools and click Extensions.
Select the extension.
Click the recycle bin button.
Click Remove.
In non-techie terms:
If you wish to protect your system from unreliable extensions, you need, as you already know, install a security tool. Of course, this might not be enough to protect the system from harm, so we suggest that you do not download programs from third-party web pages anymore too. In addition, make sure you always check whether the application is really trustworthy before you install it.