Do you know what Search-eyes.tk is?
If you find Search-eyes.tk in your browser upon launching it, there is a good chance that an annoying browser hijacker has sneaked onto your PC. This hijacker sets this search page as your new homepage, new tab page, and default search engine without your permission. You need to know that this is a clear violation of your privacy. This method of appearance tells tales about the possible intention and reliability of such a tool. Believe us when we say that your computer has just got more vulnerable if you find this hijacker on board. Our researchers are convinced that you should remove Search-eyes.tk in order to make sure that there is no potential risk source that could expose you to potentially unsafe web content and thus to cyber criminals as well. It is also important for us to mention that this threat may not be the only one on your PC; therefore, you should make sure that no infection is left "unattended" and is dealt with.
This browser hijacker does not seem to be popular in western countries. It mostly spreads in areas, such as Algeria, Egypt, Indonesia, Thailand, and Saudi Arabia. Our researchers have not found a specific website that would serve as an official promotional site for this search page and would offer download as a standalone installer. Instead, it has been discovered that this hijacker can be the result of a redirection coming from another browser hijacker called Globasearch.com. The latter infection can redirect to a number of search pages apart from Search-eyes.tk, including bettersearch.tk, fast-search.tk, and see-hub.tk. Globasearch.com can infiltrate your system through malicious downloaders that are mainly hosted on shady websites, such as torrent and freeware pages. The downloaders that spread these hijackers access a number of different shady servers, including directhosted.org, softdistribute.com, and thefilehost.org.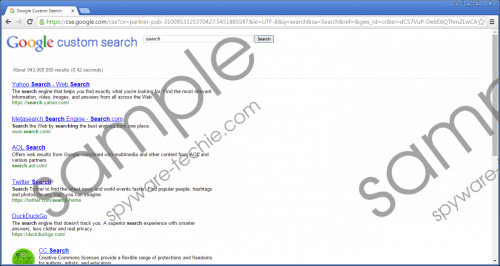 Search-eyes.tk screenshot
Scroll down for full removal instructions
Therefore, if you notice Search-eyes.tk in your browsers, you should be aware that there can be other threats putting your computer's security at risk. If you simply delete Search-eyes.tk, it will not be enough to restore your system security. Obviously, you will have to tackle all the malware infections that are present on your operating system. If you want to prevent similar malware attacks, we recommend that you stay away from questionable file-sharing websites and clicking on third-party ads in whatever form they might appear.
The major issue with this search page, apart from its intrusive and stealthy nature, is that it hosts third-party ads on its main page. These ads are never safe to click on because there is no guarantee whatsoever that you will land on a safe and trustworthy website. Therefore, it is a possibility, for example, that you will end up on a fake website operated by cyber criminals. Anything can really happen on malicious websites; from being tricked into downloading more malicious installers to losing your identity to criminals. That is why it is so important for you to remove Search-eyes.tk. To be fair, we must mention that the search engine itself seems to be a working one and it should also display reliable search results even though your searches get redirected to a custom Google search page. In such cases, there is usually some shady trick and modification to inject affiliated parties' ads or links among the normal results. However, in this case our researchers have found no evidence of such behavior. Nevertheless, it does not mean that it is safe to keep this browser hijacker on board.
It would be quite easy to get rid of this malware infection if it had a working uninstaller; but it lacks such "luxury." Nevertheless, do not worry for a second because we are here to tell you that it is still not rocket science to make this browser hijacker disappear. In fact, all you need to do is reset all your browsers manually. It is possible that you have never done that before; therefore, we have prepared step-by-step instructions for your assistance. You can use these even if you do not consider yourself an experienced computer user. However, if you want to make sure that your PC is a strong fort, you should consider installing a decent malware removal tool. Keep this security software updated regularly and you will have full-time protection, i.e., real peace of mind.
Search-eyes.tk Removal from Browsers
Mozilla Firefox
Press Alt+H and open Troubleshooting Information.
Click Refresh Firefox and in the confirmation window, click Refresh again.
Click Finish.
Google Chrome
Press Alt+F and pick Settings.
Scroll down and click Show advanced settings.
Scroll down and click Reset settings.
Click Reset in the pop-up.
Internet Explorer
Press Alt+T and go to Internet Options.
Click on the Advanced tab and click Reset.
Select the Delete personal settings checkbox and click Reset.
Click Close.
In non-techie terms:
Search-eyes.tk is a suspicious search page that can appear in your browser when your computer is infected by a browser hijacker. This hijacker can come as a redirect from Globasearch.com, which can enter your computer through malicious downloaders; therefore, there is a good chance that this browser hijacker is not the only malware threat on your computer. Since this search page host third-party advertisements on its main page, chances are you click on an ad and may be taken to unreliable websites. Even if the search results this tool displays may be unaltered and reliable, we believe that you should remove Search-eyes.tk if you want to keep your PC clean of infections and security risks. In order to protect your computer, we advise you to download and install a reputable anti-malware application.