Do you know what Search.emailfaster.co is?
Looks can be deceiving and Search.emailfaster.co is a prime example of this. It looks like a search engine, but it serves a sinister agenda. Our security experts suggest that you remove it from your computer because one of its objectives is to hijack your web browser's settings and force you to use it from processing your search queries. The second objective is to modify the search results and insert shady promotional links. As a result, this hijacker generates advertising income and in order to maximize their profits, Search.emailfaster.co's owners use it to gather information about you to personalize the ads. For more detailed information, please read this whole article.
This particular browser hijacker comes from an established family of browser hijackers. It was created by SaferBrowser, a company that is in the online advertising business. However, it is an unreliable advertiser because it relies on browser hijackers to promote its content. SaferBrowser is on a roll as it has been releasing many hijackers lately. Some of its more recently released hijackers include Search.gomaps.co, Search.youremailnow.com, and Search.yourrecipescenter.com. There is no question that this malware developer must not be trusted because it relies on deceptive distribution methods to get your computer infected with its hijackers.
Our security analysts say that Search.emailfaster.co's distribution methods are no different from those of previously released browser hijackers. The distribution method that got this hijacker classified as such involves adverting. SaferBrowser has made arrangements with adware developers to promote this hijacker's direct download. Pop-up advertisements are used to present this hijacker as a useful tool that enables you to login to your email faster. Clicking the pop-up initiates the download and installation of this hijacker's accompanying browser extension called Email Faster on Chrome, Email on Firefox, and EmailFaster on Internet Explorer. Once on your computer, it will change your browser's homepage and new tab page to Search.emailfaster.co without your consent. The second distribution method is legitimate because the setup informs you about the changes that the extension will make. However, this is only the case when you download the extension from its dedicated distribution website at http://emailfaster.co/Email?.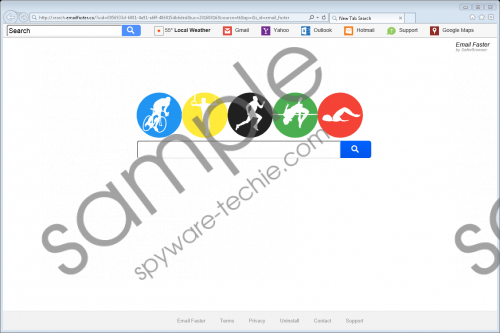 Search.emailfaster.co screenshot
Scroll down for full removal instructions
Search.emailfaster.co's main page features bookmarks to Gmail, Yahoo Mail, Outlook, Hotmail, and several other websites. These links are all you get if you believe the promotional nonsense stated on the distribution website. They are there for looks because this hijacker's true functions are discreet. Researchers say that it redirects the entered search queries to a custom Yahoo.com search engine. However, that search engine features modified search results that generate SaferBrowser a small profit. The profit might be small, but since it has so many hijackers, they accumulate reasonable sum of money.
Nevertheless, we find the presented advertisements as unreliable simply because there is no way to validate their legitimacy. SaferBrowser does not go out of its way to ensure that the content it promotes is safe, and this can lead to serious problems. However, this company cannot be held accountable for the undesirable consequences that can occur as a result of interacting with Search.emailfaster.co's promotions because it shifts all of the responsibility to the owners of the promoted shady websites. It is also worth mentioning that this hijacker will collect information about you and use it to personalize the advertising campaign to each unique user's browsing preferences. To achieve this, it will collect information such as your browsing history, entered URLs, entered search queries, IP address, browser type, and so on.
We hope that this description has cleared things up for you. It is apparent that Search.emailfaster.co is nothing more than a browser hijacker that is part of a larger web monetization scheme. It can put your computer's security in jeopardy, and because it hijacks your browser's settings, you might want to delete it. If that is the case, then please consult the removal guide provided below.
Uninstall EmailFaster
Windows XP
Click the Start button.
Open Control Panel.
Click Add or Remove Programs.
Find EmailFaster and click the Remove button.
Windows 7/Windows Vista
Click Start.
Select Control Panel.
Click Uninstall a program.
Find EmailFaster and click Uninstall.
Windows 10/8.1/8
Simultaneously press Windows Key+I.
Go to Control Panel.
Find EmailFaster and Uninstall it.
Remove the browser add-on
Google Chrome
Simultaneously press Alt+F.
Select More tools.
Click Extensions.
Find Email Faster and click Remove.
Mozilla Firefox
Simultaneously press Ctrl+Shift+A.
Click Extensions.
Find the extension named Email.
Click Remove.
In non-techie terms:
Search.emailfaster.co is a browser hijacker whose purpose is to hijack your browser and force you to use it for processing your search queries. It search results may feature questionable links that can jeopardize your computer's security. Nothing good will come from using this fake search engine, so we recommend that you remove its accompanying browser extension and, by extension, this hijacker.