Do you know what Search.emailaccessonline.com is?
Do not be surprised if Search.emailaccessonline.com replaces your homepage, New Tab page, or default search provider when you install the Email Access Online add-on. The hijacker is an integral part of the extension, and so it is unlikely to be separated from it. Have you downloaded this extension thinking that it can give you access to your favorite email providers. Well, it can do that, but it is not more beneficial than a Bookmarks bar. All it can do is list a few buttons that enable access to Gmail, Yahoo, Outlook, and Hotmail. This is where the "beneficial" services of this tool end. Sure, easy-access links to Facebook, YouTube, Amazon, Twitter, Wikipedia, Pinterest, and Instagram are attached as well, but, again, you can add these links to the Bookmarks bar, which makes the extension kind of useless. This is not the only reason to delete Search.emailaccessonline.com, and, if you continue reading, you will learn more.
Although Email Access Online is represented at emailaccessonline.com, an official installer does not exist. The only reliable source offering this program is the Chrome web store, and you can install the add-on at chrome.google.com/webstore/detail/email-access-online/njmeghckbeiadjjdfjicdiabhninckfp/. Needless to say, it is highly unlikely that many will acquire the tool from this page. Instead, third-party installers are likely to be used for the distribution of this hijacker. Unfortunately, that is not good news because third-party distributors might package Search.emailaccessonline.com along with more dangerous threats, as well as other potentially unwanted programs. The same distribution methods are used for the propagation of Search.nextmediatabsearch.com, Search.searchlttrn.com, Search.yourmapscenter.com, and other similar hijackers, most of which were created by Polarity Technologies Ltd. Needless to say, we recommend removing all of these hijackers from the infected browsers. Note that you can find articles representing these threats on our website using the search box on the top-right corner.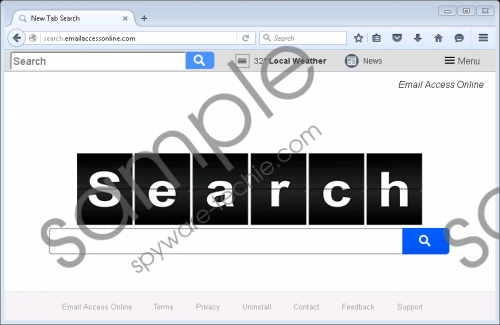 Search.emailaccessonline.com screenshot
Scroll down for full removal instructions
As you can see for yourself – if Search.emailaccessonline.com has corrupted your browsers – the interface of this hijacker is not very intriguing. All it displays are easy-access links to the aforementioned sites, as well as a search box. This is one of the biggest reasons for removing this hijacker. As you enter search words, you will be redirected to Yahoo, which is something you are not informed about beforehand. Also, the results could be modified, making these seemingly trustworthy search results completely unreliable. Another big reason for eliminating the suspicious search tool is data tracking. Did you know that even your sensitive personal information could be recorded by the trackers employed by Search.emailaccessonline.com? How do we know this? The Privacy Policy statement warns about this in all caps.
If you do not care about the dangers that you might encounter while using Search.emailaccessonline.com (e.g., information tracking and unreliable search services), think about the usefulness of this search tool. Are you sure you want to continue using the hijacker/extension that cannot provide you with beneficial services? We are sure that you do not. If you take it all into consideration, we are sure that you will decide to remove Search.emailaccessonline.com from your browsers. Internet Explorer users will need to uninstall Email Access Online via Control Panel and Chrome and Firefox users will need to eliminate it as an extension. We also add instructions that show how to change the homepage URL in case the removal of the extension/app does not work. Note that if the hijacker was installed packaged with malicious threats, it is better to use reliable anti-malware software for complete removal.
Delete Search.emailaccessonline.com
Internet Explorer
Uninstall Email Access Online via Control Panel first.
Launch IE and tap keys Alt+T for the Tools menu.
Select Internet options and then click the General tab.
Overwrite the URL in the Home Page area and click OK.
Google Chrome
Launch Chrome and tap keys Alt+F.
Select More tools and then choose Extensions.
Remove the undesirable Email Access Online add-on.
In the menu on the left click Settings.
Navigate to the On Startup menu.
Choose Open a specific page or set of pages.
Click Set pages and overwrite the hijacker's URL. Click OK.
Mozilla Firefox
Launch the browser and tap keys Ctrl+Shift+A.
In the Add-ons Manager move to the Extensions menu.
Remove the undesirable extension.
Tap Alt+T to access the Tools menu and choose Options.
In the menu on the left select General.
Overwrite the URL in the Home Page area.
In non-techie terms:
Whether you install Search.emailaccessonline.com yourself or it comes as a surprise, you should delete this browser hijacker from your browsers. At first sight, this tool looks helpful because it displays easy-access links to many popular sites, but that is the only good thing about it. You have to consider that this hijacker redirects to a third-party search engine, where unreliable results could be added by the creator of this hijacker. Also, it is important to remember that personal information could be recorded by the tracking cookies that the hijacker installs. The manual removal guide above shows how to remove Search.emailaccessonline.com from the browsers manually, but we encourage all users to install anti-malware software; especially if the hijacker was installed bundled with other threats.