Do you know what Search.email-dhp.com is?
If you have several email accounts, you might think that Search.email-dhp.com offers a great service. This search provider represents easy-access links to such emailing services as Gmail, AOL, Yahoo, and Hotmail, and it might be nice to have all the links at one spot. Well, you can easily achieve this by adding links to these services to your main browser toolbar (e.g., bookmarks bar). All in all, if you have let this search tool in, you must have seen something that attracted you. Was it installed without your permission? In that case, you should have no hesitation about the removal of Search.email-dhp.com. In any of these cases (installed without permission or with permission), we identify this search provider as a browser hijacker, and deleting it from your browsers is crucial. Keep reading to learn more.
It is most likely that you have acquired Search.email-dhp.com along with the Localhost extension packaged with third-party software. Was the installer carrying this software trustworthy? Unfortunately, malicious installers are often inconspicuous, and computer users trust them without even thinking that anything bad could happen. What is more, malicious programs bundled with this hijacker could seem harmless as well. If you want to figure out if your operating system is flooded with silent threats and misleading programs, you should install a malware scanner to examine your operating system. This should be the first step after discovering any suspicious program on your operating system, and we have the same advice for those dealing with Search.youremailnow.com, Search.yourclassifiedscenter.com, and other browser hijackers that are identical to Search.email-dhp.com. Were these hijackers created by the same developer? It is possible that they were, in which case, it would be fair to assume that these search providers are not intended for the benefit of computer users.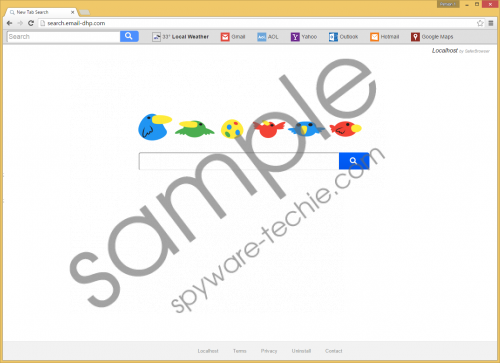 Search.email-dhp.com screenshot
Scroll down for full removal instructions
Localhost is a browser extension that does not appear to have an official installer. This extension might be available at the Chrome web store, but it is most likely to be spread by third-party distributors, and, as you now know, they could be unreliable. According to the official Terms statement, which you can find linked on Search.email-dhp.com, this extension analyzes your browsing history to serve supposedly relevant ads. Although it is unlikely that you will encounter traditional ads (e.g., banners, pop-ups, and interstitial ads), you will find ads if you browse the web using the hijacker. Have you found it redirecting to the Yahoo search engine? Sure, this search provider is well-known and considered reliable, but you should not trust Search.email-dhp.com. This hijacker can modify the results shown to you to include sponsored links, and interacting with them might be dangerous. The problem is that third-party advertisers partnered with this hijacker are unknown, and so their intentions are unknown as well.
Removing Search.email-dhp.com from your operating system is easier than you think. Some users choose to replace the homepages on the infected browsers, but we offer an alternative removal method. Of course, eliminating this browser hijacker is important, but you should not forget about the possibility of other threats being active as well. If a trusted malware scanner has detected other threats, you need to erase them as soon as you can. Remember that manual removal is not the only option you have. In fact, it is much more beneficial to install anti-malware software because it can automatically clean your entire operating system. Even better, it can also ensure full-time protection against dangerous threats.
Delete Search.email-dhp.com
Google Chrome
Launch Explorer (tap Win+E).
Type %LocalAppData%\Google\Chrome\User Data\ (%UserProfile%\Local Settings\Application Data\Google\Chrome\User Data for Windows XP users) into the address bar and tap Enter.
Open the Default folder (if you have multiple profiles, open your Profile folder instead).
Right-click and Delete files called Preferences, Secure Preferences and Web Data.
Internet Explorer
Launch RUN (tap Win+R) and enter regedit.exe.
Navigate to HKCU\Software\Microsoft\Internet Explorer\Main.
Right-click the value called Start Page and click Modify.
In the Value data box overwrite the hijacker's URL and click OK.
Mozilla Firefox:
Launch Explorer (tap Win+E).
Type %AppData%\Mozilla\Firefox\Profiles\ into the address bar and tap Enter.
Open the folder whose name contains a unique ID of your Mozilla profile (random symbols).
Open the prefs.js file (use Notepad).
Delete the user_pref("browser.startup.homepage", "http://search.email-dhp.com/"); string.
In non-techie terms:
We strongly advise deleting Search.email-dhp.com from your browsers because this is a browser hijacker that can expose you to sponsored links/ads when you browse the web. This hijacker redirects to a third-party search engine, and even though it redirects to Yahoo, the search results displayed to you can be modified, which is why we do not advise trusting it. Although you can erase this hijacker manually, we advise using an anti-malware tool that will erase malware automatically while ensuring it is protected from the attacks of other threats. If you need our advice on choosing the right anti-malware software, or you have any other questions, you can start a discussion below.