Do you know what Search.easysportsaccess.com is?
It is possible to find Search.easysportsaccess.com in your browsers when your computer is infected with a browser hijacker. This malware promotes this search engine by setting it as your new home page URL and default search engine as well. Some hijackers can even modify your new tab page as well. If you do not remember letting this search engine make changes to your browsers, it can only mean one thing: You have downloaded and installed an infected, malicious bundle. Unfortunately, this bundle could have contained several malware infections. Therefore, it is essential that you learn how you can remove Search.easysportsaccess.com from your computer as well as all other related infections. It is just as important to understand how you may have infected your machine with these "nasties" so that you can protect yourself more efficiently in the future.
Our researchers have found that this search engine seems identical to Search.myshoppingxp.com and Search.mydailyversexp.com among others. The only difference between the dozens of clones is, apparently, the offered quick links you will find on a fake toolbar. These buttons keep changing according to the main theme of the given search engine. Search.easysportsaccess.com is obviously about providing you easy access to third-party websites that has something to do with sports. Thus, you can find links associated with football, baseball, auto racing, golf, and the like. However, we do not recommend that you click on any of those links or use the search tool. In other words, we believe that using any of the third-party services offered by this browser hijacker might end badly for you since you might be exposed to unreliable web content.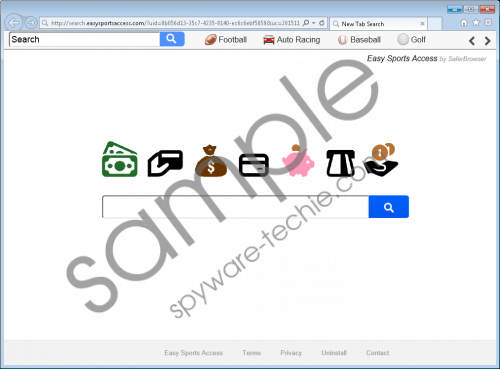 Search.easysportsaccess.com screenshot
Scroll down for full removal instructions
As a matter of fact, the developers do not take any responsibility for the content you may be shown or the data gathering these third-party sites may conduct. The affiliated third parties are also not reviewed, which could mean that you may be targeted by cyber criminals. Since this hijacker can collect information about you, which can be shared with third-parties, it is possible that with time you will see sponsored links or ads that match your personality. These can mostly be displayed as search results. It is important to note that this search engine sends your queries though extsearch.maxwebsearch.com server and then to a modified Yahoo! search results page. That is why you should not use it for web search. You will never be sure that the link or ad you click on will lead you to a legitimate site or a malicious one. You should delete Search.easysportsaccess.com before you start an avalanche of malware infections or get scammed in a more serious way by criminals.
Since this infection can mainly enter your computer in malicious bundles, you cannot turn your back to this issue. Your computer will not be safe until there is even one threat hiding on it. It is also very important to know that you can download such a bundle while visiting questionable freeware and torrent sites. These pages are full of shady and misleading third-party ads that may be camouflaged as buttons. If you click on a fake button, it could be the reason why your computer will be infected with a whole bunch of malware threats. Removing Search.easysportsaccess.com will only be the first step towards a secure operating system; you will also have to take care of all other malware infections as well. That is why we suggest that you stay away from suspicious and unfamiliar websites altogether.
This infection is not easy to eliminate because the uninstaller will only take care of the Internet Explorer setting changes. You will have to manually reset both Mozilla Firefox and Google Chrome in order to make sure that no leftovers remain. Otherwise, this intrusive infection might be able to regenerate itself. If you need total protection because you do not want to fight endless battles with malicious programs, we recommend that you install an up-to-date antimalware application that will detect and remove all known threats.
Search.easysportsaccess.com Removal from Windows
Windows 8, Windows 8.1, and Windows 10
Press Win+X and pick Programs and Features.
Select the application and press Uninstall.
Windows Vista and Windows 7
Open the Start menu and access Control Panel.
Click Uninstall a program.
Select the application and press Uninstall.
Windows XP
Click Start and open Control Panel.
Click Add or Remove Programs.
Select the application and press Remove.
How to reset your browsers
Mozilla Firefox
Press Alt+H and go to Troubleshooting Information.
Press Refresh Firefox.
Click Refresh Firefox in the pop-up.
Click Finish.
Google Chrome
Press Alt+F and choose Settings.
Click Show advanced settings at the bottom of the page.
Click Reset settings at the bottom.
Press Reset.
In non-techie terms:
Search.easysportsaccess.com is a useless search engine that may manipulate its search results, which, by the way, will be displayed on a redirected Yahoo! page. Since this tool can modify your browser settings arbitrarily, it has been categorized as a browser hijacker. Do not use any of the services provided by this hijacker because you may be introduced to harmful third-party content. Since this hijacker may have sneaked onto your computer in an infected bundle, chances are your system is being challenged by several malware threats at the same time. Therefore, we suggest that you remove Search.easysportsaccess.com. But you also need to handle the rest of the infections as well, if you want to restore your system health.