Do you know what Search.easymoviesaccess.com is?
According to the official information, Search.easymoviesaccess.com is a search tool that enables access to top movie providers. Well, this is meant to be provided by Easy Movies Access, an extension that installs this suspicious search tool. In reality, this software is completely useless. For example, if you install it onto Chrome, the Easy Movies Access button will be attached to address bar, but clicking this button will simply take you to the New Tab page that is hijacked by the suspicious search provider. Although this search tool provides links to rottentomatoes.com, imdb.com, and youtube.com, it does not exactly live up to its promises to help you access movie providers. Of course, if that was the only reason to remove Search.easymoviesaccess.com, we would not be advising to take action right away. Our research team has researched this threat, and we have found other reasons to delete it from your browsers.
Search.easymoviesaccess.com is identical to Search.mymoviesxp.com. Although these hijackers are associated with separate extensions, both of them belong to the SaferBrowser family. This family is very well known due to hundreds of extensions that represent browser hijackers, including the ones we have already mentioned, as well as Search.easyradioaccess.com, Search.yourspeedtestcenter.com, and so on. Although these extensions might be represented via websites that contain disclaimers about these hijackers, most users acquire them without realizing that their homepages, new tab pages, and default search providers would be modified. According to our research, Express Software is listed as the official publisher of Easy Movies Access, but it is possible that this company is fictitious. When it comes to the distribution of this questionable software, users might download it from easymoviesaccess.com or the Chrome store (chrome.google.com/webstore/detail/easy-movies-access/kjlnmpkenajdlfianmaoajjhioojpkog). The bad news is that this software could also be spread by unreliable software distributors who could bundle it along with malware. Misleading pop-ups have also been seen as a source of distribution.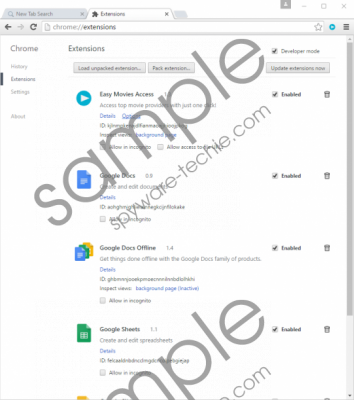 Search.easymoviesaccess.com screenshot
Scroll down for full removal instructions
The Mozilla Firefox browser is affected by Search.easymoviesaccess.com in a different way than Chrome and IE browsers are. The users of this browser will find the hijacker taking over the default search provider, homepage, and new tab tools, while Chrome and IE users will only face homepage and new tab hijacking. Some users will be quick to understand that Search.easymoviesaccess.com is a threat that requires removal, and not just because it modifies their browsers but because it redirects to search.yahoo.com. Do you think that the search results presented via this search tool can be trusted? Well, this search provider is trusted, but not when the hijacker is involved because it can adjust the results to include sponsored links. It's hard to say what kind of content you would face, but you should not dismiss the possibility of encountering malicious links. Also keep in mind that these sponsored links could be designed using your own browsing history, and so they could attract you even without having anything real to offer.
The removal of Search.easymoviesaccess.com is not extremely complicated, but it is definitely more complicated that some think. Depending on which browser you use, you might need to take on different removal tasks. Firefox and Chrome users can get rid of this unwanted hijacker by deleting the Easy Movie Access extension. Internet Explorer users will need to uninstall the program and change homepage settings manually. Our instructions should help you erase this software completely, but you should run a full system scan just to make sure that no leftovers remain active. If a scanner detects other threats, quickly eliminate them as well. If you feel overwhelmed by all active threats, and you are worried about your virtual security, install an anti-malware tool that will simultaneously clean your PC and keep it protected.
Delete Search.easymoviesaccess.com
Windows 10/Windows 8.1/Windows 8
Launch RUN (Win+R), enter Control Panel, and click OK.
Move to Programs/Programs and Features and click Uninstall a program.
Right-click the application you wish to eliminate from your PC and click Uninstall.
Windows 7/Windows Vista
Click the Windows/Start menu button on the left of the Taskbar.
Open the Control Panel menu and navigate to Uninstall a program.
Right-click the application you want to erase from your PC and select Uninstall.
Windows XP
Click the Start menu button located on the left of the Taskbar.
Select Control Panel for more options and double-click Add or Remove Programs.
Find the undesirable application, click it once, and select Remove.
Google Chrome
Open the browser and tap Alt+F keys on the keyboard.
In the menu on the left click More tools and then select Extensions.
Click the recycle bin button representing the unwanted add-on and choose Remove.
Mozilla Firefox
Open the browser and tap Ctrl+Shift+A keys.
In the Add-ons Manager menu navigate to the Extensions list.
Identify the undesirable extension and click the Remove button next to it.
In non-techie terms:
Some users think that Search.easymoviesaccess.com is a genuine, helpful, and reliable search tool. Well, these users are mistaken because this is a browser hijacker that was created to showcase sponsored links by redirecting your search queries to a third-party search engine. There are tons of alternatives for this unreliable search provider, and you can easily apply any of them after you delete this hijacker. When it comes to the removal, you have to assess your entire operating system first. If other threats are active, and you will need the assistance of an automated remover, you do not need to waste time eliminating it manually. If other threats are not present, go ahead and use the guide above, but do not forget that the security of your operating system is weak, and you need to install a reliable security tool ASAP.