Do you know what Search.easyinterestsaccess.com is?
We want to make you aware of the fact that Search.easyinterestsaccess.com is somewhat of an unreliable search engine because it is bound to promote potentially unreliable content. Therefore, you might want to remove it from your computer. It comes with a browser extension which sets this search engine as your browser's default homepage/new tab page. The only difference between this search engine and a browser hijacker is that it is not distributed in a malicious fashion which involves injecting the search engine into the browser without your permission. Browser hijackers are injected into the system automatically while shady search engines such as this one can only be installed at will. The fine line between a legitimate and shady search engines has been blurred, so we want to provide you the most relevant information which will help you determine whether to keep Search.easyinterestsaccess.com.
Let us jump right into this search engine's functionality. Once you have installed its accompanying browser extension Easy Interests Access for Mozilla Firefox, Google Chrome, or Internet Explorer it will automatically change your browser's homepage or new tab page to Search.easyinterestsaccess.com. Why does this extension do that you ask? This search engine's only purpose is to generate income from online advertising because its search results are bound to contain various promotional links, often of unverified legitimacy. For the most part, browser hijackers are prone to advertise adware-type programs such as StrataBeauty, Diet Interactive, BuiltMoneyMaker, and so on. Adware can cause you additional problems, such as reducing your computer's performance, cause errors, and of course — promote increasingly malicious software. Therefore, any shady search engine is a risk to your computer's security, so we recommend that you use established search engines that contain legitimate ads only. Make no mistake; all search engines feature ads, and that is the main reason we get to use them for free.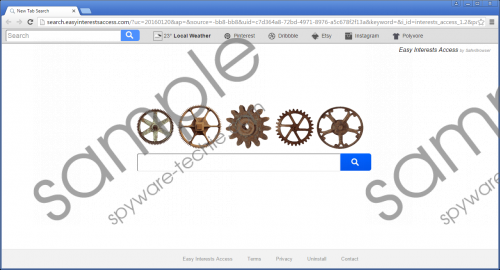 Search.easyinterestsaccess.com screenshot
Scroll down for full removal instructions
Now let us talk about this search engine's searching ability. If you have it on your browser, then you probably have noticed that it redirects all of its search queries to Yahoo.com. Yahoo is a legitimate search engine, but that does not mean that Search.easyinterestsaccess.com's developers cannot modify its search results to display their advertisements. Also, Yahoo.com uses the search results of Google.com, so that Search.easyinterestsaccess.com does not offer anything regarding search algorithms and search optimization. Once again, the facts speak for themselves — this search engine offers nothing of value to the end-user. Nevertheless, it has one unique feature you may not know about.
Like all shady search engines and browser hijackers Search.easyinterestsaccess.com can collect information about you that its developers use for commercial purposes. The collected information in non-personally identifiable in nature and includes your browsing and search history, IP address, computer information, and browser type. It may also try to collect information regarding your personal interests. All of this information is used to present more relevant ads which increase click and generate more revenue.
This search engine was first seen in January of 2016. We are not entirely sure about the legitimacy of its developers since this search engine was supposedly developed by SaferBrowser but there is not information about this company which would suggest that it exists. Also, this is not the first time we encounter a search engine labeled with "by SaferBrowser." Our researchers have previously come across search engines such as Search.MySocialHubXp.com, Search.youremailcenter.com, Search.youronlinegameplay.com. Some of them have been classified as browser hijackers. So, in short, this search engine comes from an unknown source and; therefore, it should not be regarded as entirely legitimate.
Our malware researchers have found that this search engine is not very popular due to its distribution methods which are not legitimate in nature. It does not come with malicious installers that inject its browser extension without your permission. This search engine has a dedicated distribution website at Easyinterestsaccess.com which hosts its download, and you can choose whether you want to set Search.easyinterestsaccess.com as your default homepage or new tab page. In addition, its browser extension named Easy Interests Access is featured on the Chrome Web Store by Google. So its distribution methods are entirely legitimate but given this search engine's shady background and the fact that it can display potentially legitimate ads we recommend that you delete it.
If you want to ensure your computer's security, then you should get rid of all shady software you have on it, and Easy Interests Access and its search engine should be on your list. We do not regard this search engine as malicious but rather potentially unreliable. In any case, it offers nothing Google.com, Bing.com or Yahoo.com could not offer, so feel free to remove it using our instructions.
Remove this search engine from Chrome and Firefox via browser settings
Google Chrome
Press Alt+F.
Go to More tools and select Extensions.
Find Easy Interests Access among other extensions and remove it.
Mozilla Firefox
Press Ctrl+Shift+A.
Choose Extensions.
Find Easy Interests Access and remove it.
Remove this search engine from Internet Explorer via Control Panel

Windows 10
Right-click on the Start menu.
Go to Programs and Features.
Locate the application and Uninstall it.
Windows 8/8.1
Open the Charm bar.
Click Settings and select Control Panel.
Open Uninstall a program.
Find the program.
Click the Uninstall button.
Windows 7/Vista
Click Start.
Select Control Panel.
Click Uninstall a program.
Find the unwanted application and click Uninstall.
Windows XP
Open the Start menu and click Control Panel.
Open Add or Remove Programs.
Locate and Remove the program.
In non-techie terms:
Our malware researchers have tested Search.easyinterestsaccess.com and have come to the conclusion that it is an unreliable search engine that can display potentially malicious ads in its search results. It comes from an unknown group of developers who have previously made browser hijackers. In short, this search engines purpose is to make advertising revenue — not improve your browsing experience.