Do you know what Search.dsearchm3f2.com is?
The appearance of Search.dsearchm3f2.com on your Internet Explorer, Mozilla Firefox, and/or Google Chrome is an indication that you have installed a potentially unwanted program Find Forms Fast, or it has been installed on your computer without your knowledge. It promises to enable users to "access government forms with just one click," so we suspect that there are people who install this piece of software consciously. If you are one of them, do not be surprised that your browsers' settings have been altered. It is not considered a browser hijacker because users are informed about the changes in advance. Of course, they do not know anything about them if it is installed on their computers without their knowledge. You need to delete this extension today if you do not want to perform web searches using Search.dsearchm3f2.com. We can assure you – it will not disappear itself one day. Find Forms Fast is a potentially unwanted application, as you already know, which means that it is not serious malware and you should be able to disable it yourself without any difficulties. We are sure you will get rid of it yourself even if you have never deleted any potentially unwanted application before because our team of experienced researchers has prepared the manual removal guide for users who are less experienced. If you find yourself among them, feel free to use this guide.
Once you install Find Forms Fast, http://search.dsearchm3f2.com/ will become your new search provider. As our researchers have noticed, Search.dsearchm3f2.com shares similarities with Search.yourpackagesnow.com, Search.yourmapscenter.com, and Search.youremailnow.com, which are all considered untrustworthy search providers. Because of this, there is no doubt that the search tool set by Find Forms Fast cannot be considered a legitimate search tool either. It does not look dangerous at all at first glance. It even returns search results immediately when the search query is entered, but, unfortunately, it has turned out that it has some drawbacks too. One of the biggest drawbacks it has is the fact that it provides users with links that redirect them straight to websites they promote. We do not think that you will find any information based on the search query entered there. It is more likely that you will be taken to an untrustworthy website promoting suspicious software.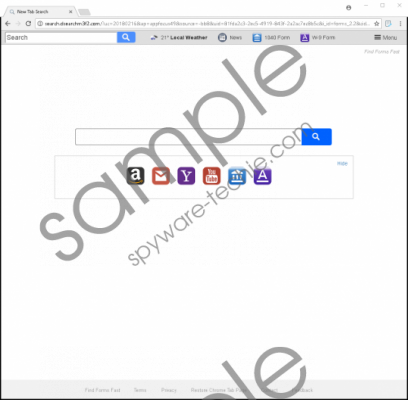 Search.dsearchm3f2.com screenshot
Scroll down for full removal instructions
If you are not going to stop using Search.dsearchm3f2.com, which is, of course, not recommended, you should, at least, not enter any personal details in its search box because it will record them together with other search queries you enter. Since all these details might be disclosed to third parties, providing personal information might have undesirable outcomes. It should be emphasized that Search.dsearchm3f2.com not only records search queries entered by the user. It automatically records a bunch of non-personally identifiable details, including the geographic location, the domain name of the Internet Service Provider, IP address, the operating system type, the browser type, etc. You can put an end to this – stop using Search.dsearchm3f2.com and delete the browser extension promoting it to remove it from your default search tool place.
Some users consciously download Find Forms Fast from the Chrome Web Store and agree that it would change their Google Chrome settings, but it seems that it might infiltrate users' computers without their knowledge as well because not all users can explain why they have this piece of software installed on their browsers. According to our researchers, it is very likely that this extension is spread bundled with software promoted at filewin.com, malavida.es, descargar.es, or a similar website containing a ton of free software. If you often download free applications from such websites, the installation of a powerful antimalware tool is what we recommend for you.
You will get rid of Search.dsearchm3f2.com only if you delete the browser extension (Find Forms Fast) promoting it. You will delete it and undo the changes applied to your browsers by resetting those affected browsers to default settings. If you have never done that before and thus do not know where to start, you should let our manual removal instructions help you. Please find them below.
Delete Search.dsearchm3f2.com
Internet Explorer
Open Internet Explorer.
Tap Alt+T to open the Tools menu and then select Internet Options.
Click Advanced.
Click Reset.
Select Delete personal settings.
Click Reset.
Mozilla Firefox
Launch Mozilla Firefox.
Press Alt+H.
Select Troubleshooting information from the Help menu.
Click the Refresh Firefox button.
Confirm the reset by clicking Refresh Firefox in the confirmation window.
Google Chrome
Start Google Chrome.
Press Alt+F.
Click Settings.
Go to the bottom of the page and click Advanced.
Click Reset.
Confirm the reset.
In non-techie terms:
Search.dsearchm3f2.com is a website that will become your new search tool if you install Find Forms Fast, or this browser extension affects your Google Chrome browser without your permission. It does look like an ordinary search provider, but it is not what it seems to be, so we would not use it if we were you. It might present you with the modified search results. In addition, it will automatically record some information about you and might later share it with third parties. Last but not least, you could not set a new search tool unless you remove it from your web browser.