Do you know what Search.directionsandmap.com is?
You may have noticed Search.directionsandmap.com in your major browsers as your new home page after starting them up. As a matter of fact, our researchers say that it is quite likely that you do not even remember installing it since this malware infection can sneak onto your system in a software package that also may not be "beneficial" to you in any sense. In fact, this package could contain other malicious programs, which simply means that you need to be careful if you find this hijacker in your browsers and should not forget about this possibility when you finally remove Search.directionsandmap.com. The truth is, the longer you wait with addressing this infection issue, the more time these threats have to harm you or expose you to malicious web content. Although we will share with you what you can do to eliminate this infection at the end of this article, we recommend that you continue reading to find out more.
This malware infection is obviously not new in any way for us apart from its name and the URL used. In fact, it belongs to an ever-growing browser hijacker family that has given us Search.searchdp.com and Search.searchwos.com and dozens of more. Just like all its predecessors, this hijacker also spreads mainly in free software bundles. This trick has been used for a long time now by cyber criminals to infect unsuspecting computer users. These third-party installers are usually designed in a misleading way so that users may not even notice the notifications and checkboxes about the changes to browser settings or the real content of the package. However, if you overlook this step in the installation wizard, you will let a whole bunch of malware threats on board without even realizing it until it could be too late. Of course, noticing the works of a browser hijacker and an adware program is quite apparent. But what about a Trojan, a backdoor, or a keylogger, do you think you can easily spot them on your system?
You may download such a bundle when you click on random third-party ads while surfing the web. But these ads need to come either from an adware app hiding on your system or a shady website, such as a torrent, shareware, or online gaming site. You may have noticed that certain pages promote a lot of annoying third-party contents. What you may not have realized is that some of these ads and links are actually disguised to fool you. For instance, you may find four download buttons on a freeware page out of which three could be fake, i.e., third-party content in disguise.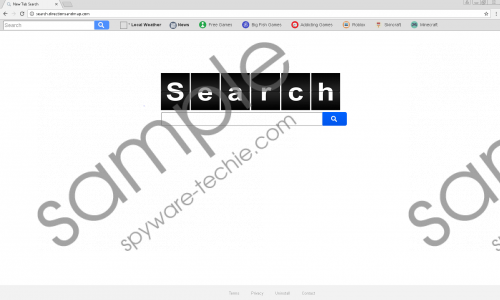 Search.directionsandmap.com screenshot
Scroll down for full removal instructions
Unfortunately, when you are viewing an unfamiliar site, it is even more likely that you will not know which button is safe to click on. As a matter of fact, when you land on such a site, you should close the tab or the whole browser window immediately to save you from more problems. In certain cases even this would not help you since if you land on a page that uses Exploit Kits that may drop dangerous ransomware programs and other infections, you only need to load such a page and the infection is already dropped. This is why we emphasize the need for regular browser and driver updates because this is one way to avoid such attacks. All in all, when you are infected with this hijacker, you need to scan your system with a proper malware scanner after you delete Search.directionsandmap.com.
This search engine website has a characteristic toolbar that is not even a real toolbar to be frank. You can find a search tool on the left-hand side that is the same as the main search box, i.e., it is the same unreliable and redirects you to the same modified search results page. You can also find a number of buttons on this toolbar that lead to a local weather page, online map sites (Google and Bing) as well as a local gas prices page. Below the main search box, you can find a relatively new feature, a panel of thumbnail links that you can hide or show. This panel displays several links to tax-related sites as well as to popular pages, such as Facebook.
The worst part of this infection is clearly the search engine itself as it can provide you with unreliable web content in the form of third-party ads and search result links. In fact, this browser hijacker forwards all your queries to an altered Yahoo search results page. It is altered because certain promoted third-party advertisements and links may become part of the normally displayed content. If you were to click on content that does not come from reliable affiliates, you could easily end up on questionable or downright malicious sites. This would clearly not end well for you as you could infect your computer with further malware threats or reveal your important personal and credit card details to criminals. We suggest that you do not wait any longer and remove Search.directionsandmap.com from your browsers.
We have prepared a guide for you if you want to manually delete Search.directionsandmap.com. In fact, you just need to overwrite the changes this infection made to your home page URL address settings. Keep in mind that you need to hunt down all other threats lurking on your computer if you want to restore a state of peace of mind while in your virtual world. It is possible to accomplish this manually to a certain level if you are not an inexperienced user, but we would rather recommend automated solutions as a perfect way to protect your system automatically.
Search.directionsandmap.com Removal from Browsers
Google Chrome
Press Alt+F and select Settings.
In the On Startup section, choose Open a specific page or set of pages.
Click Set pages and add a new home page URL.
Delete the unwanted home page URL.
Press OK.
Mozilla Firefox
Press Alt+T and navigate to Options.
Select General on the left.
Press Restore to Default.
Internet Explorer
Press Alt+T and choose Internet options.
On the General tab, press Use default.
Click OK.
In non-techie terms:
Search.directionsandmap.com is a potential threat source of a search website that can appear in your browsers after you install a suspicious freeware bundle. The presence of this browser hijacker infection thus may also indicate that there are other malicious threats on board. This search engine offers you useless features that you can substitute with reliable ones by using the bookmarking function of your browsers. This browser hijacker can also present to you modified search results containing questionable third-party ads and promoted links that may redirect you to even more questionable websites or drop infections onto your machine. If you want to save your computer from further problems, you should remove Search.directionsandmap.com right now. If manual removal is not your area, you can use a reliable anti-malware program to do this job for you automatically.