Do you know what Search.dailybibleverses.co is?
If your browser's homepage and new tab page have been replaced with Search.dailybibleverses.co, then you should know that your browser has been infected with a browser hijacker. You should remove this malicious search engine because of the fact that it can modify the mentioned search-related settings without your consent and also because its search results are bound to contain links to promoted websites that can jeopardize your PC's security. On top of that, this hijacker can collect some information about you. While the information it collects is obtained legally, you might not want to share it because it can be misused for advertising purposes. Please continue reading to learn more.
Our cyber security experts at Spyware-techie have concluded that this particular hijacker comes with an accompanying browser extension called Daily Bible Verses which is compatible with Google Chrome, Mozilla Firefox, and Microsoft Internet Explorer. This extension is set to replace the browser's homepage and new tab page once it is installed on it. This hijacker's developers are keen on forcing you to use it for searching the web because it can feature promotional links in its search results. The entered search queries are redirected to a modified Yahoo search engine that presents you with search results as well as promoted links that can be misleading and redirect you to questionable sites if you click them.
Cybersecurity experts have concluded that Search.dailybibleverses.cowas configured to collect some non-personally identifiable information about you in order to present you with customized and personalized promotional links that should, in theory, bring more ad revenue. The collected information can be collected using information collection technologies such as browser cookies, web beacons, and so on. The collected information can include your IP address, Internet Service Provider, browser type, operating system type, search history, entered search terms, links clicked, and so on. All of this information is collected legally, but you should not allow its creators to get their hand on it as they will misuse it for their agenda.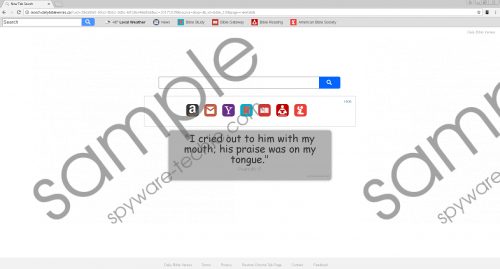 Search.dailybibleverses.co screenshot
Scroll down for full removal instructions
This hijacker was created by the infamous Polarity Technologies, a company dedicated to creating hundreds of hijackers each ear. This unreliable company is responsible for releasing hijackers such as Search.searchfaa.com, Search.htrackyourpackages.co, and Searchutorrm.com, among others. All them are very similar and are distributed similarly as well.
However, is a bit different because it is distributed along with a browser extension which is not common for a Polarity Technologies hijacker. In any case, regardless of whether it comes with a browser extension or not, you can get Search.dailybibleverses.co accidentally as a result of installing a shady software bundle from a freeware distributing site. The installers of those bundled programs can inject Daily Bible Verses secretly. This distribution method is dishonest, and that is why Search.dailybibleverses.co was classified as a browser hijacker.
We hope you found this information insightful and are now ready to remove Search.dailybibleverses.co and Daily Bible Verses. Again, it is one highly unreliable search engine because it takes over the homepage and new tab page without your knowledge or consent. To delete it, please see the instructions presented below.
Removal Guide
Windows XP
Open the Start menu and click Control Panel.
Open Add or remove programs.
Find Daily Bible Verses.
Click Uninstall.
Windows 7 and Windows Vista
Click Start and open Control Panel.
Select Uninstall a program.
Locate Daily Bible Verses click Uninstall.
Windows 10, 8.1, and Windows 8
Simultaneously press Windows Key+R.
Type Control Panel in the Run Command Prompt and click OK.
Then, go to Uninstall a program.
Find Daily Bible Verses.
Click Uninstall.
Remove this extension from your browser
Google Chrome
Simultaneously press Alt+F.
Select More tools.
Choose Extensions.
Find Daily Bible Verses and click Remove.
Mozilla Firefox
Simultaneously press Ctrl+Shift+A.
Click Extensions.
Find Daily Bible Verses.
Click Remove.
In non-techie terms:
Search.dailybibleverses.co might look like a legitimate search engine but we assure you that it is everything but that. Its search results can contain shady promotional links and it can collect some information about you to present personalized links. It also replaces the homepage address and new tab page. It is undoubtedly malicious and you ought to delete Daily Bible Verses and replace Search.dailybibleverses.co with a legitimate search engine as soon as possible.