Do you know what Search.creativetoolbars.com is?
Search.creativetoolbars.com may seem like an authentic web search engine; however, trusting it with any search queries can be extremely dangerous to your virtual security. This website may be used as a browser hijacker, in which case you may notice uncontrollable rerouting to this site, as well as modified browser settings. Having your search engine and home page changed without your authorization is not something you should ignore. Only dangerous computer infections are capable of such clandestine activity, which is why you should react aggressively if this is happening within your personal computer. The best thing you can do is get the malicious browser hijacker Search.creativetoolbars.com removed.
Schemers have developed browser hijackers to boost traffic to websites which are based on pay-per-click methods and pay money to the systems which enable this activity. Does this sound suspicious or illegal to you? Well, you certainly need to be wary of programs which are only interested in generating profit. Needless to say, you need to be even more careful about search engines which filter search results and expose you to promotional content and advertisements. It is highly unfortunate but some of the ads presented through the hijacker could promote bogus products. Of course, Search.creativetoolbars.com removal is the next step you should make.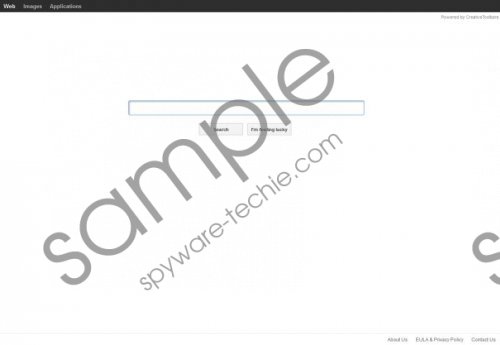 Search.creativetoolbars.com screenshot
Scroll down for full removal instructions
Have you deleted malicious browser hijackers in the past? More importantly – have you succeeded with the manual removal operation? This is not a simple task, and it is recommended to employ reliable security software to delete Search.creativetoolbars.com hijacker and guard the PC. After this, you should change the home page and search engine of all existing Internet browsers.
How to change browser settings?
Mozilla Firefox:
Open the browser and click the icon placed on the left of the search box.
Select Manage search engines and Remove the undesirable option. Click OK.
Simultaneously tap Alt+T and select Options.
Click the General tab, overwrite/remove the provided Home Page URL and click OK.
Internet Explorer:
Open the browser, simultaneously tap Alt+T and select Manage Add-ons.
Select Search Providers, then Remove the undesirable provider and click Close.
Simultaneously tap Alt+T again and this time click Internet Options.
Click the General tab, change/remove the URL under Home Page and click OK.
Google Chrome:
Open the browser, simultaneously tap Alt+F and select Settings.
Go to On Startup and mark Open a specific page or set of pages.
Click Set pages and change/remove the URL which is set as default. Click OK.
Go to Appearance, mark Show Home button and click Change.
Remove/overwrite the set URL and click OK.
Go to Search and select a new search provider from the drop-down menu.
Now select Manage search engines and remove the unwanted search provider by clicking the X sign placed over it. Click OK to confirm the selection.
In non-techie terms:
It is important that you remove Search.creativetoolbars.com browser hijacker from the PC as soon as possible. The malicious threat can expose security vulnerabilities and expose you to misleading pop-up ads at any point. We recommend using SpyHunter to find and remove the clandestine threat.
Aliases: Search.creativetoolbars toolbar.