Do you know what Search By myMovie is?
Search By myMovie will, without a doubt, change your default search provider on Google Chrome if you click on the ADD TO CHROME button at the top of the description page of this piece of software at the Chrome Web store (chrome.google.com/webstore/detail/search-by-mymovie/gocbflmhgdckldejmklihkedljphnobo) or on the official website myappline.com. No matter where users get it from, they will notice the same changes applied on their Google Chrome browsers. Search By myMovie adds a new extension with the unique ID gocbflmhgdckldejmklihkedljphnobo (open the list of extension if you do not believe us), and then changes the default search engine. Since users usually install this piece of software because it promises to make it easier to find movies online (it claims that users could search movies by typing one word movies: and the title of the movie in the URL bar), they do not expect that it will remove their preferred search in exchange for the useful service. There is no information about this on their official sources too. Users are only told that they agree with all the changes by clicking the "ADD TO CHROME" button in the top right hand corner and installing the myMovie Search extension." Search By myMovie is quite popular judging from the number of users who have already downloaded it from the Chrome Web store, so there is a possibility that some users have found it useful despite the fact that it changes their browsers' settings without permission. If you are not one of them, you can undo those changes at any time by deleting the Search By myMovie browser extension fully. Our experienced specialists suggest doing that too as soon as possible because the search engine set in the place of your old search provider is not fully reliable. Frankly speaking, it might even expose you to potential dangers. Read the next paragraph to find out what is wrong with it.
The Search By myMovie users find set on their Google Chrome browsers looks quite reputable, so users use it as a default search provider fearlessly. Sadly, the truth is that it is not as trustworthy as it might seem at first glance, so replacing it with a good search tool is highly recommended. Before you do that, you need to erase Search By myMovie first. Our researchers cannot call this search tool fully trustworthy because all the searches performed using it are redirected to a dubious search engine movix.searchalgo.com and only then Yahoo! search results are displayed. Because of this initial redirection to a suspicious search tool, users might see the so-called modified search results whose main purpose is to drive the traffic to third-party websites. This does not sound dangerous at all, but users might really be exposed to potential threats because they might end up on untrustworthy pages too after clicking on any of these modified search results they see.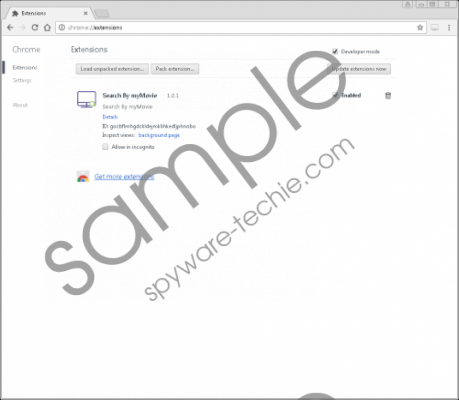 Search By myMovie screenshot
Scroll down for full removal instructions
Although an official website users can get Search By myMovie willingly from exists (myappline.com) and the extension of this search tool can be downloaded from the Chrome Web store (chrome.google.com/webstore/detail/search-by-mymovie/gocbflmhgdckldejmklihkedljphnobo), users keep reporting that it has showed on their browsers without their consent, which suggests that this Google Chrome browser extension might be distributed in a different way too. Research has shown that, most probably, users who find its presence a surprising fact get it installed after clicking on a malicious advertisement/pop-up. Such ads promoting suspicious programs are usually shown to users on untrustworthy third-party pages. Do not click on them ever again even if they claim that you will get an extremely beneficial program.
The Search By myMovie removal is necessary if you are planning to set a new search provider. Luckily, this should not be a very difficult task because this browser extension can be removed quite easily. Of course, those users who are going to do that for the first time might still face some difficulties, so we suggest using our manual removal guide for them. Scroll down to find it.
Delete Search By myMovie
Google Chrome
Open Google Chrome.
Click on the menu button once and select More tools.
Click Extensions.
Select the undesirable extension and click the Trash button.
In the pop-up confirmation window, click Remove.
In non-techie terms:
Other untrustworthy applications could have sneaked onto your computer together with Search By myMovie too, so it is a must to scan the computer with a reputable automatic scanner to find out the truth. If it detects undesirable software on your PC, do not let it stay any longer because it might cause you problems too. Active undesirable applications might even help malicious applications to enter the computer without users' knowledge.