Do you know what Search.bitcro.com is?
Search.bitcro.com is a browser hijacker that is associated with the Start application for Chrome. Although our security researchers suggest that this browser hijacker may also work on other browsers, so far we have found that it is compatible only with the Chrome browser. It would be for the best if you remove Search.bitcro.com immediately as this hijacker could be easily exploited by cyber criminals to spread corrupted content and even malware. This program has no entry in the list of installed programs, so you will have to terminate the hijacker by modifying your browser settings manually.
In some aspects, it would be rather hard to call Search.bitcro.com a computer infection, because, if you go through the official sources, you are given the chance to avoid installing this program on your computer. For example, the Bitcro app is available for download from the Chrome Web Store. There you find out that this application should help you connect "top Social Networks into one Homepage." What's more, the Chrome Web Store is definitely not the only source of distribution. Browser hijackers and potentially harmful applications often travel in software packages, so we believe that you may have several unwanted applications running on your system.
How to know which programs must have arrived with Search.bitcro.com? The fastest way to find out is to scan your computer with the SpyHunter free scanner. A full system scan will help you find all the potential threats and then you will be given a chance to remove them all automatically. However, the freeware and adware removal may not be enough to protect your system, so you should invest in a licensed security program that would safeguard your PC against similar intruders in the future.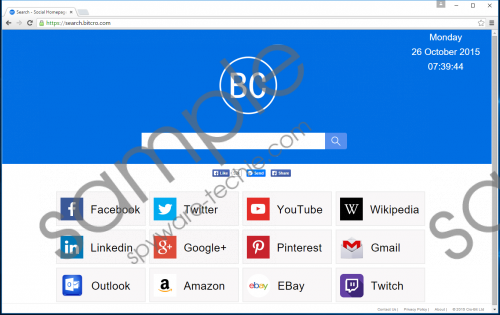 Search.bitcro.com screenshot
Scroll down for full removal instructions
Some users may think that it is not much of a problem to leave Search.bitcro.com on their computers, but they should know that this program can easily change the homepage on their Chrome browser, and set the browser so that each time you opened a new tab, the tab would redirect you to search.bitcro.com. Also, all the search results you would encounter via this hijacker will be modified according to your search history. But do not be fooled by this infection: Search.bitcro.com cannot provide you with an innovative search service. All of your queries will be redirected via a customized version of the Yahoo search engine.
Search.bitcro.com will also display a lot of commercial advertisements, most of which will be embedded there by third parties. The program states that it may "disclose Anonymous information (with or without compensation) to third parties, including advertisers and partners, for purposes including, but not limited to, targeted advertisements." This kind of practice opens a lot of opportunities for malicious exploitation, and you certainly have to prevent that.
Follow the instructions below to delete Search.bitcro.com from your browser. If you think there are other dangerous programs on your computer, remove them via Control Panel. We also provide a secondary set of software removal tutorial below this description that can help you terminate all the undesirable applications at once.
Should anything go wrong, or you encounter problems while trying to get rid of Search.bitcro.com, feel free to leave us a question. We will be glad to assist you.
How to Remove Search.bitcro.com
Open the Chrome browser.
Press Alt+F and click Settings.
Select Open a specific page or set of pages under On Startup.
Click Set pages.
Change your homepage address and press OK.
Go to Search and click Manage search engines.
Set a new default search engine and remove Bitcro. Click Done.
In non-techie terms:
Search.bitcro.com may look like a decent search engine, but this program could easily lead to severe computer security issues. You should get rid of Search.bitcro.com today, and then safeguard your system against similar applications that might be waiting out there to slither into your computer. If you are not careful about it, soon your personal information could get stolen and your computer destroyed by malicious infections brought upon you by the likes of Search.bitcro.com.