Do you know what Search.bestmediatabsearch.com is?
As you can probably tell from the name, Search.bestmediatabsearch.com is a browser hijacker that modifies your browser settings on Chrome and Firefox. Internet Explorer is not affected by this infection. You must have installed this program accidentally as browser hijackers often employ stealthy distribution methods. The most important thing is that you should remove Search.bestmediatabsearch.com the moment you notice that your browser settings have been changed. If you fail to deal with this problem early on, you may experience severe computer security issues. Also, for any guidance, you are always welcome to leave us a comment below this description.
The way this browser hijacker affects both browsers slightly differs. For Chrome, the program changes the new tab settings. Also, all of your search results will be redirected to Search.bestmediatabsearch.com. However, even though it might seem that this browser hijacker provides you with original search service, if you take a closer look, you will see that all of the results come from a modified version of Yahoo! Search. Obviously, this does not mean that Yahoo! Search is in any way related to the browser hijacker. The malicious program simply makes use of the engine to make you think that you have now a reliable search provider.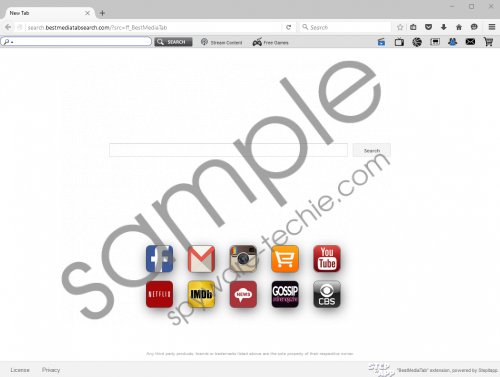 Search.bestmediatabsearch.com screenshot
Scroll down for full removal instructions
Quite a few users do not realize that when they get infected with a browser hijacker, that is usually the result of their irresponsible web browsing practices. Search.bestmediatabsearch.com is similar to search.realcoolmoviessearch.com, search.searchinsocial.com, search.emaildefendsearch.com, so this program is distributed similarly to its counterparts.
According to our research lab, this program usually travels via random pop-ups. It means that you can get infected with this browser hijacker if you accidentally click a pop-up on a commercial website. That may also include sites that often display such commercial content, for instance, online gaming sites, gossip websites, porn sites, and so on. Whenever you access a page that is full of random pop-up ads, you have to realize that a dangerous infection might be just a click away. What's more, it is very likely that Search.bestmediatabsearch.com was installed on your system with a selection of other potentially harmful applications.
If you want to know the actual status of your computer's system, you should scan it with the SpyHunter free scanner. This way, you will get a list of all the programs you need to terminate, and you will be able to get down to business. Just because the new search engine looks reliable, it does not mean you should trust it.
Why are browser hijackers dangerous? For starters, they modify your search results by adding sponsored links that look like something you have been looking for. In reality, by clicking the embedded links you boost the traffic on a specific website and consequently help the hijacker's creators generate financial profit. However, the question is whether the websites you get redirect to are reliable and trustworthy. Almost anyone can make use of browser hijackers to distribute and promote their content. So what if cyber criminals decide to exploit this feature?
Unfortunately, that happens quite often, and that is one of the main reasons you should remove Search.bestmediatabsearch.com immediately. The browser hijacker does not intend to infect you with malware, but that might as well happen because cyber criminals often use browser hijackers as vehicles for malware distribution. The next time you click a link to an unknown website, you could end up with a ransomware Trojan, and then you would really be in deep trouble because ransomware applications cause extensive damage to your files.
We provide instructions for manual hijacker removal right below. They are easy to follow and we believe that you should have no difficulty in terminating this application. However, as mentioned above, you have to consider that the hijacker entered your PC with several other applications, and they need to be taken care of as well.
Thus, scan your PC right now and determine which applications must be erased for good. To make sure that you avoid similar threats in the future, safeguard your system with a reliable real-time protection. Finally, do not forget to employ safe web browsing habits that would certainly help you avoid similar intruders in the future.
How to Remove Search.bestmediatabsearch.com
Press Win+R and type %APPDATA% into the Open box.
Click OK and open the directory.
Go to Mozilla\Firefox\Profiles\UserID\Extensions.
Delete the BestMediaTab-the-extension1@mozilla.com.xpi extension.
Press Win+R and type %LOCALAPPDATA%. Click OK.
Go to Google\Chrome\User Data\Default\Extensions.
Delete the ocidpleigdhcoacijfoeibfolcdkhnom folder.
Press Win+R once more and enter %UserProfile%. Hit Enter.
Navigate to Local Settings\Application Data\Google\Chrome\User Data\Default.
Delete the ocidpleigdhcoacijfoeibfolcdkhnom and scan your PC.
In non-techie terms:
Search.bestmediatabsearch.com becomes your homepage when a program from a browser hijacker family enters your system. Users often download such products without noticing, and they install multiple programs on their systems, programs they could definitely live without. Just above this paragraph, you can find the instructions that tell you how to remove this browser hijacker for good. Should you encounter any difficulties as you try to protect your PC from harm, be sure to leave us a message.