Do you know what Search Bay is?
If you have encountered Search Bay, it is most likely that you have been introduced to an annoying pop-up represented via a strange page. According to the latest research conducted by our malware experts, searchsbay.com/ext?pid=1651&sid=173115718 is the page that has been used for the promotion of the installer of the suspicious PUP (potentially unwanted program). Right now, the installer is not working because the download page, http://searchsbay.com/, is down. The same can be said about the Chrome web store installer at chrome.google.com/webstore/detail/search-bay/fcdcdlhamlenoljekfpnjdhjcncnafep that appears to have been taken down as well. Despite this, we cannot claim that the suspicious PUP is no longer distributed. If it is installed onto your Google Chrome browser already, you should continue reading this report to learn why removing Search Bay is recommended. If you want to delete the PUP right away, check out the instructions available below.
The pop-up that was seen representing Search Bay is very aggressive as it is represented via a page that goes full-screen and that disrupts the mouse movements to prevent you from closing the page. Different alerts on the page are injected to stop you from leaving the page as well. If you are quick, you should have no trouble closing the annoying page. Alternatively, you can always launch Task Manager by tapping Ctrl+Shift+Esc and then terminate the process of the corrupted browser. The suspicious Search Bay could also be distributed via software bundles. Needless to say, this makes the PUP appear less aggressive, and you are more likely to let it in. Overall, you should not install the extension under any circumstances, and if you have let it in already, you must delete it. Before you get on with that, you need to inspect your operating system to check if any other suspicious pieces of software on your PC require removal. Needless to say, if more aggressive and malicious threats are found, you must eliminate them first.
According to our research, Search Bay can affect your web browsing. As you enter keywords, this PUP should redirect via the searchstrategic.com server to the Google search engine. Are you familiar with Google? Do you trust it? You have to forget about all of this because the search engine you are dealing with is not the one you are used to. By redirecting you to this popular search engine via a third-party source, Search Bay ensures that information about your activity is recorded. Furthermore, there is a possibility that the results shown via the results page are modified, and so trusting them is risky. Overall, Search Bay is neither useful nor trustworthy, and so you should not postpone its removal.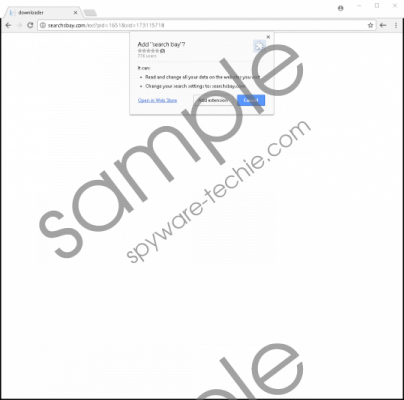 Search Bay screenshot
Scroll down for full removal instructions
If you do not want a piece of software redirecting you to a third-party search engine, potentially showcasing unreliable links, and tracking information about your virtual activity, you must delete Search Bay immediately. This potentially unwanted program might appear to be harmless, but our research team warns that it could be used in an unreliable manner. You should be able to successfully delete this PUP using the instructions below, but that is not the only option you have. Installing and using anti-malware software is the better option because this software is designed to clean the operating system and keep it guarded at the same time. If other threats are active, this is the best option you have.
Remove Search Bay
Launch Google Chrome and enter chrome://extensions/ into the address bar.
Click the trash bin button linked to the undesirable extension and select Remove.
Run a full system scan using a legitimate malware scanner to check if other PUPs exist.
In non-techie terms:
Should you delete Search Bay from Google Chrome? Whether you have been forced into letting this strange extension in or you downloaded it yourself, it is recommended that you remove it from your web browser immediately. It does not offer beneficial services, and, instead, it can redirect to a well-known search engine just to make its activity less noticeable. The potentially unwanted program can record information and it is possible that it could modify the results shown via the Google search engine as well. Removing Search Bay is not difficult, and you can follow the guide above. Of course, if you are dealing with other threats and you are worried about the protection of your operating system, installing anti-malware software is the better option.