Do you know what Search Anonymo is?
Search Anonymo is a suspicious browser extension that can expose you to even stranger web search services. Although this add-on is promoted as a tool that allows you to browse the web anonymously, our research team believes that it might have been created just as another advertising tool. If you are still thinking about installing this extension onto your Chrome and Firefox browsers, we suggest looking for a more beneficial tool. After all, both of these browsers allow you to surf the web without having your history recorded. On Chrome you can enable "Incognito" mode (tap Ctrl+Shift+N), and on Firefox you can use the "Private Window" feature, which you can open from the Firefox menu. Clearly, the add-on is not that great or useful. All in all, if it was created as an advertising tool, its ability to provide you with exclusive services is not the priority for its creators. If you want to learn more, and you wish to delete Search Anonymo, please keep reading.
Https://chrome.google.com/webstore/detail/search-anonymo/kflgpljkgfgnobalpcidgjfehndkdjee is the page that represents the installer of the suspicious Search Anonymo for Chrome users. Although both Chrome and Firefox users can download it from searchanonymo.com, the Chrome installer is presented via a secondary source. This is not strange, but we have seen plenty of suspicious add-ons represented via chrome.google.com/webstore/. Some of them include Search Secretly, Show Fanatic, and Finders Deals (you can find removal guides for these strange add-ons on this very website as well). Although an official source exist, not all users will use it. In fact, it is more likely that they will be introduced to the add-on via third-party installers. Considering that the service that Search Anonymo promotes might appear to be attractive, it is possible that it will be used by bundled installers. In this case, as you install the extension, you might be introduced to freeware. Unfortunately, this method of distribution is very risky, as malicious infections deserving of removal could be bundled along with the extension.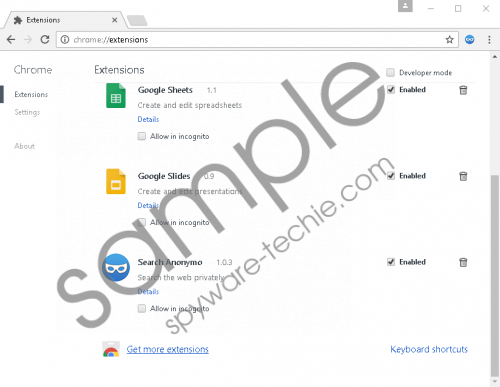 Search Anonymo screenshot
Scroll down for full removal instructions
As mentioned already, Search Anonymo works as an advertising tool. When you install it, it modifies the default search provider. If you use it, you are automatically redirected to Yahoo Search. Obviously, if you were using this search engine before acquiring the add-on – and, considering that it is one of the most popular ones, that is very possible – you might not notice anything at all. Unfortunately, advertisements could be introduced to you via this engine because Search Anonymo could adjust the search results shown. If you interact with the sponsored links, the creator of the add-on earns money, and so it is likely that quite a few spots reserved for normal search results will be taken over by ads. This right here is a very important reason to consider Search Anonymo removal. Although this add-on does not hide the fact that your default search engine is replaced, the fact that it can introduce you to unpredictable third-party content is quite questionable.
Since Search Anonymo is just an add-on, we are sure that you can delete it manually. If you have not done this before, use the guides below. In case you have acquired the add-on along with malware, consider using automated malware removal software. If you are not sure if you need to eliminate unreliable programs, install a malware scanner that will help you assess the situation. All in all, even if you are able to get rid of all undesirable programs yourself, you must not ignore the security status of your operating system. If security software is not installed, you can expect malicious infections invading it sooner or later. To avoid this, employ trustworthy anti-malware software ASAP.
Delete Search Anonymo from browsers
Google Chrome
Launch the browser and enter chrome://extensions/ into the address bar at the top.
In the Extensions menu click the recycle bin next to the unwanted add-on.
Click Remove and then perform a full system scan.
Mozilla Firefox
Launch the browser and tap Ctrl+Shift+A keys to access the Add-ons Manager menu.
In the menu on the left click Extensions and identify the undesirable one.
Click Remove and then perform a full system scan.
In non-techie terms:
Search Anonymo is not the most useful tool you can find, especially considering that you can get the same services without installing anything at all. Your browsers are already capable of providing you with the ability of browsing the web anonymously. Of course, the main reason to remove Search Anonymo from your browsers has to do with its advertising service. Although you might not mind seeing ads here and there, this add-on can redirect to Yahoo Search, and use the name of this search engine to slip in promotional content. Needless to say, that is not the most transparent of services. You can delete the add-on using the guides above, but we suggest installing anti-malware software if more suspicious programs are found and if you care about your system's protection.