Do you know what Search.allinoneoffice.net is?
Search.allinoneoffice.net may sound like a handy program if you use Google Docs applications, Google Drive, and other tools from Google daily since it provides links to them. However, in reality, you can reach the mentioned tools just the same without this search engine or the browser extension it comes with. All you need to do is stay logged in your Google account, click the menu button, and pick the feature you wish to access. Nonetheless, the software's description tries to convince the user the add-on can be rather useful. Further, in this text, we explain more about Search.allinoneoffice.net, why it was categorized as a browser hijacker, and what extension it comes with, so if you still have any doubts we encourage you to keep reading our article. As for users who would like to get rid of this applications as fast as possible we recommend following the removal guide available at the end of this article.
As mentioned earlier Search.allinoneoffice.net might come with a particular browser extension compatible with Google Chrome only. It is called All-in-One Office - New Tab and you can find it under dgldcllfgcheelimlbmilnkilnamlhbd unique Chrome ID in the chrome.google.com/webstore page. Besides the given description we also noticed there are a lot of user reviews. Many of them describe the application as "awesome," "great," "helpful," and so on. Still, there are quite a lot of reviews claiming the add-on installed itself automatically without any permission. In fact, part of these negative reviews says the positive comments could be fictitious and truth to be told we would not be surprised as it happens quite often with the comments of browser hijackers, potentially unwanted programs, and other threats alike.
The reason Search.allinoneoffice.net was classified as a browser hijacker is that it might enter the system without the user realizing it and it may modify some browser preferences as well. For example, you could receive this suspicious search engine unknowingly after launching a bundled software installer that carries All-in-One Office - New Tab inside of it. To be more precise, the application could be optional, and the user might have the chance to deselect it, but the problem is, some users rush the installation process by not paying any attention to the given terms and agreeing with all conditions automatically. Needless to say, to avoid receiving tools you do not want, or that could be possibly dangerous you should be more careful during installation and follow all provided terms carefully. Besides, we would advise staying away from untrustworthy sites distributing pirated software, and so on.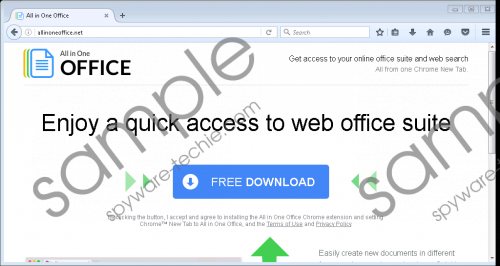 Search.allinoneoffice.net screenshot
Scroll down for full removal instructions
When the mentioned extension gets installed, Search.allinoneoffice.net could hijack user's Google Chrome by replacing his default search engine, homepage, or even new tab page. Instead, the hijacked browser should start loading the search engine in question. Our computer security specialists say it could load modified search results among which you might find unreliable advertising content from the third party. It might be best to stay away from such ads as there are no reassurances they cannot come from malicious web pages. Therefore, if you find Search.allinoneoffice.net annoying, we encourage you not to take any chances and delete it right away.
Users who would like to get rid of this browser hijacker manually should reset their browser and erase the extension (All-in-One Office - New Tab) it comes with. No need to worry if you do not know how to complete any of these two tasks as both of them will be explained in the removal guide available a bit below this text. Another option is to download a reputable antimalware tool and scan the system with it. During the scan, it should detect the browser hijacker with other possible threats, and once it is finished, you should be able to eliminate them all at the same time.
Erase Search.allinoneoffice.net
Press Alt+F.
Navigate to Settings and slide down.
Choose Advanced, side below again, and click Reset.
Press the Reset button.
Eliminate the add-on related to this browser hijacker
Launch the browser.
Click ALT+F simultaneously.
Navigate to Settings and choose More tools.
Go to Extensions and locate All-in-One Office - New Tab.
Click the recycle bin button available next to it.
Tap Remove to finish.
Restart the browser.
In non-techie terms:
Search.allinoneoffice.net is considered to be a browser hijacker. Computer security specialists decided to classify it this way after realizing the application could be spread via unreliable channels, and it may change particular browser settings. Not to mention, it seems it might show modified search results, and among them, users could find potentially dangerous advertising content. Because of this, it is no surprise our researchers recommend deleting the search engine and the extension it comes with right away. To help our readers with this task, we placed a removal guide available a bit above this paragraph. The other way to deal with this browser hijacker is to get a reputable antimalware tool, check the system with it, and then click the provided deletion button to erase it at once. If you need more assistance or have any questions about this add-on, you could also leave us a comment at the end of this page.