Do you know what Search.adstopper.com is?
If you ever happen to come across a program that is named Search.adstopper.com, you should ignore it at all times, as it is nothing more than an invasive browser hijacker. It goes without saying that running such an intrusive program will make your online experience significantly worse. This is so because the hijacker in question makes a few fundamental changes to your web browser's default settings. It is important to note that in addition to causing disruptions while you are surfing the web, you must know that this hijacker could also exhibit a few potentially malicious features. It goes without saying that running this hijacker on your computer is not recommended under any circumstances. If you have found Search.adstopper.com up and running on your PC, make sure to execute its full removal since it is the only way to restore the default settings of your web browser. Read the rest of this article and learn how you can improve your virtual security and how you can terminate this hijacker in the quickest way possible. Do not hesitate to do so by using a detailed removal guide that we present below.
As soon as this hijacker gains access to your computer it will trigger changes to your web browser's default settings. If you have experienced such behavior, it is a major indication that Search.adstopper.com is fully running on your computer. The hijacker in question will alter your homepage without any authorization, which is frustrating, to say the least. Such a change even though it might seem irrelevant will cause your online experience to become much worse than you might think. Whether you like it or not, you will be forced to start each of your web browsing sessions on a newly appointed homepage. The website that this hijacker presents as your homepage is questionable, to put it mildly. The site provides a search field, which we advise you not to use as you might be provided with modified search results, meaning that some of them could be implemented with redirect links. It is important to realize that clicking on such a result could have detrimental consequences. You could be redirected to questionable third-party sites that consequently might turn out to be hosting malicious software. At times such site could be running an arbitrary code execution exploit, meaning that just entering such a website could be more than enough to get your operating system infected with some unknown malicious application. It goes without saying that running Search.adstopper.com is a risk that you should never take; thus, its complete removal is essential if you are a security conscious user.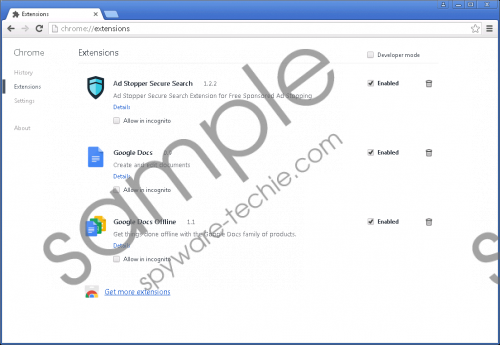 Search.adstopper.com screenshot
Scroll down for full removal instructions
In addition to invasive and potentially malicious features, we want to highlight the fact that usually this hijacker comes as a part of a software bundle. Therefore, if you already have this hijacker fully running on your computer, you should not waste any time and check your operating system for other questionable programs. Make sure to remove any of such applications along with this invasive browser hijacker. It is important to take appropriate action in order safeguard your PC from this or any other questionable programs. Be sure to obtain all of your software only from official vendors' websites as they do not tend to provide bundled installers, unlike dubious third-party download sites do. Additionally, make sure to pay as much attention while conducting a setup of any program as you could be presented with a chance to cancel the installation of some undesirable application. Last, but not least, you should have a professional malware detection and removal tool running on your computer at all times as such a tool provides overall system security at all times. If you do not have such a program, your PC is at constant risk of getting infected.
Do not hesitate to remove Search.adstopper.com from your computer as it is a major virtual security threat. Pay our extra attention while following the removal guide as just a single mistake could result in an incomplete removal of this hijacker. This means that it could remain fully active on your computer. Once you are done with the manual removal, you should conduct an in-depth analysis of your PC for potential leftovers linked to Search.adstopper.com. If you happen to come across any, you must terminate them immediately. How to delete Search.adstopper.com from your computer
How to remove Search.adstopper.com from your PC
Google Chrome
Start your web browser.
Click the Menu button and select Settings.
Check Open a specific page or set of pages under On startup section and click Set Pages.
Delete the unwanted URL then click OK.
Under Appearance check Show Home button and click Change.
Remove the unwanted URL then click OK.
Click Extensions.
Click the Trash Can icon next to the unwanted extension.
Select Remove to confirm your choice.
Mozilla Firefox
Open your web browser.
Click the Firefox Menu button and select Options.
Click the General tab.
Form the Home Page section, remove the Unwanted URL.
Select Extensions.
Click the Remove button next to the suspicious extension to remove it.
Internet Explorer
Launch your web browser.
Click the Menu button and select Internet Options.
Select the General tab, then remove the unwanted URL and click OK.
Click the Menu button and select Manage add-ons.
Select Toolbars and Extensions.
Locate the unwanted extension and click Remove.
In non-techie terms:
Some users might find manual removal too much form them to handle. If you are such a user, do not worry. Malware experts working at our internal labs have crafted an alternative removal guide. The instructions that we provide below will help you delete this hijacker in an automatic manner.