Do you know what Search.adlux.com is?
According to our cyber security experts, Search.adlux.com is not your ordinary search engine. It is a browser hijacker that can replace your browser's homepage address, so you might want to remove it from your computer. Its creators want you to use it as a regular search engine so that they could make money off it. And, they make money by littering the search results with promotional links and advertisements that resemble legitimate search results. Also, this hijacker collects information about you in order customize the search results to present you with more appealing ads. Therefore, we invite you to read this article to see what Search.adlux.com is really all about.
Evidently, this particular browser hijacker comes from an unknown developer that did not digitally sign it. It is apparent that the developers want to stay in the shadows because going public with this kind of product would get them in trouble. The developers want to avoid responsibility that can arise from featuring shady promotional links in this hijacker's search results. At present, it seems that this secretive developer has released this hijacker only. Nevertheless, more similar hijackers may follow as browser hijackers have proven to be a goldmine, provided that a given developer has released enough of them.
While Search.adlux.com is a search engine, that means that it is a website which cannot infect your computer on its own accord. Therefore, it needs a vehicle that could distribute it around the web. While we have not found any working samples of this, we believe that this browser hijacker should be distributed through malicious bundled software installers. We say malicious because it is likely that they do not allow you to deselect the installation of Search.adlux.com. The installers install this hijacker while installing the rest of their content. Our malware researchers say that they should interact with Google Chrome, Microsoft Internet Explorer, and Mozilla Firefox. The hijacking happens silently and you will notice the change of homepage the next time you launch your browser.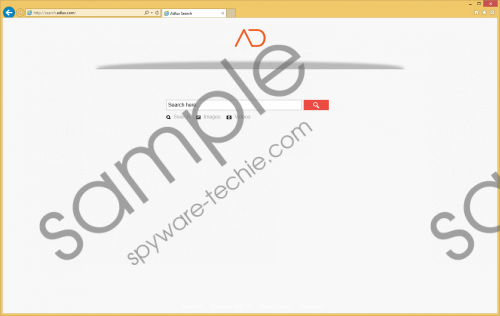 Search.adlux.com screenshot
Scroll down for full removal instructions
Once Search.adlux.com has successfully replaced your browser's homepage, it will function as a normal search engine. However, at the time of our research, it could be accessed, but its search function did not work. Nevertheless, if it worked, then it would have presented search results with links to questionable and possibly dangerous websites. And that is what you can get if you use this malicious search engine. It can jeopardize your computer's security with its questionable and unasked for promotions.
Furthermore, there is another important aspect we want to talk about before we move on to this hijacker's removal. Our researchers say that it can collect information about you and use it for customizing the search results and place more relevant promotional links. It is explicitly stated in the privacy policy that "Companies which advertise on our site may collect information from you if you click on their advertisements or access their sites." Now every website has its own guidelines on information collection, but Search.adlux.com specifically collects IP address to determine the location of the user and assign region-specific ads, if they have any.
In conclusion, Search.adlux.com is a highly malicious search engine that s distributed in a malicious manner and set to replace your browser's homepage address without your knowledge or consent. Its purpose is to show you shady commercial advertisements, and links to promoted websites, and it collects information about you to personalize and customize them to make more money for its shady developers. Therefore, you should remove Search.adlux.com from your browser to avoid undesirable consequences.
Replace the homepage address
Microsoft Internet Explorer
Simultaneously press Alt+T keys.
In the Tools menu, select Internet Options.
In the General tab, enter a new homepage address.
Click OK.
Mozilla Firefox
Simultaneously press Alt+T keys.
Click Options and select General.
In the Home page line, type a new homepage address.
Exit the Options menu.
Google Chrome
Simultaneously press Alt+F keys.
Click Settings.
In the On Startup section, click Set pages.
Erase Search.adlux.com.
Enter a new startup page address in the address line.
Click OK.
In non-techie terms:
Search.adlux.com is a browser hijacker that only looks like a legitimate search engine. Our researchers have found that it can replace your browser's homepage using a malicious distribution method and then show promotional links in its search results. Not only that, but it can collect information about you to customize and personalize them to make more money. So this means that as a search engine it is useless and we recommend that you remove it.