Do you know what ScreenUp is?
ScreenUp might seem like a safe and easy to use tool for making screenshots, but we would advise our readers to be more careful with it. After reading the software's Privacy Policy and End User License Agreement, our researchers learned the application might gather particular data while it is running and share it with its third-party partners; possibly to show the user targeted advertising content. Of course, it does not make the application malicious, but because of such behavior, our specialists decided to place it in the potentially unwanted programs (PUPs) category. As you continue reading our report, you will learn more about the tool and the risks it could introduce you to. If you decide you cannot trust ScreenUp and choose to erase it from the computer, we can offer the removal guide located at the end of the main text.
There are a couple of variants how ScreenUp could reach its users. Strangely, the software's homepage is not one of them as the provided download button does not allow to obtain the application's installer. This makes it possible to think the PUP might be distributed through other channels, e.g. questionable file-sharing web pages. There the tool could be bundled with other unreliable programs like adware, potentially unwanted programs, browser hijacker, and so on.
Most of the software installers are bundled with at least one or a few suggestions of additional tools, and they are often set to be installed automatically if the user does not deselect them himself. Therefore, to keep the system safe and clean from unwanted applications, users should find time to read the terms provided by the configuration wizard carefully. Just do not forget that to see all of the terms you may have to select advanced installation settings. Another option we would recommend is having a reputable antimalware tool on the system.
Furthermore, ScreenUp is a rather unusual program since it works without installation. To be more precise, the PUP does not need to create any data on the system as it can function with an only single executable file. From the application's End User License Agreement and Privacy Policy documents we have learned that while it is running on the system, the tool could be gathering information related to the device itself, software installed on it, information about user's visited web pages, purchased products, etc. We will no quote the particular line we found in Privacy Policy as it is written in Russian, but its translation in English suggests the information we just mentioned in the last sentence might be used to bring users targeted advertising content.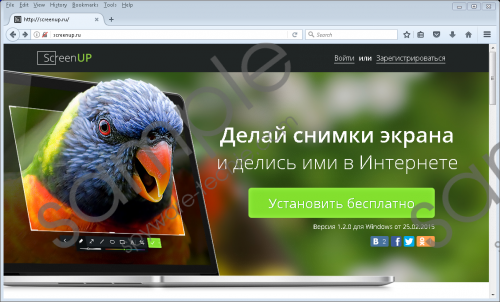 ScreenUp screenshot
Scroll down for full removal instructions
This is the part where ScreenUp's usage could become risky. If the PUP begins displaying third-party advertising no one reviews, there probably would be no guarantees such content will not be malicious. In other words, there is a risk some of the targeted ads could advertise malicious software, threats similar to this PUP, web pages offering to participate in fake surveys or lotteries, and so on. Under such circumstances, we advise you not to risk with this suspicious program and use Snipping tool or other reliable screenshot applications.
Fortunately, erasing ScreenUp is not so difficult, and there are even two options to choose from. Clearly, one of the ways to get rid of it is to use the removal guide prepared by our specialists; you can find it a little below this paragraph. If you choose to deal with the PUP manually, you should just complete these steps one by one. Should the instructions appear to be too complicated or there are more threats you need to deal with, we encourage you to use a reputable antimalware tool instead since it can detect and erase multiple threats at the same time.
Eliminate ScreenUp
Tap Ctrl+Alt+Delete.
Choose Task Manager.
Select Processes and look for a process associated with the PUP.
Mark this process and click End Task.
Leave the Task Manager.
Press Windows Key+E.
Check these locations:
%TEMP%
%USERPROFILE%\desktop
%USERPROFILE%\downloads
Find a file that might be the application's installer.
Right-click the file associated with ScreenUp and choose Delete.
Close File Explorer.
Empty Recycle Bin.
In non-techie terms:
ScreenUp is a potentially unwanted application targeted at users speaking the Russian language. We believe this to be true only because all information on the software's homepage is provided in this language alone; even the Privacy Policy and End User License Agreement documents. The main reason our researchers believe it to be untrustworthy is the specific statements in the two mentioned documents since they claim the tool could be gathering particular data and may show user targeted advertising content from the third party. We think there is a possibility such content could be potentially malicious and so advise you to keep away from it in case it shows up or better yet take no risks and erase this questionable program from the computer. To do so manually have a look at the removal guide located below or install a reputable antimalware tool to delete it automatically