Do you know what Screenlocker Cuzimvirus is?
Screenlocker Cuzimvirus is an infection that can paralyze your Desktop by blocking it with an intimidating notification. This notification is represented via a window that has a bright red background, which immediately calls for attention, and it pushes you to email the given address. At first sight, this notification resembles one that the creators of ransomware infections would use to push you into paying a ransom for a decryption key. Luckily, this is not a ransomware, and you do not need to lose a penny to get rid of it while keeping your personal files safe. Of course, the appearance of this infection should be a wake-up call for you. If it has managed to slither in, who can guarantee that much more devious threats will not attack in the near future? Also, keep in mind that even though this suspicious infection is not yet posing any threat, it could be updated, and so you cannot postpone the removal of Screenlocker Cuzimvirus at all.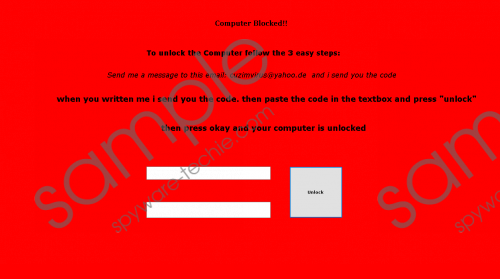 Screenlocker Cuzimvirus screenshot
Scroll down for full removal instructions
Just like the majority of ransomware infections, Screenlocker Cuzimvirus is spread with the help of spam emails. The infection can be executed via a file attached to a misleading spam email, and you might execute it yourself without even realizing it. But do not think of spam emails as the only security backdoor that could be used for the proliferation of malware and ransomware. Cyber criminals are smart, and when one door closes, they figure out how to open the next. When ransomware infections slither in, they immediately encrypt files (mostly personal files, such as documents and personal photos) using encryption algorithms. At the time, Screenlocker Cuzimvirus is unable to do it, and we are not sure if it ever will be able to do it. According to our malware research team, it looks like this threat was created by amateurs to test their abilities. Unfortunately, there is always a possibility that someone very smart is testing a dangerous infection, which is why we advise deleting this threat immediately upon discovery. Take a look at the notification delivered by the devious malware.
Computer Blocked!!
To unlock the Computer follow the 3 easy steps:
Send me a message to this email: cuzimvirus@yahoo.de and i send you the code
when you written me i send you the code. then paste the code in the textbox and press "unlock"
then press okay and your computer is unlocked
What happens when you email the provided email address? The chances are that the cyber criminals behind this address will use the opportunity to demand a ransom from you. Less experienced users might not realize that this infection is not as dangerous as it claims to be, which is why they might choose to follow the demands that are introduced to them. In reality, you can easily unlock your screen by terminating a malicious process called "Ransomware final (32bit)." In fact, the window representing the notification can be minimized, and if you realize this in time, you will soon realize that this "threat" is not as harmful as you might have thought initially. Once you disable the notification screen, all that you need to do is remove the executable of Screenlocker Cuzimvirus, and that is it. Now, if you are reading this report after contacting cyber criminals and following their demands – which might include paying a ransom – figure out what kind of information you have revealed. By contacting them, you have already disclosed your email address, which could be used to scam you in the future, but maybe you have disclosed other sensitive information as well? If you have, you need to protect it ASAP.
You do not need to have a lot of experience to successfully delete Screenlocker Cuzimvirus from your operating system. As you can see via the guide below, it is enough to kill a malicious process and erase the malicious .exe file. Here's the tricky part, we cannot say where this particular file hides within your operating system. Chances are that it is located on the Desktop, in the Downloads folder, or maybe in the %Temp% directory. If you are having issues detecting and removing this malware, employ an automated malware remover. You should not even think about other options if you find other infections running on your operating system. Obviously, to ensure that you do not face malware again, you should employ trusted anti-malware software ASAP.
Remove Screenlocker Cuzimvirus
Launch Task Manager by tapping Ctrl+Shift+Esc keys.
Click the Processes tab to access the list of running processes.
Select the process named Ransomware final (32bit) and click End Process/End Task.
Launch Explorer by tapping Win+E keys.
Check all of these directories (enter into the Explorer's bar) for the malicious .exe file. Delete it if found.

%UserProfile%\Desktop
%UserProfile%\Downloads
%Temp%
In non-techie terms:
Screenlocker Cuzimvirus is an infection that, at the moment, is not very dangerous. However, it is possible that this threat is just a test version, and the next update could make it much stronger and more powerful. It looks like this threat was modeled after ransomware infections, and you do not want it to encrypt your files. Right now, it is not able to do that, which is good news. When it comes to deleting Screenlocker Cuzimvirus, you should have no trouble as long as you find the malicious .exe file. Hopefully, the instructions above help you erase the infection manually. If you are unable to succeed on your own, install an anti-malware program that will automatically eliminate all threats and reinforce Windows protection.