Do you know what Scotch Tape Locker Ransomware is?
Scotch Tape Locker Ransomware is a threat that can lock your screen and introduce you to a fictitious notification allegedly sent by the Federal Bureau of Investigation. To make the scam more believable, the infection attaches the emblem of FBI, but, of course, that is just a trick. Unfortunately, some users might be tricked into thinking that they are facing a real warning issued by a reputable law enforcement organization. The goal behind this infection is to make you pay a ransom in Bitcoins, and that is the first thing that gives away a scam. If you were instructed to pay a fine by a real law enforcer, you would not be asked to do it in Bitcoins. As a matter of fact, you would not be informed about it via a screen-locking notification either. Hopefully, you have figured out that you are being scammed right away, and you realize that you need to delete malware. We can help you remove Scotch Tape Locker Ransomware in no time.
According to our research team, the malicious launcher of Scotch Tape Locker Ransomware is most likely to be downloaded by malware or potentially unwanted programs that are already active on your PC. You could also let it in by interacting with bundled installers. Was your screen locked after you opened a corrupted spam email attachment? That is another way in which the ransomware could slither in. As you can see, the creator of Scotch Tape Locker Ransomware could use various different ways to invade your operating system. Once the threat is executed, the screen is paralyzed using a screen-size notification that does not have a "close" button. According to the intimidating message, the FBI has scanned your PC and detected illegal activity being performed from it. Some of the violations that the bogus notification presents include downloading child pornography, promoting violence, selling drugs, and even "eating children." If you are not guilty of these crimes, you should realize right away that you need to delete Scotch Tape Locker Ransomware.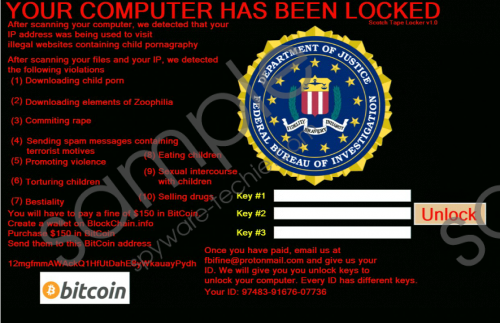 Scotch Tape Locker Ransomware screenshot
Scroll down for full removal instructions
The misleading Scotch Tape Locker Ransomware was created to make you pay a bogus fine of 150 USD to 12mgfmmAWAckQ1HfUtDahE8yWkauayPydh. At the time of research, no "fines" had been transferred to this Bitcoin Wallet. If you did, you would also have to email fbifine@protonmail.com to confirm the payment. This is another thing that gives away a scam. FBI would not use protonmail.com to set up their emails. Anony.killers@protonmail.com Ransomware, Santa_helper@protonmail.com Ransomware, Exte Ransomware, and many other infections have been found using it. If you transferred the money and then sent your ID to a bogus FBI email address, your computer is likely to remain locked. Are you thinking about paying the ransom just so that you could get your PC unlocked? Well, you do not need to do this because there is a way to unlock the computer without wasting a single dime.
If you follow the instructions presented below, you will have the computer unlocked, and the malicious Scotch Tape Locker Ransomware removed in no time. While it is fairly easy to eliminate the ransomware manually, other threats active on your PC might be more stubborn and complicated. A legitimate anti-malware tool can be employed for the automatic removal of all existing infections. Without a doubt, that is the easiest and more reassuring option. The best part is that after erasing malware, this software can continue protecting you and, of course, your entire operating system. If you do not want to face other similar or even more serious infections in the future, we recommend installing anti-malware software ASAP.
Remove Scotch Tape Locker Ransomware
Launch Task Manager (tap Ctrl+Alt+Delete keys and select Start Task Manager).
Click the Processes tab.
Right-click the task named FBI and then select Open File Location.
Go back to the Task Manager, select the task, and click End Task.
Go to the location of the malicious .exe file, right-click it, and select Delete.
Delete any suspicious files you have downloaded recently.
Empty Recycle Bin and then perform a full system scan to check if your PC is clean.
In non-techie terms:
If the devious Scotch Tape Locker Ransomware has paralyzed your operating system, you must be facing a misleading screen-size notification suggesting that the FBI has caught you doing illegal things. Even if you are guilty – and we hope you are not a criminal – the accusations are bogus, and you do not need to pay any attention to the bogus "fine." What if you pay the ransom of $150? Your PC will remain locked, and a malicious threat will remain active. Luckily, you can unlock the screen and delete Scotch Tape Locker Ransomware yourself. Of course, if other infections are active, we advise installing anti-malware software because it can detect and delete all threats simultaneously.