Do you know what Scorpion Saver is?
Scorpion Saver is a browser extension that functions as an adware application. Its initial aim is to help you save on your purchases online by displaying various discount offers and coupon deals. Thus, Scorpion Saver can be downloaded from its official website at scorpionsaver.com, and installed on all main browsers, including Internet Explorer, Google Chrome and Mozilla Firefox. However, you should seriously consider removing Scorpion Saver from your computer if you want to protect yourself and your system various infections. Adware applications may not be dangerous, but they are often exploited for malware distribution!
Based on the information provided on its official website, Scorpion Saver is compatible with an extensive list of online shopping malls, for example, Best Buy, Disney Store, Expedia, Walmart, Barnes & Noble etc. According to Scorpion Saver, it delves into the information on various products in the said websites and then provides you with the optimal offers, be it discount information or particular coupons. However, one can never be sure of the legitimacy of the aforementioned deals, because Scorpion Saver makes use of a third party advertising network to generated its pop-ups. Any third party content is usually not covered by the privacy policy of a program you use, so consequently Scorpion Saver is also legally not responsible for the content you see on the pop-up ads.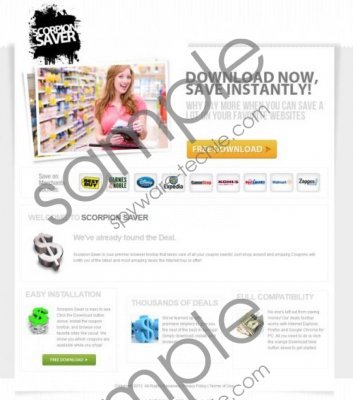 Scorpion Saver screenshot
Scroll down for full removal instructions
Sometimes Scorpion Saver is even installed with a toolbar that comes with shortcuts to a number of shopping websites. Whether additional features are installed or not depends solely on you and where you download Scorpion Saver from. It obviously means that the official website is not the only place where you can download the application at. This adware program may also travel bundled with freeware, especially when you take into consideration all the free software apps that can be encountered on third party websites.
Third party content is your main concern when it comes to Scorpion Saver, because this way you could get exposed to malware distribution networks. What is more, this application could make use of cookies to collect information on your web browsing habits as the extension needs that in order to display commercial ads that would cater to your likes and preferences. All of that spells trouble, so you should really remove Scorpion Saver right now.
Scan your computer with SpyHunter free scanner to figure out whether you need to delete any other potentially unwanted programs. If so, invest in a licensed antimalware tool and remove al the unwanted files automatically.
How to uninstall Scorpion Saver
Windows 8
Move mouse cursor to the bottom right corner of the screen.
Click Settings on Charm bar and click Control Panel.
Select Uninstall a program and remove ScorpionSaver.
Windows Vista & Windows 7
Open Start menu and go to Control Panel.
Click Uninstall a program and remove ScorpionSaver.
Windows XP
Open Start menu and click Control Panel.
Select Add or remove programs and uninstall ScorpionSaver.
In non-techie terms:
Scorpion Saver is a browser extension that displays coupons that should help you purchase various products at optimal price, but it also may expose you to a potentially dangerous third party content, so it is important that you remove Scorpion Saver from your PC immediately.
Aliases: ScorpionSaver.