Do you know what Scearch-naitiy.ru is?
Users should not ignore Scearch-naitiy.ru appearance on their browsers since this questionable search engine might endanger their system. According to our researchers, the tool could be a specific type of a browser hijacker that settles in by hijacking the browser's shortcut. Also, they believe the threat might be distributed with bundled setup files of other unreliable programs. Therefore, if you noticed Scearch-naitiy.ru on your browser, it might be the time to check your computer and clean it from threats that may have been received recently or accumulated over the years. If you think you can manage to do so manually, you could start with this application's removal. No need to worry if you do not know how to get rid of the browser hijacker as the instructions placed at the end of the article could help you with this task.
As we said at the beginning of the article, Scearch-naitiy.ru could settle on the user's browser after launching a bundled setup file. Bundled applications are usually merely suggested to the user, so he should be able to deselect such software after choosing advanced installation settings. It is difficult to say if setup files bundled with this browser hijacker gives you such a choice, but even if it does, it is easy to overlook it when you rush the installation process. This is why we would advise users to pay a little bit more attention to this process, so they could deselect any unwanted suggestions in the future. Additionally, it is advisable to stay away from questionable file-sharing sites that might be distributing potentially dangerous software or installers bundled with it.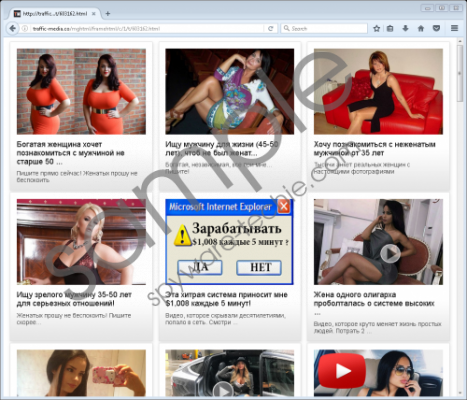 Scearch-naitiy.ru screenshot
Scroll down for full removal instructions
The threat may settle on the system by creating specific .bat files in the affected browser's folder. Then, it should locate and hijack all its shortcuts. As a result, the application should be able to redirect you to Scearch-naitiy.ru each time you use the affected shortcut to launch the browser. Afterward, the hijacker might further redirect the user to other suspicious web pages like traflebc.ru, adl.mymylove.ru, etc. Constant redirections might seem annoying enough for you to want to eliminate the search engine, but there is one more reason we would encourage you to replace it. The websites you may get redirected to or the ads they display could promote potentially dangerous content, e.g. other suspicious software alike, viruses, Trojans or other malware, fake lotteries, surveys, and so on. If the web page you encounter is malicious, it might be enough just to visit it to endanger the system. For this reason, we advise our readers to remove this suspicious application before it has a chance to cause any trouble.
Deleting Scearch-naitiy.ru manually might seem like a difficult task for some of you, so we would advise our readers to follow the removal guide located below this text. It will explain to you how to erase the application's created data and its hijacked shortcuts or how to create new shortcuts. The process might take some time, so if you want an easier solution, we recommend using a reliable antimalware tool instead. Run a system scan, and the software should detect the browser hijacker together with other possible threats automatically. Later you could click the deletion button, and the antimalware tool should erase all detections at once.
Remove Scearch-naitiy.ru
Press Windows Key+E.
Pick the directories according to your browser and navigate to them:
C:\Program Files (x86)\Google\Chrome
C:\Program Files (x86)\Internet Explorer
C:\Program Files (x86)\Mozilla Firefox
C:\Program Files\Google\Chrome
C:\Program Files\Internet Explorer
C:\Program Files\Mozilla Firefox
Locate .bat files belonging to the browser hijacker, for example, chrome.bat, iexplore.bat, etc.
Right-click such .bat files and press Delete.
Find the listed directories:
%ALLUSERSPROFILE%\Start Menu\Programs
%APPDATA%\Microsoft\Windows\Start Menu\Programs
%USERPROFILE%\Microsoft\Windows\Start Menu\Programs
%ALLUSERSPROFILE%\Microsoft\Windows\Start Menu\Programs
%ALLUSERSPROFILE%\Application Data\Microsoft\Windows\Start Menu\Programs
%USERPROFILE%\Desktop
Locate the hijacked shortcuts in all the listed directories.
Right-click such shortcuts one by one and press Delete.
Create new shortcuts in preferred directories, for example, Desktop.
Press the right mouse button and click New.
Choose Shortcut and click browse to find a location of your browser's launcher.
Click Next and select Finish.
Empty the Recycle bin.
In non-techie terms:
The application might hijack your browser's shortcut just so it could load Scearch-naitiy.ru whenever you launch the browser. Accordingly, it was classified as a browser hijacker. Besides the annoying redirections encouraging you to use the search engine, the application might also redirect you to other unreliable web pages. The problem is these suspicious web pages could be potentially dangerous, e.g. they may contain malware or suggest you install more unreliable software and so on. Thus, we would advise you not to take any chances with Scearch-naitiy.ru and get rid of it before anything goes wrong. The removal guide placed above this paragraph will show users how to restore hijacked shortcuts and eliminate this threat manually. Users who would rather use automatic features could simply download a reputable antimalware tool and use it instead.