Do you know what Scarab Ransomware is?
Scarab Ransomware is a malicious application that leaves many ransom notes named IF YOU WANT TO GET ALL YOUR FILES BACK, PLEASE READ THIS.TXT after encrypting all personal data found on the infected computer. Naturally, the threat can do you a lot of damage if you do not have any backup options, e.g. copies of valuable files on a cloud storage or removable media devices. As you see even the malware's deletion cannot restore data that was already enciphered. Nonetheless, it is still important to get rid of Scarab Ransomware as soon as possible if you wish to keep the system safe. The process should not be so complicated, but you can see it for yourself after reading the report since we are placing a removal guide just below the article.
It was reported that Scarab Ransomware could be distributed both with malicious Spam emails and while exploiting computer's security weaknesses. It means you possibly could have avoided the infection if you did not open suspicious files sent via email or strengthened your system in time. To make the computer less vulnerable to threats, it is advisable to always keep the operating system and other software on the computer fully updated. Another important thing is the PC's password; users should not only regularly change it, but also pick a password no one could easily guess. Lastly, it would be a good idea to have a legitimate antimalware tool. Such software should be developed by a reputable company, and it is important to keep it up to date as well; otherwise, it may not be able to fight newer threats.
After Scarab Ransomware settles in it immediately begins encrypting all personal files it can find on the computer with a secure cryptosystem called AES. For example, it could encipher user's text documents, pictures, videos, archives, etc. Users can separate damaged files by the unique second extension that should be added after the file gets encrypted, e.g. flowers.jpg.[resque@plague.desi].scarab, stories.docx.[resque@plague.desi].scarab, and so on. The next malware's task is to inform the user about what happened to his files. The infection does so by opening the so-called ransom note. It is a text document we already mentioned at the beginning of the article. At first, it should be placed in the %USERPROFILE% directory and then to all folders containing enciphered data.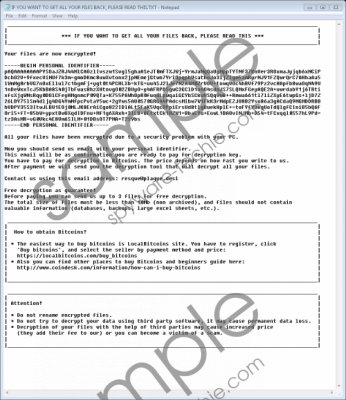 Scarab Ransomware screenshot
Scroll down for full removal instructions
The ransom note says the user should contact Scarab Ransomware's developers via email to learn how to decipher his data, but only if he is willing to pay the ransom. It would seem the amount is estimated after you contact these people as the note says: "The price depends on how fast you write to us." Plus, it is mentioned users can send up to three files for "free decryption as guarantee." At this point, we should warn our readers that even if they get a couple of files decrypted it does not ensure the malware's creators will keep up to their promise and send the needed decryption key. When the hackers get their money, they may not bother helping you, or they could demand even more money.
Therefore, dealing with the infection's developers is extremely risky, and we advise our readers not to give them any opportunity to trick you. No matter what you decide, there is no point to keep the malicious application on the system. Scarab Ransomware was designed so it would erase some of its created files from the infected computer, but for safety precautions, it would be wise to check if it actually deleted itself. If it does not the removal guide below will not just show you how to locate the malware's data, but also how to get rid of it manually. Of course, if you are willing to acquire a reputable antimalware tool you can eliminate this malicious application automatically as well; just do a full system scan and click the removal button.
Erase Scarab Ransomware
Press Windows Key+E.
Navigate to these provided paths:
%APPDATA%
%TEMP%
%USERPROFILE%\desktop
%USERPROFILE%\downloads
Search for suspicious data that could be associated with the malware.
Right-click such files and press Delete.
Go to %USERPROFILE% and right-click a text document called IF YOU WANT TO GET ALL YOUR FILES BACK, PLEASE READ THIS.TXT and select Delete.
Locate and remove all other ransom notes.
Exit the File Explorer.
Empty the Recycle bin.
Reboot the system.
In non-techie terms:
Scarab Ransomware locks user's data with a strong encryption algorithm, and during this process, it generates a decryption with which it is possible to decipher the locked files. Unfortunately, the key should be saved on a secret server belonging to the malicious application's creators, so users cannot obtain it. The hackers behind the malware are acting this way so they could try to extort money. Nonetheless, no matter how much you would wish to regain your data we encourage you not to give in under any pressure and keep your savings to yourself since there is always a chance these people could trick you and take the money without delivering the decryption key. Instead of paying the ransom, users could try special recovery tools or search for available copies on their removable media devices and other storages. Just before any recovery attempts, it would be safest to erase the threat with a reputable antimalware tool or the removal guide located above this text.