Do you know what Scarab-Lolita Ransomware is?
If you wonder why you see .lolita extension on your files, you should read this report carefully, as you probably infected your system with Scarab-Lolita Ransomware. The malicious application encrypts user data to display a ransom note. Inside it, the user should see a message from the malware's creators who ask to pay for decryption tools. As usual, the victim is required to contact the hackers first, and only then they promise to tell what the price is and how to make a payment. Considering, these people could scam you, we do not recommend dealing with them. If you have any copies on social media platforms, cloud storage, or removable media devices, you could recover at least some of the affected files. Sadly, deleting Scarab-Lolita Ransomware does not undo the encryption process. Nonetheless, we advise not to leave the malicious application unattended and erase it with a reputable antimalware tool or the removal guide available below.
According to our computer security specialists, Scarab-Lolita Ransomware could be distributed through malicious Spam emails or unsecured Remote Desktop Protocol (RDP) connections. Thus, what we can recommend for staying away from threats alike is to be cautious with suspicious email attachments or other data from the Internet and to make sure your system has no vulnerabilities (e.g., weak passwords, outdated software, etc.). Another extra precaution you could take is installing a reliable antimalware tool. You could check all questionable data before opening it. Also, it might be able to warn you about various threats if you keep it up to date and enabled.
Scarab-Lolita Ransomware should create a copy of itself in the %APPDATA% location upon its launch. Next, it should block the computer's Task Manager and Registry Editor until it finishes encrypting user's files. The data affected could be various photos, pictures, archives, documents, and so on. As said earlier it gets encrypted after receiving .lolita extension. The next malware's step is the creation of a text document named How to restore files.txt. Inside it, there should be a message saying: "All your files have been encrypted due to a security problem with your PC." Then it should explain the user can get decryption tools and restore all of his files, but first, he would need to contact the hackers behind Scarab-Lolita Ransomware and pay a ransom. The reason we do not recommend this is because no one can know if the cybercriminals will hold on to their promises. It is possible you could get tricked, and unfortunately, it would be impossible to get your money back.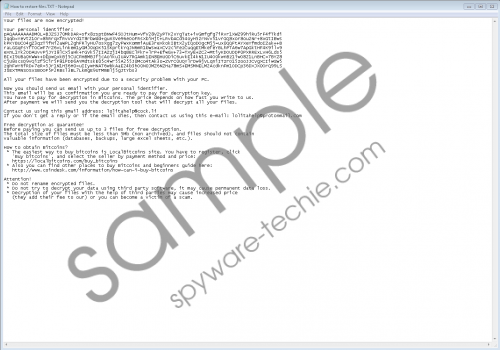 Scarab-Lolita Ransomware screenshot
Scroll down for full removal instructions
If you choose not to trust Scarab-Lolita Ransomware's developers and wish to erase it, you should employ a reputable antimalware tool you like or try deleting it manually. The removal guide placed at the end of this text will show how to look for data belonging to the malicious application on your computer and how to get rid of it. In case you need more help or have a question about the threat, you could leave us a comment below too.
Remove Scarab-Lolita Ransomware
Click Ctrl+Alt+Delete simultaneously.
Pick Task Manager.
Take a look at the Processes tab.
Locate a process belonging to this malicious program.
Select this process and click the End Task button.
Click Windows Key+E.
Navigate to the suggested paths:
%TEMP%
%USERPROFILE%Desktop
%USERPROFILE%Downloads
Find a file launched when the device got infected, right-click the malicious file and select Delete.
Go to %APPDATA% and look for a file called nero.exe or similarly, if you find it, right-click it and select Delete.
Then find the malware's ransom notes (How to restore files.txt), right-click these files and select Delete.
Close File Explorer.
Empty Recycle bin.
Restart the computer.
In non-techie terms:
Scarab-Lolita Ransomware is a threat that places .lolita extension on the files it encrypts. The only way to decrypt such data is to use specific decryption tools that unfortunately belong to the hackers behind the malware. Even though they may promise to deliver them as soon as you pay a ransom to the mentioned account, in reality, they can change their mind, and so there are no guarantees. It means making the payment could be risky, especially if the price is high. In case you do not want to take any chances, we recommend against contacting the malicious application's developers. Instead, we believe it would be safest to restore files from backup copies you could have prepared before the infection's appearance. However, before placing any copies or new data on the computer, it would be safer to eliminate the threat. You can do so manually by following the removal guide located above or by employing a reputable antimalware tool of your choice.