Do you know what Scammerlocker Ransomware is?
Scammerlocker Ransomware, also known as Jodis Ransomware, was created by the self-named Jodis Hunter Team. The creator of this infection has employed a source code that is publically available and that has been used hundreds of times before. The source code is known as "Hidden Tear," and other threats that were built using it include Ultimo Ransomware, Krypton Ransomware, and KoreanLocker Ransomware. Unfortunately, although even amateurs can use this source code, the infections are often very real, and they can encrypt files. The distribution of this malware can be adjusted, but, in most cases, our research team has found spam emails to be used for the distribution of the malicious .exe file. Once it is opened – and to make you open it, it might be concealed as a harmless-looking file – the infection immediately starts encrypting files, and because the process is silent, you are unlikely to realize what is happening. Once files are encrypted, you cannot decrypt them even if you delete Scammerlocker Ransomware. The only option for you might be to pay a ransom, and, unfortunately, there are no guarantees that that would work.
The ransom requested by the creator of Scammerlocker Ransomware is quite miniscule. At the time of research, a sum of 10 IOTA was requested, and if you converted that to US Dollars, that is $12. Of course, this virtual currency is not stable, but it is unlikely to change much while the threat is still active. The request to pay a ransom is made with the help of a file named "FILES_ENCRYPTED.txt," which is created by the ransomware. Using this file, cyber criminals introduce victims to a message that offers two different solutions: To pay a ransom or to communicate with them. If you pay the ransom of 10 IOTA, you should be provided with a decryption tool and a special key to make the decryption of files possible. If you email jodishunterteam@protonmail.com, you, allegedly, can negotiate a free decryption of files. We do not recommend emailing the developer of Scammerlocker Ransomware because you do not want them recording your email address and flooding you with spam in the future. Also, you have to consider the possibility that they would use the communication to expose you to other threats or scams. Of course, if you choose to connect to cyber criminals, make sure you are careful.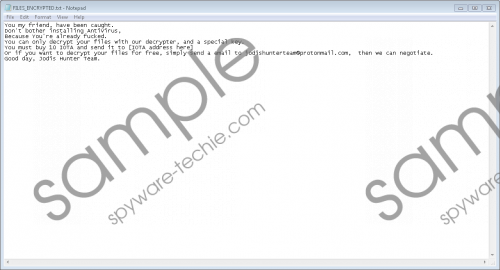 Scammerlocker Ransomware screenshot
Scroll down for full removal instructions
It is unlikely that you can recover the files corrupted by Scammerlocker Ransomware. Decrypting files manually is not possible, and the creator of this threat is unlikely to offer a decryptor regardless of how you act and what you do. Unfortunately, the files with the ".jodis" extension are most likely lost. According to our research team, the infection encrypts files on the Desktop, as well as the "Documents," "Pictures," and "Videos" folders in the %USERPROFILE% directory. What if your personal documents, photos, and videos were corrupted? Hopefully, you use a backup, and you have access to copies of these files. If that is the case, there is nothing else to think about. Remove Scammerlocker Ransomware along with the corrupted files. If backups do not exist, make sure you back up new files in the future to avoid loss.
Removing Scammerlocker Ransomware manually might be an option to some, but we do not recommend wasting time and energy if you are not experienced. Of course, if you know where to find the .exe file that launched the infection, you could destroy the threat yourself, but you also need to think about the future, and only reliable anti-malware software can ensure full-time protection. It is high time you invested in your virtual security and the protection of your personal data, and so even if you delete Scammerlocker Ransomware manually, you must not forget to install an anti-malware program as soon as possible.
Delete Scammerlocker Ransomware
Find the launcher of the malicious ransomware.
Right-click and Delete the file.
Right-click and Delete the file named FILES_ENCRYPTED.txt (if copies exist, eliminate them too).
Empty Recycle Bin to eliminate the ransomware components.
Install a trusted malware scanner and perform a complete system scan. If any malicious threats are found, erase them as soon as possible.
In non-techie terms:
The dangerous Scammerlocker Ransomware is out there to corrupt your files and force you to pay a ransom or communicate with the creator of the threat. Hopefully, you can still strengthen your system's protection to keep this threat away, but if it has slithered and encrypted your files, you first need to worry about the removal of Scammerlocker Ransomware. Quite possibly, the files that are encrypted are lost because decrypting them manually is not possible, and the solutions offered by the creator are unlikely to be trustworthy. In the best case scenario, all corrupted files have backups, and you do not need to worry about the encryption at all. Of course, you want to avoid this in the future, and we suggest installing anti-malware software. It can automatically delete the ransomware as well!