Do you know what Savingtoyou is?
Savingtoyou is an adware application that can slow down your browser and spam you with annoying commercial advertisements. The program displays advertisements are there to redirect you to affiliate websites that would make money when you access them via pay-per-click system. That is the main reason adware applications are created – they need to generate financial profit for their developers. Unfortunately, this may result in suspicious methods being employed, so it would be for the best to remove Savingtoyou from your computer. This way you would protect your PC from serious threats.
This adware application has its homepage at savingtoyou.info, but the website is nothing but a hoax. It provides generic information on the application saying that with Savingtoyou, you will be able to compare prices from various online shops without any difficulties, but we know better than to trust such applications because they can seldom live up to their promises.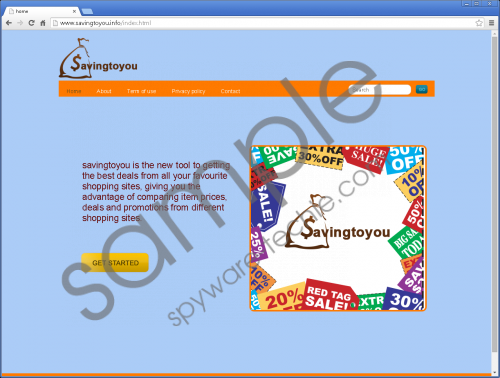 Savingtoyou screenshot
Scroll down for full removal instructions
Therefore, it is easy to see that you cannot download Savingtoyou at the official website. The only distribution method this adware application uses is bundled downloads. It means that it often travels with third-party installers. The guys at our research team say that Savingtoyou usually arrives with InstallRex, Vittalia and Amonetize installers. At the same time, it means that you install this annoying application on your computer yourself. In order avoid such potential threats; you should refrain from downloading programs from unfamiliar websites.
We are lucky that Savingtoyou is not an extremely malicious application. After all, it comes from a well-known adware group. All applications in this familiar randomize their names upon the installation. Savingtoyou can do that too. Some of the names used by this program include saavingtoyoou, SAvIngotOyou, savvingttoyOU and others. This extension gets installed on your default browser, and it starts collecting data on what websites you visit. The program is compatible with Google Chrome, Mozilla Firefox and Internet Explorer, so it does not matter which browser you use – Savingtoyou can get installed on it nevertheless.
At first it may seem that Savingtoyou is just an annoying app that bombards you with random pop-ups and commercial ads whenever you enter online stores. However, clicking the ads is highly discouraged because some of them might be embedded with outgoing links to suspicious websites. Savingtoyou is not responsible for the third-party content security, so even cybercriminals could make use of this application to promote their content.
Your computer security should be your utmost priority. Therefore, you should terminate Savingtoyou and other similar applications immediately. Please follow the manual removal instructions below to get rid of all the unwanted applications. Eventually, invest in a powerful antimalware tool to protect your PC from harm.
How to remove Savingtoyou
Windows 8
Move mouse cursor to the bottom right of the screen.
Click Settings on Charm bar and go to Control panel.
Open Uninstall a program and remove Savingtoyou.
Windows Vista & Windows 7
Open Start menu and click Control panel.
Select Uninstall a program and remove Savingtoyou.
Windows XP
Click Start menu button and go to Control Panel.
Select Add or remove programs and uninstall Savingtoyou.
Remove Savingtoyou from browser
Mozilla Firefox
Press Alt+T and go to Add-ons.
Disable and remove Savingtoyou from Extensions.
Restart your browser.
Google Chrome
Press Alt+F and go to Tools.
Select Extensions and remove Savingtoyou.
In non-techie terms:
Savingtoyou is an unwanted application that usually gets installed on the system together with a number of other suspicious programs. You need to remove it and then scan your computer in search for other potential system security threats.